See the winners of the 2022 SMAD awards
Media Arts and Design
---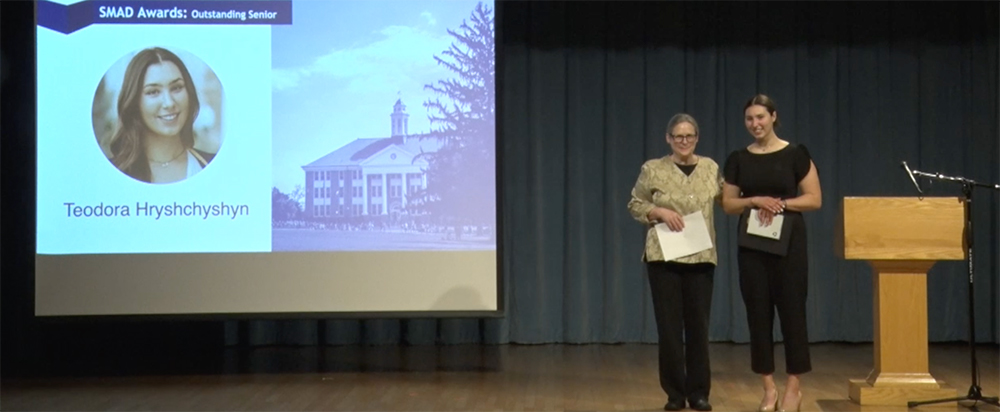 By Charlotte Matherly, staff writer
SMAD honored its top graduating seniors, including overall outstanding senior Teodora Hryshchyshyn, and during the April 21 ceremony announced tens of thousands of dollars in scholarships funded by alumni and supporters.
Ryan Alessi and Ryan Parkhurst, SMAD's resident emcees, welcomed students, faculty, friends and family to Anthony-Seeger Hall for the first in-person awards ceremony since 2019.
The roster of scholarships included two new ones worth $2,000 each — both funded by prominent alumni. National sports reporter Lindsay Czarniak, a 2000 alumna, and her husband, Craig Melvin of NBC News and MSNBC, started a scholarship this year, which went to Maggie Rickerby, a rising senior and one of the new Breeze TV anchors. 
Sean Harrington, a 1996 alumnus who is a senior business analyst for digital media management firm WideOrbit, and his husband, Trevor Rutkowski, also funded a $2,000 scholarship for the first time this year. The inaugural winner was Lucy Whitehurst, a rising senior in the Digital Video and Cinema concentration.
Other winners included Julia Yeager for the Alumni/Professional Advisory Council Scholarship, Lexie Burns for the Madison Cinema Studies Scholarship and Zia Faqiri for the Acosta Scholarship for Media Excellence — established by JMU alumnus Jim Acosta ('93).
Faqiri, who was finishing a semester abroad in London during the awards, said she didn't find out until the next morning what she'd won. She was at work — she interned for CBS in London — when she got the text.
"I literally froze," Faqiri said. "I was in shock. I was freaking out inside my mind, but I was trying to keep it calm because I was in front of the reporter and videographer. I was just thinking to myself … 'Don't scream, don't scream, don't freak out.'"
Watch the video of the ceremony:
Incoming freshman Eleanor Shaw and rising senior Ashlyn Campbell won the Byrd-Mims Scholarships, and the Alison Bailey Parker Memorial Merit Scholarship was awarded to incoming freshman Lizzie Stone and rising senior Joshua Dixon.
Dixon, one of the new Breeze TV senior anchors, said he went to the awards ceremony not thinking he'd receive "anything special."
"It absolutely blew my mind because it's such a high honor to be awarded something like that," Dixon said. "It has such a long legacy."
When asked what he'd say to the donors and those who gave him the scholarship, Dixon referenced a quote he'd recently heard: "In order for something to be special, you just have to believe it's special."
"I would just say thank you for that and believing that I'm special enough to be awarded something of such high honor," he said.
The Imre Awards were given to Creative Advertising concentrator Lauren LaFlamme and Melody Haak, an Interactive Design concentrator. Haak said in an email that she hadn't applied for any scholarships, so it came as a surprise when she received the email inviting her to the SMAD Awards. What meant the most, she said, was that the scholarship was faculty-awarded.
"[It's] an even bigger honor," she said, "knowing that I have been chosen for the work I am doing inside and outside the classroom without trying to highlight it myself."
Here are the 2022 SMAD scholarship winners:  
Madison Cinema Studies Scholarship ($2,100) —

Lexie Burns

Madison Screenwriting Competition ($1,350 each) —

Liam Booker

and

Declan Leach

Neckowitz Study Abroad Scholarship ($1,000) —

Fabiola Garcia

SMAD Alumni/Professional Advisory Council ($1,700) —

Julia Yeager

John Woody One Day|One University Scholarship ($1,400) —

Yousra Errami

Blanche Garrett Memorial Scholarship ($2,300) —

Clara Campbell

DVG/Donnie Mongold Scholarship ($1,500) —

Grant Johnson

Sen. Harry F. Byrd, Jr.-D. Lathan Mims Scholarship ($5,200) —

Ashlyn Campbell

Sen. Harry F. Byrd, Jr.-D. Lathan Mims Four-Year Scholarship for an incoming student —

Eleanor Shaw

(Centreville H.S.)

Jim Acosta Scholarship ($5,000) —

Zia Faqiri

Imre Award to a Creative Advertising student ($2,325) —

Lauren LaFlamme 

Imre Award to an Interactive Design student ($2,325) —

Melody Haak

Alison Bailey Parker Memorial Merit Scholarship ($2,000) —

Josh Dixon

Alison Bailey Parker Memorial Four-Year Scholarship — 

Lizzie Stone

(Chantilly H.S.)

Breeze Leadership Scholarships ($1,000 each) —

Zia Faqiri

and

Charlotte Matherly

Lindsay A. Czarniak Scholarship ($2,000) — 

Maggie Rickerby

Sean T. Harrington Scholarship ($2,000) —

 Lucy Whitehurst

Senior awards

Each concentration honored its top seniors. The winners of the concentrations' outstanding academic achiever awards usually have the highest GPAs. The top contributor awards take into account their academic work but also their media creation outside of the classroom.

Teodora Hryshchyshyn, an Interactive Design student, was the 2022 SMAD Outstanding Student.

Here's the list of the top graduating seniors for the concentrations:
Creative Advertising — 

Riley Cook

, outstanding achiever, and

Karina Arzubiaga

and

Carli Aldape

, top contributors

DVC — 

Gannon LaCroix

, outstanding achiever, and

Trusten Murrah

, top contributor

Interactive Design — 

Ella Ferrin

, outstanding achiever, and

Libbie Alexander

, top contributor

Journalism — 

Sarah Foster

, outstanding achiever, and

Jake Conley

and

Shelby Walker

, top contributors

Faculty recognition 
In addition to recognizing student achievements, the ceremony was a chance to honor faculty members as well.

Retiring faculty members Dr. Steve Anderson and Dr. JoAnne Holman were recognized for their contributions to SMAD, as was Dr. Alex Leidholdt, who retired last year.

Prof. Elisabeth Kvernen, who has worked with area middle and high school students who are immigrants or refugees, received a $1,300 faculty support award from the Alumni/Professional Advisory Council. She is working on creating a website to showcase the students' stories and creative work.

Ryan Alessi received SMAD's Faculty Mentor Award. Previous winners include Dr. Roger Soenksen, Dr. Talé Mitchell, Prof. Shelly Hokanson and Dr. Joe Hinshaw.
Emcees Parkhurst and Alessi gave special recognition to Gwyneth Mellinger, who will step down as SMAD's director after this semester and take a research leave in the fall before returning to the faculty in the spring.
Alessi said Mellinger has argued for every faculty position that she could, has been a "fierce defender" of student media, has overseen the founding of many scholarships and led the department throughout the pandemic by balancing classroom learning with health and safety.
"We've always been confident that Gwyn would have our backs, and she did, every time," Alessi said. "I can't imagine anyone else getting SMAD through all of that and still leaving the School of Media Arts and Design in a stronger position than when she started."