Washington Post editing chief Courtney Rukan to speak with students Nov. 5
Media Arts and Design
---

By Charlotte Matherly, staff writer
Courtney Rukan ('00) helps shape a national newsroom's content. She leads more than 65 copy editors. And she's responsible for streamlining production and ensuring that her newsroom remains a leading force in journalism.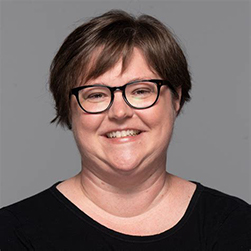 Rukan, who became the multiplatform editing chief at The Washington Post in September, will return to Harrison Hall Nov. 5 to lead a session with SMAD students, faculty and alumni about 21st century digital and multimedia storytelling. Her session will be from 2-3 p.m. in Harrison Hall 2105. While SMAD Day's workshops, career panels and resume review sessions require registration, this event is open to anyone to attend.
Rukan said she hopes to make her presentation more of a conversation. She wants to share how stories are covered at The Post, but as a former Breeze editor, she said she also wants to learn about how The Breeze operates now.
"I'd like to have a little bit more of a give and take," Rukan said, "so we can kind of compare notes."
Rukan landed an internship at The Washington Post straight out of college and has worked there ever since — first as a copy editor, then the sports copy chief, then a style copy editor. 
When the economic recession hit in the late 2000s, newspapers across the U.S. were dealing with buyouts and layoffs. With a smaller budget and a shifting newsroom, Rukan restructured The Post's copy desk and became the deputy multiplatform editing chief — a title she held for over 10 years until her recent promotion.
"This new job I have is for … moving forward and [changing] with the times that we're in," Rukan said. "[I] also contribute to how our journalism will change, how it should change."
SMAD instructor Brad Jenkins ('99), now The Breeze's general manager, worked with Rukan at the newspaper when they both attended JMU. In Rukan's term as editor-in-chief, Jenkins was a news editor. He said even as a student, she was "tenacious."
"She was a really strong journalist in the sense of finding the news underneath the news," Jenkins said. "She would ask tough questions, [and] she was really hard-charging."
In addition to her presentation from 2-3 p.m., Rukan will give students personalized advice during the one-on-one resume reviews in the morning of SMAD Day.
Rukan said she's excited to get back to campus and attend the homecoming football game, but she's also looking forward to seeing what SMAD and student media is like 20 years after she graduated.
"I am most looking forward to seeing the staff at The Breeze and current journalism students and hearing what [their] experiences are like," Rukan said. "[I'm] just really excited to get back with the energy … JMU has such an amazing energy and I think that it can help really recharge your spirit."