Dr. Smalls featured on episode of 'With Good Reason' radio program
Media Arts and Design
---
Dr. Morgan Smalls, assistant professor in SMAD, highlighted her research and expertise during an interview as part of the Oct. 22 edition of the national radio program "With Good Reason," produced by Virginia Humanities.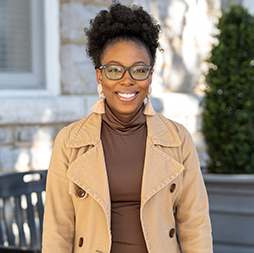 Speaking to host Sarah McConnell, Smalls outlined ways in which "Insecure," Issa Rae's show on HBO, and BET's "Being Mary Jane" are showcasing powerful storytelling and characters, especially Black millennial women.
Smalls also has researched audience responses, including fans' exchanges on social media, as the plots address both workplace and relationship issues.
"I think it shows that it can be successful and that it should be supported and that we need to continue to give voice and give space to those who are interested in telling stories where Black people in general and Black women specifically are at the forefront," Smalls said. "They're not just at the margin. They're not just the friend to the main character. They're not just the sidekick."
Listen to the entire interview. 
Smalls is the first of four scholars interviewed during the episode, which focuses on women's representation and depictions on screen. "With Good Reason" airs nationally on 122 public radio stations.