The Breeze gains national Pacemaker recognition
Media Arts and Design
---
The Breeze, the multimedia news organization run by JMU students, is among 28 finalists for a Pacemaker Award for top collegiate online site for 2020-21.  
The Associated Collegiate Press oversee the Pacemakers, which are like the Pulitzer Prizes of college media. The winners of the online site category and other Pacemakers will be announced at 6 p.m. Oct. 14 during the Associated Collegiate Press/College Media Association Fall National College Media Convention, which will be held virtually between Oct. 14-17. A panel of media professionals and faculty selected the finalists from four-year institutions across the country.  
Brad Jenkins, who also teaches journalism classes in SMAD, serves as the general manager of The Breeze, and the key leaders of the 2020-21 academic year included Editor-In-Chief Katelyn Waltemyer, Executive Editor Ivan Jackson and Managing Editor Alexa Fitzpatrick.
In addition, The Breeze and the student-produced yearbook "Bluestone" are among the Associated Collegiate Press' "top 100 Pacemaker" honorees for their recognition in Pacemaker competitions since the first award in 1927.  The Breeze and Bluestone are the only two college media organizations in Virginia to make that top 100 list.
The Associated Collegiate Press arrived at that list by giving each news organization five points each time it was a Pacemaker finalist and 10 points for each Pacemaker award it earned.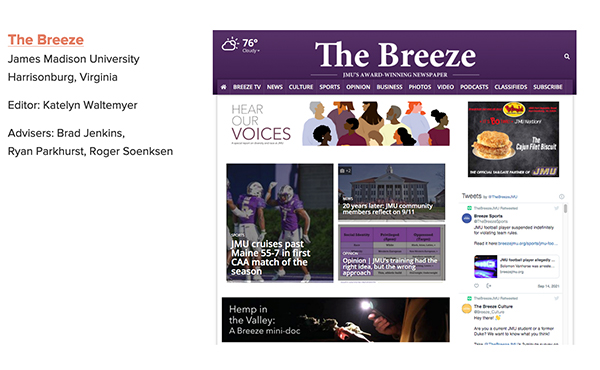 A screenshot from the Pacemaker finalist list for online site shows The Breeze's sumbission.