Media Arts and Design
Prof. Dinç awarded $50K grant to produce documentary
---
By Charlotte Matherly, staff writer
Nefin Dinç, assistant professor in SMAD, has received a $50,000 grant to make a documentary about environmental issues in her native country of Turkey.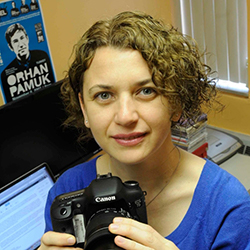 The 40-minute film, with the working title "Wine Dark Sea: Energy Transition Policies in the Eastern Mediterranean," is funded by the U.S. Embassy and Consulates in Turkey.

"They were going to give a grant for any kind of project that would strengthen the economic prosperity between Turkey and the U.S. or reinforce democratic values in both countries," Dinç said. "I thought this kind of a project would be a good fit for this kind of program, so basically, I tailored my proposal to this grant and received the grant, thankfully."
Dinç will interview climate change experts and explore renewable energy policies in both the United States and the Mediterranean region, specifically looking into how the countries can work together to implement policy changes and increase their use of clean energy.

The goal is to have the film completed by fall 2022, Dinç said, so she'll use the upcoming winter and summer breaks to film in Turkey, Greece and Cyprus. She said she might hire SMAD students to assist her with filming and editing as well.
Dinç said she's thankful for the grant — especially a large one — and the chance to make the documentary, which she'll present at JMU and submit to film festivals and TV channels around the world.
"It's always great to receive a substantial grant to make documentaries because it's very hard to come by with good funding, sufficient funding, to make documentaries," Dinç said. "I'm really excited to have this opportunity."