SMAD students win Fulbright and Gilman awards
Media Arts and Design
---
Aliyah Hall, a 2021 SMAD graduate, was named an alternate for a prestigious Fulbright Scholarship to study abroad, and Avery Goodstine, a rising sophomore, received a national Gilman Scholarship to participate in the Semester in London program this fall.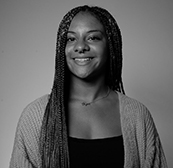 Hall, a Creative Advertising Concentration student, was also an Honors College student with a statistics minor, and is a Fulbright alternate. She had proposed to study media at the University College Dublin in Ireland. 
The highly competitive Fulbright Scholarship program awards grants to top-performing students to perform research or teach English abroad. Four JMU students won the award this year and will participate in Korea, Indonesia, Uruguay and Taiwan. Hall is among six JMU students selected as Fulbright alternates.
Hall said that means if funding becomes available, she will spend a year in Ireland studying emerging and converged media, which would allow her to continue exploring film, audio and various social media platforms.
She also said she wanted to return to Ireland, where she spent six weeks as part of SMAD's "Ireland: Media, Culture and Society" program, based in Galway. The program also took students to Dublin.
Hall said she also felt inspired by the Irish people.
"The diversity and the acceptance of other cultures spoke to me a lot," she said.
Specifically, she said she was impressed with outspoken the Irish were, especially calling out oppression and injustice.
"If they think something's wrong, they're going to stand against it. The diversity and just the power that everybody had in Dublin, I thought, 'Wow, these people are unapologetic and care about justice,'" she said. "I found that really inspiring."
For Goodstine, who won the Gilman Scholarship, spending the fall semester in London will scratch an itch of curiosity as she begins her time in SMAD.

A student in the Journalism Concentration, Goodstine said she was excited to intern at a media company, which is part of the program, and excited to broaden her worldview.
"I don't want to get stuck in just having a U.S. mindset in things," she said. "I want to adapt to the different environments and cultures I'm in and go into it with an open mind."
The U.S. State Department's Bureau of Educational and Cultural Affairs funds the competitive Gilman Scholarship that is aimed at encouraging and supporting students to study abroad. Goodstine, who is double majoring in communications studies with an honors minor, is one of five JMU students who will receive Gilman Scholarships during the 2021-22 academic year.
Studying in London will mark the second time Goodstine has been abroad. She traveled to Europe two years ago. But she said she hopes this experience will be the beginning of an adventurous career.
"Ever since I was young, traveling has always been a top priority," she said. "That's why I'm excited about journalism because it potentially puts me in the position of traveling around the world and covering stories."