Rising senior wins 2nd at international film festival's 'Pitch Fest'
Media Arts and Design
---

Gannon La Croix, who will be a senior in SMAD's Digital Video and Cinema concentration, placed second at RiverRun International Film Festival's "Pitch Fest" in May for his description of the documentary he's working on about a special network of caves in Virginia.
La Croix is creating a 15-20 minute piece called "The Subway" about a 77-year-old caver whose property in Highland County, Virginia, includes a network of caves. As La Croix explained in his 4:21 pitch video, those caves have served as a source of scientific revelations, offering clues about the climate hundreds of thousands of years ago and providing for the discovery of a new beetle species.
"There's a lot of knowledge that's been gained here," Lucas told La Croix in one clip included in the pitch.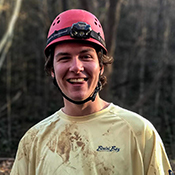 La Croix started caving in November 2019. And it inspired him to consider producing a documentary on caves as his JMU Honors College thesis project. After other cavers told him about Lucas, La Croix connected with the veteran caver and found his enthusiasm infectious.
"You know how someone is so passionate about something that you get enthusiastic and want to do what they do?" he said. That's how it was with Lucas.
In the competition, La Croix was up against students from five other universities in Virginia and North Carolina, whose virtual pitches were judged by a panel of professional filmmakers.
His 2nd place prize also comes with money, and La Croix said he plans to use to buy waterproof cases to carry light kits into the caves as he continues shooting the documentary this summer. He said he hopes to finish editing the piece during the fall semester and begin entering it in environmental and documentary film festivals next year.
La Croix worked on refining his pitch with Prof. Nefin Dinç, who is serving as one of the secondary advisers, known as "readers," on his Honor's project.
La Croix said Dinç's feedback was crucial. For instance, she suggested incorporating more shots from inside the caves on Lucas' property. That required an extra trip to Highland County this spring to get well-lit, steady shots, La Croix said.
"Taking things the extra mile, literally, by going out there," La Croix said, "is the difference between a really high quality piece and one that's not quite as good."