'A window to where we are': Jackson picks up where he left off at the White House
Media Arts and Design
---
By Jessica Kronzer, staff writer
Vice President Kamala Harris sat in the Roosevelt Room of the White House. Her hands were clasped, and a reflection of her face appeared on the table in front of her. It's one of Lawrence Jackson's favorite moments he's captured of Harris because it's "different." 
Lawrence Jackson, who graduated from JMU in 1990, is chief photographer for the vice president. Although Jackson has been documenting history for more than 30 years, including as a photojournalist and as the White House photographer for President Barack Obama, the last year has forced him to change the way he approaches his work.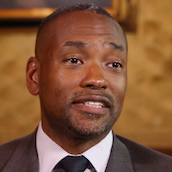 "It's so hard to take a picture of somebody, trying to truly get their emotions, when they have a mask on their face," Jackson said. "Connecting with people six feet away is really tough to illustrate as well."
Like any storyteller, Jackson has adjusted to the current conditions. He provides a blueprint for how SMAD students and other photojournalists can overcome barriers from COVID when taking photos.
Jackson looks for "movement" and "eye contact." For example, he might take a "tight shot of someone's eyes" if they're "expressive enough." He also seeks to harness light and composition in his storytelling. 
"There has to be some sort of energy going on," Jackson said. "People standing still talking at a podium. It's kind of flat, kind of dull." 
An eye for images 
Jackson's interest in photography began when he was a teenager. In high school, Jackson's mom bought him his first camera and he took a course in photography.   
"Watching the magic of a print coming up in the developer, that's what hooked me on photography," Jackson. "It makes me wonder, where's that magic for people who've only got digital?" 
While his initial attraction to photography was working with film, Jackson said he loves digital photography because of its speed. His career, in fact, has coincided with photography's digital revolution. 
Jackson, who's from Richmond, attended JMU with his twin brother. During his time at JMU, Jackson served as photo editor for The Breeze. He graduated with a journalism major and a minor in art photography. He said his favorite memories from college involve making friends and how professors, such as retired professor Tommy Thompson, was able to crack his "mind open just a little bit." 
"It just opened up my eyes to a bigger world and more opportunities, more knowledge," Jackson said. "Knowledge is wasted if it's not used" 
Thompson, who taught Jackson in his first photojournalism class at JMU, said he was immediately impressed with Jackson's discipline and outlook. 
"He paid attention," Thompson said. "He was anxious to learn. He got very involved with the class, and he loved to be challenged." 
Thompson attributes some of Jackson's success to being a "people person." He said he doesn't think Jackson has ever burned a bridge. 
"Whether [it be] the president of the United States or the bum on the street, you got to be able to relate to everybody," Thompson said.
Capturing the news  
Originally, Jackson planned to study to be a sports broadcaster, but he found that he enjoyed being behind the camera far more than being in front of it. The first time he covered a play for The Breeze, he said seeing his work in the paper the next day was exhilarating.
After graduating, he converted an internship at The Virginian-Pilot into a full-time job as a staff photographer.  
"I just absorbed as much as I could and tried to emulate what they taught me," Jackson said. "JMU probably set the foundation for me for learning beyond school." 
After nearly a decade at The Pilot, Jackson moved to the Associated Press in Boston, Massachusetts, where he had to cope with what he calls the "dark and cold" New England winter with just one friend in the area. Eventually, he took a job in the AP's Washington. D.C., bureau and became a part of the "daily machine." He covered different daily assignments that took him to Capitol Hill, the White House and sports venues. 
Wayne Partlow, who graduated from JMU in 1978 and is an Associated Press photo editor, worked with Jackson for seven years.  Partlow said when he'd send Jackson on assignments at the Capitol, he noticed his effort to photograph both sides of the "aisle," to ensure objectivity.
"He was very journalistically oriented, thinking about fairness — and even-handedness — in the way that he went about his work every single day," Partlow said. "That's really important in our business, and he just personifies that approach to journalism."
Beyond work, Partlow said Jackson is a "fantastic father and husband," and that he admires how much time he spends with his family. Partlow called Jackson a "hard worker," and "tenacious" — requirements for successful journalists. 
"You have to have a love for your business and your work," Partlow said. "Lawrence is all about all of that."

Inside the Oval Office 
In 2009, Jackson began working in the White House and got a daily schedule of what to photograph. Of course, not every photo ends up being published.   
"As much as I'd love for every picture that I take to get out there, that doesn't mean that's ever going to happen," Jackson said. "The White House communications job is to make the president or vice president be presidential or to be on task… I've always just thought that if you take good, honest pictures, then they will see the light of day."
Jackson ultimately published a book, "Yes We Did" that features many of photographs and stories of Obama's administration.
When people ask about his White House experiences, Jackson often shares a story of when Michelle Obama threw a "going away party" for a Secret Service agent who guarded the president's daughters. Michelle Obama was giving a speech when the president crept in behind her and began making "funny faces." When the president was caught in the act, the room erupted in laughter and Michelle Obama "gently" and playfully smacked her husband on the face, Jackson said.
"That's the moment that I captured and put into the book," Jackson said. "I always tell them that story because either they're best actors in the world, or that was a genuine moment that I was able to capture."
Between ending his work with Obama and beginning his work for Harris, Jackson freelanced, wrote a book and worked for several candidates including Pete Buttigieg and Joe Biden.
Before Biden announced Harris as his pick for vice president, the campaign asked Jackson to photograph Harris. He later documented moments such as Harris receiving her first dose of the Moderna COVID-19 vaccine.
Besides the differences brought by COVID-19 restrictions, Jackson said this term in the White House has been different because he's working on a smaller staff.
"We have this little family of workers that look out for each other," Jackson said. "It's been really nice to be a part of."
'Start small and build'
For student photojournalists, Jackson recommends starting locally by interning and finding mentors who give honest and constructive feedback. For example, he said someone who wants to cover the White House might want to start by photographing local government leaders and candidates.
"Everybody's journey to their destinations can be different," Jackson said. "Start small and build that into something that you want."
In the world of political photography, Jackson said his work goes beyond capturing historical moments.
"It's the document of our times and our politics," Jackson said. "But it is also a window to where we are and where we're going."