Media Arts and Design
SMAD ceremony on April 14 will honor seniors, scholarship winners
---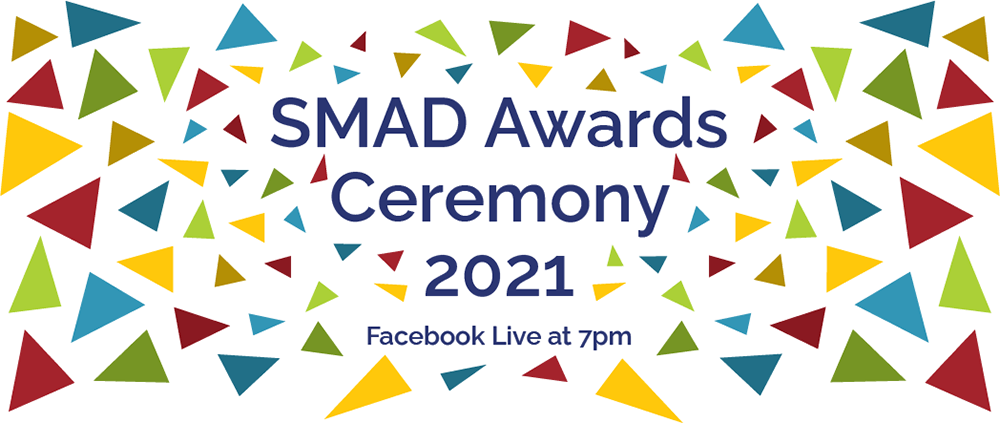 By Charlotte Matherly, staff writer
SMAD scholarship winners and graduating seniors from all concentrations will be honored at the department's annual awards ceremony at 7 p.m. Wednesday, April 14, in a video ceremony streamed on Facebook Live on SMAD's Facebook page.
SMAD faculty and donors will present scholarships and awards to outstanding students.
During the event, 16 students will find out they've been awarded a total of $30,500 across 13 scholarships. Many of the scholarships are made possible by the generosity of alumni, including David Imre, the Rhymer family and CNN's Jim Acosta, and other donors.
In addition to announcing scholarship winners, the ceremony will honor outstanding seniors from each concentration, and one from SMAD overall.

The event will also celebrate four SMAD students being inducted into Phi Beta Kappa, a prestigious national honors society. 
SMAD Director Gwyneth Mellinger said she notifies each student being honored to invite them to the event, but students won't find out what they've won until the ceremony. She said she looks forward to the awards ceremony each year because she knows how much it can mean to students.
"It just really is a joy to watch students when they find out that they're getting a fairly sizable amount of money," Mellinger said. "It will make a difference in somebody's life."
Faculty and donors — including Acosta — will announce the honorees.
The full list of scholarships include:
the Blanche Garrett Memorial Scholarship

Digital Video Group, Inc. Donnie Mongold Memorial Scholarship

Alan Neckowitz Study Abroad Scholarship

Madison Cinema Studies Scholarship

Madison Screenwriting Scholarship Competition

John Woody One Day | One University Scholarship

Alumni/Professional Advisory Council Scholarships

Sen. Harry F. Byrd, Jr.-D. Latham Mims Scholarship

De Luca Journalism Scholarships

Lawrence Cain Memorial Scholarship

The Imre Awards

Alison Bailey Parker Memorial Scholarship

Jim Acosta Scholarship
Mellinger will also announce, for the fourth consecutive year, the SMAD Faculty Mentor Award. One professor who goes above and beyond for their students will win a $500 stipend.
Mellinger said she's grateful that SMAD has the resources to provide scholarships for students. She also emphasized the importance of these scholarships to the department and community at JMU.
"It's a celebration of excellence," Mellinger said. "It's a celebration of accomplishment by our best and brightest students … It really is an investment in our students and in our department."