The Breeze toasts its graduating leaders and welcomes new top editors
Media Arts and Design
---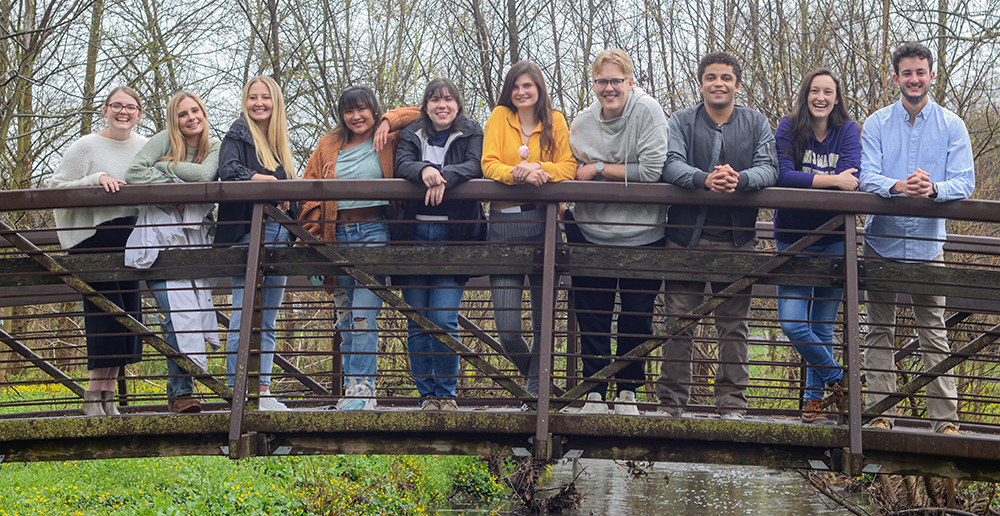 (Photos courtesy of The Breeze)
By Jessica Kronzer, staff writer
Heading into the last month of the 2020-21 academic year, The Breeze, will undergo its annual transition of power as the new leaders take over April 1. The seniors, including the leaders of the news organization, said goodbye in the April 1 edition of the paper — and officially turned over their roles to their successors.
The new editors carry some of the same goals as the previous team but also have plans to put their own stamp on the news organization.
The Breeze's top student managers — known in the newsroom as the "big three" — include the executive editor, editor-in-chief and managing editor. They have slightly different job descriptions but collectively oversee production of The Breeze's weekly newspaper, its digital content and videos, and they work with Breeze TV's weekly broadcast. 
For the last year, the student-run news organization has been led by Editor-in-Chief Katelyn Waltemyer, a SMAD major in the journalism concentration, Executive Editor Ivan Jackson, who will graduate from the College of Business, and Managing Editor Alexa Fitzpatrick, a SMAD major in the DVC concentration.
They will hand the reins over to Jake Conley, Jillian Carey and Connor Murphy, respectively. Meet the incoming and outgoing leaders: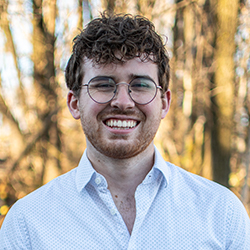 Jake Conley, incoming editor-in-chief 
Before coming to JMU as a freshman, Conley applied to be a culture writer at The Breeze. During his first staff meeting, he decided he wanted to be editor-in-chief.
Conley initially wrote album reviews during his first few months. By February, his editors encouraged him to apply to be a copy editor because of his strong grammar. But after he reported on a protest downtown, fell in love with news coverage. 
"I got really into the investigative side of … reporting," Conley said. 
Conley, who is double majoring in SMAD and sociology, has led the investigations desk since its creation last spring. He spent a year building the desk "from the ground up." Some of the coverage he has worked on includes a seven-part series on JMU's finances during the pandemic and a story on allegations of discrimination at JMU's Young Life chapter. Conley said he understands the importance of investigative journalism because his father is a journalist, and he grew up seeing journalism hold people accountable. 
"We weren't looking at policies and how the administration was handling things and how transparent they were working, we weren't looking at their fiscal policy," Conley said. "I just saw that hole in our coverage. And I knew I knew how necessary it was."
As editor-in-chief, Conley wants to bring more watchdog journalism to The Breeze in order to hold JMU, Harrisonburg government, and other institutions accountable. Another goal is to boost "the reporting standard." 
"We covered Black Lives Matter, we covered the protests that happened in Harrisonburg, we covered the spirit rock, but we covered it like events," Conley said. "We didn't run a single story on what diversity means that a school that's 70% White, or what whiteness means, or how students think about diversity … and how JMU's inclusivity policies are affecting students."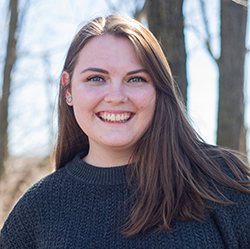 Katelyn Waltemyer, outgoing editor-in-chief 
Last year, Katelyn Waltemyer, a senior SMAD major with a minor in communications, became editor-in-chief amid all the uncertainty of the early days of the COVID-19 pandemic.
It was a challenge like none of her predecessors had ever faced.
Holding the university accountable, in terms of sharing information on COVID-19, was a major task for Waltemyer during her time as editor-in-chief. The university partially denied one of the Breeze's requests last fall, and The Breeze is continuing to pursue data related to outbreaks in residence halls early in the fall semester.
Her time leading The Breeze has taught her that she has to pick and choose her battles. 
"There were sometimes where I would get kind of hung up on something like really nitty gritty and in hindsight it really doesn't matter," Waltemyer said. "I've also learned that sometimes people are going to tell you not to do certain things, especially the university, and you have got to decide whether you're going to keep fighting or not."
Before being promoted to editor-in-chief, Waltemyer wrote for the news section her freshman year and was news editor for two years. She won a second-place Virginia Press Association award for her education writing in 2019. 
Waltemyer is pursuing a career in journalism following graduation. She encourages future editors to take the position day by day, because it can be overwhelming to work a full-time job while being a full-time student. Over four years, she's seen The Breeze strengthen its multimedia elements and is excited to watch the organization continue to move in an interactive direction. 
"We are like a media conglomerate in the sense that we have a newspaper, we have a TV station, we have this great online presence," Waltemyer said. "It's important for people to know that The Breeze isn't just a place for journalists — it's a place for pretty much everyone."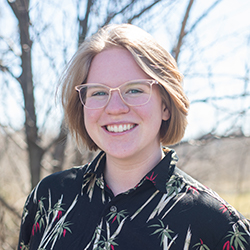 Jillian Carey, incoming executive editor 
Jillian Carey remembers the energy on her first production day at The Breeze — the Wednesday the staff produces the print edition, which comes out Thursday.
"This is a chaotic place, and I want to be in it," she recalls thinking. "Production days are insane, people shouting across the room, calling people's names, figuring out what's happening with the paper."
Carey, a rising senior SMAD major in the journalism concentration, has worked as an opinion editor at The Breeze for two years.
Carey said COVID-19 has affected how The Breeze trains its new editorial staff. They split the staff in half to train them in smaller groups by rotating days in the office. To her, this makes it more difficult to form relationships, but she said she still feels the staff is receiving effective training. 
Carey said The Breeze is hoping to schedule monthly training sessions for new employees to help them learn to use software or equipment. 
As executive editor, Carey is responsible for coordinating between The Breeze and Breeze TV and for bringing "inventive" ideas that join the two. One of Carey's top priorities is to increase diversity at The Breeze.
"One way to solve that obviously is to report on more issues that reflect like problems that people of color face and to report on them well," Carey said "Even better would be to have people that actually experienced these issues report on them … I think a big thing is that we need more people of color inside the newsrooms." 
To improve diversity, Carey plans to expand where The Breeze advertises to potential staff beyond SMAD classes to other majors and to other clubs.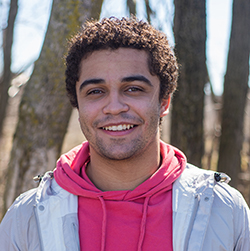 Ivan Jackson, outgoing executive editor
Ivan Jackson, who will graduate in May with a degree in computer science, worked on The Breeze's video team and social media before becoming the organization's first executive editor. During his tenure, The Breeze has expanded its video content and joined forces with Breeze TV. 
"I kind of recognized that there was a need for kind of a different approach to how we'd been doing things in the past," Jackson said. "As talented as we are as journalists, a lot of times the accessory things, like distribution and social media … we kind of forget about." 
Jackson shaped the role to help the paper to reach a larger audience and to create a product that can last. Jackson also saw The Breeze shift to more of a digital-first mindset and better integrate Breeze TV and other coverage, such as Madison Business Review, into The Breeze's site.
He said his proudest accomplishment as executive editor was hiring the incoming editorial staff because of their commitment to a shared vision for the organization — even with challenges presented by COVID-19.
Following graduation, Jackson will work for a software development and analysis company, GCOM Software.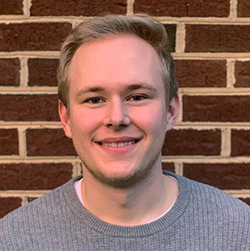 Connor Murphy, incoming managing editor 
Murphy, who took journalism classes in high school, joined The Breeze his first year at JMU as a news writer and, by the spring, was promoted to news editor, a position he held for the last two years.  
"Just seeing what works and what didn't work really compelled me to want to get myself into a big three position," Murphy said. "It was also really important for me to welcome the new staff of writers and the new staff of editors the same way that I was welcomed when I was brought on board my freshman year." 
Murphy, a rising senior and international business major, said, as managing editor, he hopes to build on The Breeze's social media presence, which includes adding a social media coordinator to the staff.  
"[The position] makes us confident that we're going to have the time and capability to do a lot of rebranding, to change the content that we're putting out and be putting up more engaging content," he said. 
Murphy said it's important that the organization expands its outreach, especially to students from other majors, to put out quality content.  
"Making sure that we are getting our name out there as much as possible, whether that's just to other JMU students who might be interested in writing for The Breeze, or if it's students who might become habitual readers of The Breeze," Murphy said. "[That] improves the overall quality of the paper because we can expand our reach a little bit more."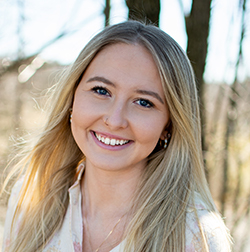 Alexa Fitzpatrick, outgoing managing editor 
As a freshman, Alexa Fitzpatrick joined The Breeze's video team with no camera experience.  
"I fell in love with The Breeze," Fitzpatrick said.  
Her sophomore year she became video editor and then moved up to be managing editor. 
"I've had so many opportunities to cover really, really interesting stories and to get so much real-world experience that I wouldn't have gotten in class," Fitzpatrick said. "I really value that."  
Fitzpatrick, a SMAD major in the Digital Video and Cinema concentration, said her proudest accomplishment from her time as managing editor was the "smooth" integration of The Breeze and Breeze TV. Before this year, Fitzpatrick said the two were seen, and operated, as separate entities.
Fitzpatrick often shuttled between The Breeze's office on South Main Street and Breeze TV's production studio in Harrison Hall. She linked print writers and reporters to work on stories together. She also helped with Breeze TV's production on Fridays. 
"The organization as a whole just feels a lot more so like a community," Fitzpatrick said, "which I really like."