Alumna enlists SMAD students to help cover influencers
Media Arts and Design
---

By Charlotte Matherly, staff writer
Before the pandemic hit, SMAD journalism alumna Nastacia Nickolaou ('18) was interviewing red carpet celebrities for "Entertainment Tonight." When quarantine began and work slowed, Nickolaou didn't take it lying down. Instead, she launched her own media company.
Nickolaou's all-female startup, Behind the Filter, provides in-depth coverage on all things YouTube, TikTok and entertainment — all while employing SMAD interns. She said she decided to focus on social media influencers because she's seen a shift in media coverage and who's most popular in pop culture.
"So many people watch YouTube and TikTok," Nickolaou said, adding that audiences can't get enough of social media stars. "They've become their own celebrities in their own right … Why report on Brad and Angelina if we can be reporting on David Dobrik and Tana [Mongeau]?"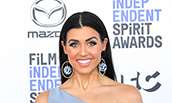 Nickolaou said she hopes to achieve the company's purpose and namesake by reporting on the inner world of internet celebrities and delving behind the social media filters. Since launching on social media in September, Nickolaou and her team have garnered over 10,000 followers on Instagram. While the company hasn't yet started to turn a profit, Nickolaou has made advertising partnerships with brands to draw in revenue.
But Nickolaou's biggest dream is to make a deal with streaming services like Netflix and Hulu. She said she hopes to produce docuseries on social stars that go more in depth and investigate how stardom can affect people's mental health.
"I don't think it's really about the money at all," Nickolaou said. "It's … about highlighting the changes that have happened within the world of social media and how detrimental it can be to some people's mental health."
For now, she's arranging meetings with network executives and interacting with her growing audience through social media. In the meantime, 10 SMAD interns, who are unpaid but gaining experience, help Nickolaou with breaking news, content production and social media management.
Two of her interns, Zia Faqiri and Brianne Petrone, said they found out about the job through a post in the JMU SMAD Majors/Alumni Facebook group.
Faqiri, a sophomore SMAD major in the journalism concentration, works as the floor director and social media manager for Breeze TV. For Behind the Filter, she's on call for breaking news. Faqiri said she makes the rounds every day through the company's social media pages — Snapchat, TikTok, Instagram, YouTube, Facebook and Twitter. If she finds breaking news, Faqiri researches the subject and prepares an informational rundown for Nickolaou, who then makes a TikTok sharing the news.
Faqiri said she saw Behind the Filter as an opportunity to get experience with higher stakes reporting and expand her skill set.
"At JMU, you kind of are in a bubble when it comes to the media you produce," Faqiri said. "This is kind of like a peek into what's on the outside world … If you make a mistake … It destroys your credibility."
Petrone, a junior in SMAD's Digital Video and Cinema concentration, serves as Behind the Filter's video editor. Alongside other video editors, she edits longer celebrity interviews conducted by Nickolaou as well as shorter promotional videos posted as IGTV videos on Instagram.
After starting in September, Petrone said she's enjoyed working with the company from the start and helping build it from the ground up. She said she's also felt a strong sense of connection and community within the startup because of the all-female group of JMU students and alumni.
"[Being Dukes] kind of brings this new energy to it that kind of bonds us," Petrone said. "We just get to try out new things and see what really takes shape and what people engage with … [It's] been really incredible to watch and to be a part of."
Nickolaou said she's in the process of building a website for Behind the Filter, which she hopes will serve as a home base for breaking news, social updates and blog posts. In addition to network deals, she also wants to start a podcast and do more in-depth celebrity interviews.
During her time at JMU, Nickolaou was part of the team of SMAD students who started Breeze TV. She said she learned her production and interviewing skills during her time at JMU and wants to extend her gratitude by employing more interns who are Dukes. She invited current students to reach out and send her their resumes.
"I always have jobs for people and things that can be done," Nickolaou said. "The more the merrier."