Media Arts and Design
SMAD Spotlight: Student balances roles of National Guard soldier and journalist
---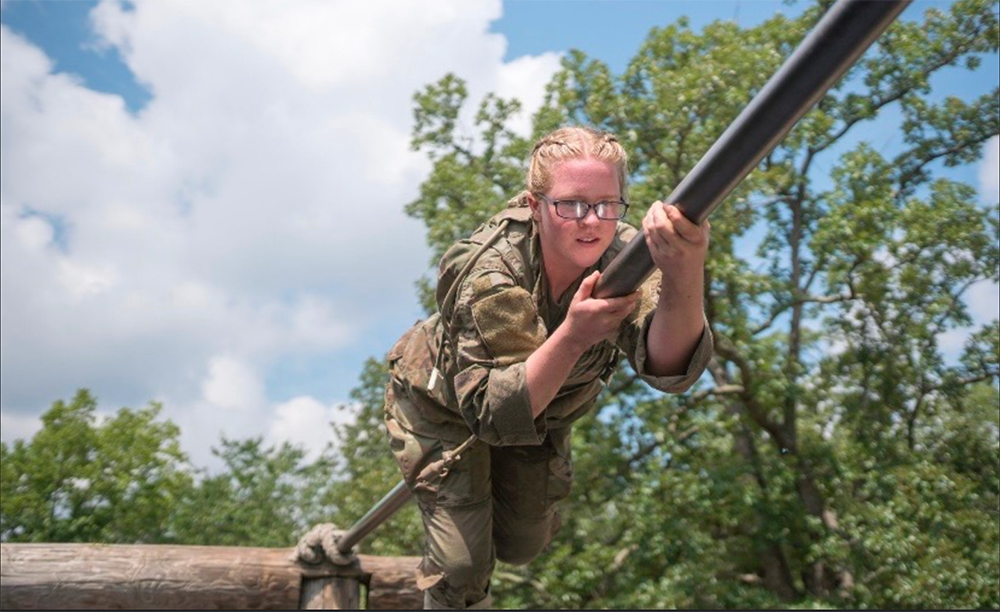 By Jessica Kronzer, staff writer
Jillian Carey, a junior SMAD major, was deployed to Washington, D.C., for three weeks with her National Guard unit following the insurrection at the Capitol Jan. 6, 2021. As a student in the journalism concentration and opinion editor for The Breeze, her urge to report on the events conflicted with her role as a soldier, which comes with rules about divulging information.
Carey also will be the next executive editor of The Breeze and Breeze TV, and will take over that role in April.
Since her first year at JMU, Carey has worked at The Breeze, which also published an editorial thanking National Guard soldiers for defending the Capitol. Carey began as a writer and became opinion editor starting in spring 2019 heading into her sophomore year. As opinion editor, Carey writes and edits pieces for the organization's opinion section.
As a member of the National Guard, Carey and her unit train each month and are sometimes sent to places where they are needed. Carey joined during her first year at JMU and since then achieved the rank of specialist. Her unit was activated Jan. 7, 2021, in response to the previous day's events in D.C.
"It was really cool to be there, and knowing that if something were to happen, we'd be there to help," Carey said.
One photo taken by T.J. Kirkpatrick for The New York Times shows Carey and other troops walking through the Capitol Rotunda. That photo was published widely.
Carey, who often carried an energy drink in her pocket, worked some overnight shifts standing guard. Carey said images of National Guard soldiers sleeping on the floors of the Capitol showed soldiers resting between shifts. They could go back to their hotel rooms for breaks before beginning their work period.
Being both a journalist and a soldier gives Carey an unusual perspective. She recalled one of the soldiers in her platoon expressing concerns about the media, "blowing this out of proportion … lying … saying that we're (the National Guard) miserable."
"Well, the story isn't that the National Guard is in D.C. and defending the Capitol, that's obvious," Carey responded. "The story is that there are so many of us here, that people are sleeping on the floor of the Capitol right now."
Carey said she wishes she could write a piece about her experience, but that's where the competing interests of being a storyteller and being part of the story — as well as the military's rules about information — make it sticky. She said the National Guard includes soldiers with a variety of viewpoints and encourages people to "look at the bigger picture and really think about things critically."
"I feel like it's hard to turn off like a journalist's brain," Carey said. "I was thinking about the pictures that I couldn't take and send to The Breeze and all of the information I wasn't allowed to report back to The Breeze."