Feb. 18 SMAD Connect event to highlight Elon's grad program
Media Arts and Design
---

By Jessica Kronzer, staff writer
Maggie Mullikin, a 1985 JMU graduate, will host a Zoom event Feb. 18 at 5 p.m. to tell SMAD students about Elon University's graduate program focusing on interactive media.
SMAD students must register in advance to attend this virtual SMAD Connect event.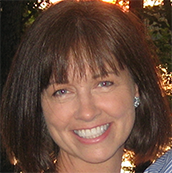 Mullikin is Elon's manager of graduate and global programs in the School of Communications. She will explain the 10-month program, which also includes a study away component. 
For years, Mullikin has attended SMAD Day to recruit students, but this year's event was cancelled because of the pandemic. 
Prof. Rustin Greene arranged Mullikin's virtual visit.
"I was thrilled that I have an opportunity, even during COVID, to speak with students virtually," Mullikin said.
Greene said students in other concentrations beyond Interactive Design have participated in the program in the past.  
Coming to JMU is a given for Mullikin who said that Elon can "connect students with creative abilities" to a master's program that "takes that skill to the next level." Mullikin said Elon's program takes an approach similar to SMAD's by using experiential learning, such as by rebuilding or creating a website for a nonprofit organization.
"The other beautiful connection that I've seen between Elon and JMU is the intentional teaching to make a difference in the world," Mullikin said.
This year, Elon is launching a low-residency track to the program. Besides this component and a two-week "boot-camp," in August, students can complete the program virtually through asynchronous classes while having access to Elon's recourses from their homes.
Two JMU students will start the program in August, Mullikin said. One of them hadn't considered attending graduate school before meeting Mullikin two years ago, she said.