Creative Advertising seniors unveil campaigns for well-known products
Media Arts and Design
---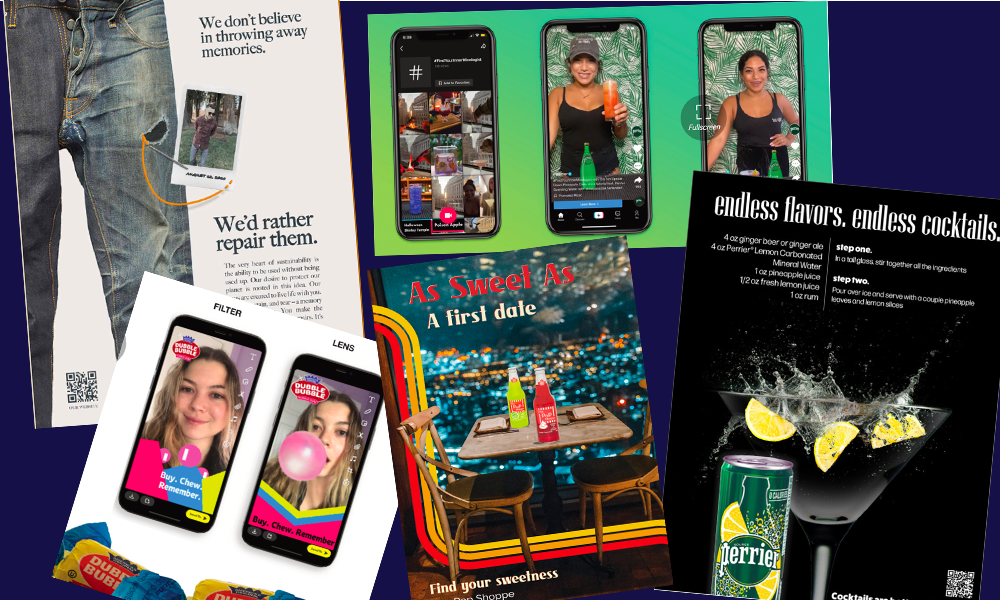 By Jessica Kronzer, staff writer
Creative advertising students developed full campaigns for Perrier sparkling water, Nudie Jeans, Dubble Bubble chewing gum, and The Pop Shoppe soda as their capstone projects this fall. 
Dr. Talé Mitchell's SMAD 443 class allowed students to form groups that become mini-advertising agencies, and each select a "client" from a list of companies with little to no advertising presence. Students presented their designs on a livestream during finals week to which industry professionals also were invited to attend.
The groups go through the full creative process: conducting primary and secondary research, drawing up sketches or thumbnails and executing their design ideas. Each group then creates three print ads, a TV ad, two types of social media ads and examples of both branded product placement and guerrilla marketing. They also design an out-of-home ad, such as a billboard or poster. Everything is put in a book that students could show to a client.
Mitchell said the goal is to give students a "hands on" experience. The project deviates from most scenarios where an employee is given a particular task because the students work on all aspects of the campaign. Mitchell said former students have told her they were hired for jobs because of their capstone project.
That's because they hone their creative and persuasive storytelling skills by building a campaign from scratch, Mitchell said.
"They're doing everybody's role that would work on a campaign in real life, and so that is very impressive to the employers that they show this to," she said.   
Katie Canter, a senior SMAD major, said this was the first project of this size she's worked on.
"It's a good combination of everything we've learned in advertising, and it's a good test of our skills," Canter said.
Canter worked in group calling themselves "Agency 1"  that designed ads for "The Pop Shoppe," a soft drink brand that is only distributed abroad. She said their audience was "Gen Z" or "TikTokers." Kirsten DeZeeuw, one of Canter's partners, designed colorful "retro" lines that are carried throughout the campaign to support its vintage theme.
"Our tagline is 'find your sweetness,'" Canter said. "It's all about just like finding the little things in your life to make your day sweet."
The ads feature the slogan with different examples of positive events, such as, "sweet as the first day of summer." Canter designed a poster meant to be featured on the back of a truck that shows a green traffic light and a bottle of Pop Shoppe's soda with the text "sweet is getting every green light."
The group also created a mock-up for a free-sample retro vending machine that offered consumers the option to try the product. Canter said it also connected to their audience by being "interactive" and providing an opportunity for users to take photos with the machine. Additionally, they appealed to their demographic by creating an advertisement within the game "Among Us" where players have a "task" to get a Pop Shoppe bottle out of the vending machine.
Agency 1
Members: Katie Canter, Kalin-Morris-Cartagena, Kirsten DeZeeuw, Grace Mathias, Sam Rusnak and Brendon Smith
Brand: The Pop Shoppe
Campaign Flipbook:
Kylee Czerwinski, a senior creative advertising student, worked in another group on a campaign for the brand "Nudie Jeans." The name caught Czerwinski's attention. The group members, calling themselves "Green Arrow Agency," learned that the company includes a goal to be sustainable, and believed that mission could be used in their campaign.
Nudie Jeans has a denim repair shop, which makes them "lifelong lasting jeans." Czerwinski's group wanted to play into the idea of jeans that last a lifetime and the memories that buyers make in their jeans.
The three print advertisements featured polaroid pictures strung by a thread into a pair of jeans to emphasize memories. Contestants on the reality show "The Bachelor" wore Nudie Jeans, so the students worked scenes from the show into their branded product placement ad.
Green Arrow Agency
Members: Abbey Chaplain, Shannon Cooney, Kylee Czerwinski, Sonya Ricker, and Colby Smith
Brand: Nudie Jeans
Campaign Flipbook:
About halfway through the semester, the class stopped meeting and switched over to individual group meetings every other week with Mitchell. Czerwinski said she learned how to manage a project without a professor "holding your hand."
"It was interesting to see how our group works to figure out meeting times and our own deadlines, and how to create an effective campaign without having someone kind of telling you directions," Czerwinski said.
Two other groups — Valley Agency and 4midable — focused on the bottled water company Perrier.
Valley Agency
Group Members: Kaleigh Mullins, Olivia Rhodes, Sally Lyle, Talia Davis, and Tucker Stuntz
Brand: Perrier
Campaign Flipbook:
4midable
Group Members: Lindsey Dunn, Aliyah Hall, Taylor Sarlo, and Jordan Vonderharr
Brand: Perrier
Campaign Flipbook: 
And another group, Agency Z, developed a campaign for chewing gum brand Double Bubble.
Agency Z
Group Members: Lauren DeRoco, Madison Fletcher, Isabela Gladston, Drew Herbert, and Hannah Kaplan
Brand: Dubble Bubble
Campaign Flipbook:
The COVID-19 pandemic impacted how students worked on their capstone projects. Canter said using Adobe programs, such as Photoshop and InDesign, can make it difficult to collaborate on a document in real time because only one person can work on it at one time.
Czerwinski said the biggest challenge was producing a commercial while maintaining safety guidelines. Her group altered the scripts multiple times before deciding to combine stock videos with their own video. The commercial's storyline was about different memories people make in their jeans, such as proposing, traveling and teaching a child how to ride a bike.
Mitchell said because students in this course are seniors, many enter the class a little anxious about the coming demands of entering the workforce. She said they progress throughout the semester as they become more competitive in the advertising field.
"I really enjoy seeing the students go from when they first come to the class to the end," Mitchell said. "They have so much more confidence."