Media Arts and Design
DocFest premieres students' work on Dec. 17 at 7 p.m.
---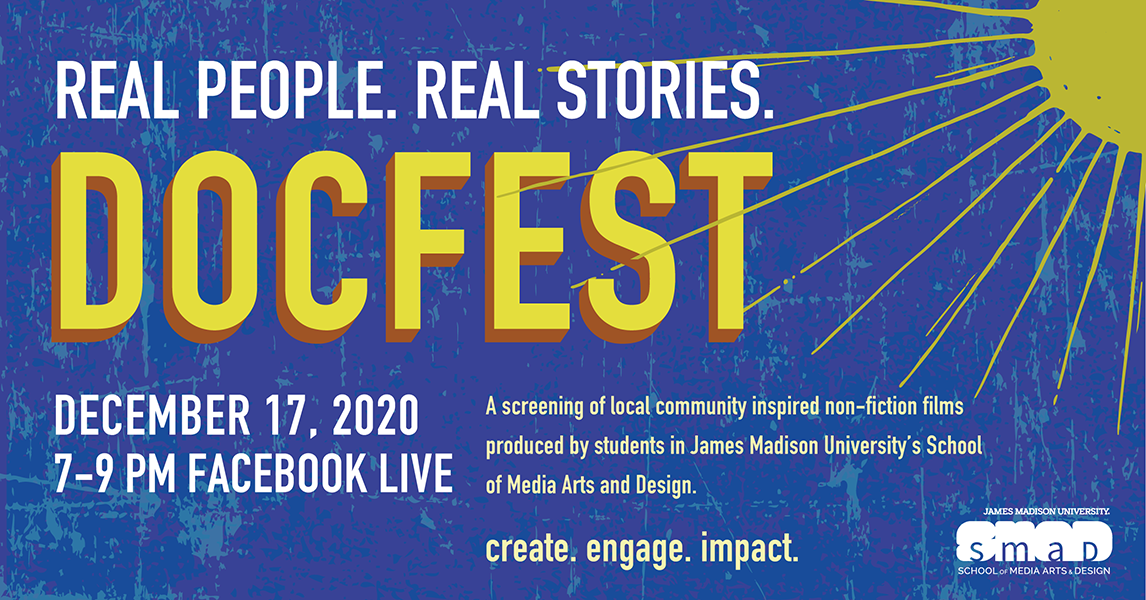 By Charlotte Matherly, staff writer
At first, Prof. Shaun Wright wasn't sure how SMAD's tradition of DocFest would continue this fall without being able to hold an in-person event and with pandemic-related challenges to filming and producing the documentaries. But perseverance and innovation prevailed so that students will present their mini-documentary projects through Facebook Live on Dec. 17 at 7p.m.
Wright, an associate professor in SMAD's Digital Video and Cinema concentration, teaches SMAD 303 and 403 — the post-production class and documentary production course, respectively. The 303 students produce mini-documentaries while those in the 403 "capstone" class produce 10-12 minute documentaries that will be featured in DocFest.
At the beginning of the semester, those upper-level 403 students pitched their story ideas to the class in what Wright called a "story stress test."
"I have … this kind of stress test rubric that we go through and talk about," Wright said. "[We] figure out what stories are the strongest and most doable. Then we kind of team up, and then for the rest of the semester, that's the project that students work on."
Wright said once the class agreed on the documentaries they wanted to produce, the class split into three-person teams. Each team could work out which person would serve as cinematographer or take other specific roles. Wright said the production process is largely democratic, with each person in a team acting as a producer and director with equal say.
Alexa Fitzpatrick, a senior SMAD major, has been working with her SMAD 403 team to produce a documentary about JMU's student-run newspaper. Fitzpatrick, the managing editor at The Breeze, said she wanted to explore the modern struggles of a college newspaper from the inside.
"I'm working on … how student journalism has been affected by the coronavirus and the phenomenon of, like, stress in the media and fake news," Fitzpatrick said. "It's kind of, like, following what's happened since the university opened up in August."
Fitzpatrick said she was inspired by friction between The Breeze and the JMU administration this semester, especially when the university denied providing certain COVID-19 case numbers to The Breeze.
"The blatant distrust in the media that's so prevalent in the country today [has] trickled down into college newspapers," Fitzpatrick said. "So, I thought it would be a really interesting thing to look at and to show that journalists are hardworking people that should be trusted and valued."
She also said filming with COVID-19 restrictions in place has presented minor challenges. For instance, tt's tricky to interview and film someone with masks on and while social distancing, Fitzpatrick said.


Other students' contributions
DocFest is supplemented by shorter films from Wright's post-production class, SMAD 303. Usually, Wright said, the class partners with local nonprofits or other causes. Because of restrictions with COVID-19, the class hasn't been able to work with local organizations. Instead, the class partnered with Women in Olive Oil, an international nonprofit based in Charlottesville.
Women in Olive Oil, which launched in April, connects more than 1,000 women in the olive oil industry from more than 40 countries through a Facebook group and aims to provide a forum for them to support each other and share knowledge and expertise. 
The organization also seeks to engage and educate consumers about how olive oil impacts cultures and wellness around the world and how each purchase of olive oil contributes to the health of the global population.
After connecting with Claudia Veysel, their contact at the organization and also a JMU faculty member, they received pre-recorded interview clips of their potential subjects.
Megan McBride, a junior SMAD major, said the SMAD 303 students each selected an individual in the organization to be the subject of their mini-documentary.
The class is making short films that will act as both documentaries and promotional videos, McBride said. The 2-3 minute video each of them create will be featured at DocFest, while a 60-second video will be used on Women in Olive Oil's social media.
McBride said the French woman she's working with is an expert who judges olive oil internationally.
She also said she's excited about sharing her work.
"It's cool that we're going virtual and trying these new projects," McBride said, "because it kind of does feel like you're dipping your toes into the professional world."