Media Arts and Design
Thankful for JMU, alumnus Will MacGill wants to pay it forward
'I get to do what I love to do'
---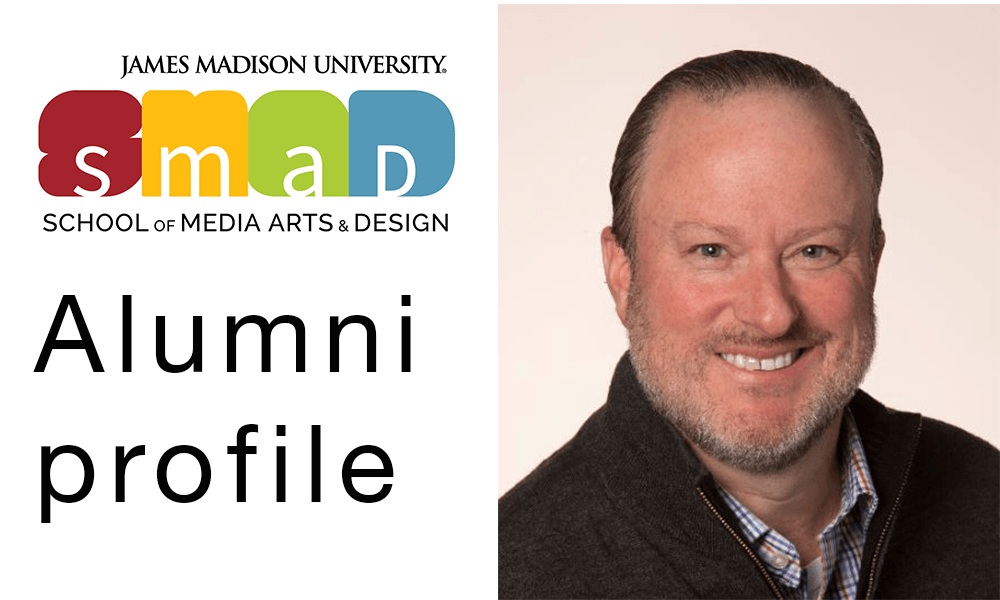 By Charlotte Matherly, staff writer
Twenty-eight years after his graduation, alumnus Will MacGill ('92) says he's ready to give back.
Because his dad, brother and their families live in Harrisonburg, MacGill said, he visits the Friendly City often and loves seeing JMU's campus. MacGill said while he can't give back in the form of "thousands and thousands" of dollars, he hopes to help students in other ways.
"I'm so proud of my time [at JMU]," MacGill said. "I'd love to mentor anybody … and help people out in a field that can be tough at times."
In addition to mentoring, MacGill said he'd be eager to provide internships to students. He said he's open to helping in any way he can. Interested students can email him at wdmacgill@gmail.com.
As a major in mass communications — which is now SMAD — with a concentration in TV/journalism, MacGill said his courses were key in preparing him for a career in video production.
"There was just always something going on; there was always something to do," MacGill said. "If I have one regret at JMU, it's probably [that] I didn't throw myself into all of that … I wish I would've got my hands in more."
MacGill said one person in particular impacted his time as a Duke and his career afterward. Dr. Marilou Johnson, helped chart his course. (Johnson retired from JMU in July after going on to serve as SMAD's director and an interim dean and ultimately as vice provost of academic development.) After MacGill transferred to JMU and lost some of his college credits, Johnson advised him about which classes to take.
"All of that played a role into my passion of what I do," MacGill said. "The fact that I'm 28 years into my career and still doing it and loving it … Every day I'm happy to go to work, and I get to do what I love to do, and the first time I really got to do that was at JMU. It will always be kind of like my backbone and the cornerstone of who I am and my career."
After college, MacGill worked several jobs in media production. At first he wanted to get into radio, he said, but after working for a radio station in Richmond, he realized he was geared more toward visual media. In 1993, he became a page for CBS, working for productions like the talk show "Geraldo" and "The David Letterman Show." 
MacGill worked seven days a week for nearly a year, he said, because he loved what he was doing. From there, he went on to work at FX, the cable network Fox had just launched at the time. He rose through the ranks, eventually becoming a field producer. 
He worked on a show called "Personal Effects" in which he traveled to homes across the country to see people's collections. MacGill said during two years of working on the show, he came across interesting stories, including a teenager who collected "Star Wars" memorabilia and a multimillionaire who collected planes from World War II. 
But the long, unpredictable hours were starting to get to him. He'd just gotten married, and his first child was on the way.
"I wanted to come in at 7 o'clock in the morning and leave at 7 at night," MacGill said. "It just started to feel younger, and the hours were kind of skewed because it's video production. And I was like, you know, I'd love to be able to do what I do … but I want more structure."
In '99, he heard about the Macy's satellite network. Twenty-one years later, as vice president of interactive media at Macy's, MacGill oversees all internal audio-video production. He also works on the website's design and graphics.
"I love it, and I feel like I'm the luckiest person in the world 'cause I get to do what I love to do," MacGill said. "And I've been doing it at the same place for 21 years, which [in] video production, you just don't see that a lot."
As an aspiring mentor to SMAD students, particularly those in the DVC concentration, MacGill said he'd advise students to take anything they can get. He urged them to not be afraid and never decline opportunities.
"Bloom where you're planted," MacGill said. "I was not afraid to work seven days a week, and you just learn a work ethic, and people see that, and they notice that. Just work as much as you can, and don't say 'no.'"
MacGill said what he learned most at JMU was how to work hard. He urged students to take advantage of opportunities and develop their work ethic.
"When I was there, there was a lot to offer, but I didn't take advantage of it, and I wish I would have," MacGill said. "I really think at JMU more than anywhere I learned my work ethic, and how important that was … If you're talented, you're gonna succeed eventually but, you know, you still have to put in the time and the hours and not be afraid of the work."