Media Arts and Design
New professor Elisabeth Kvernen brings global perspectives
---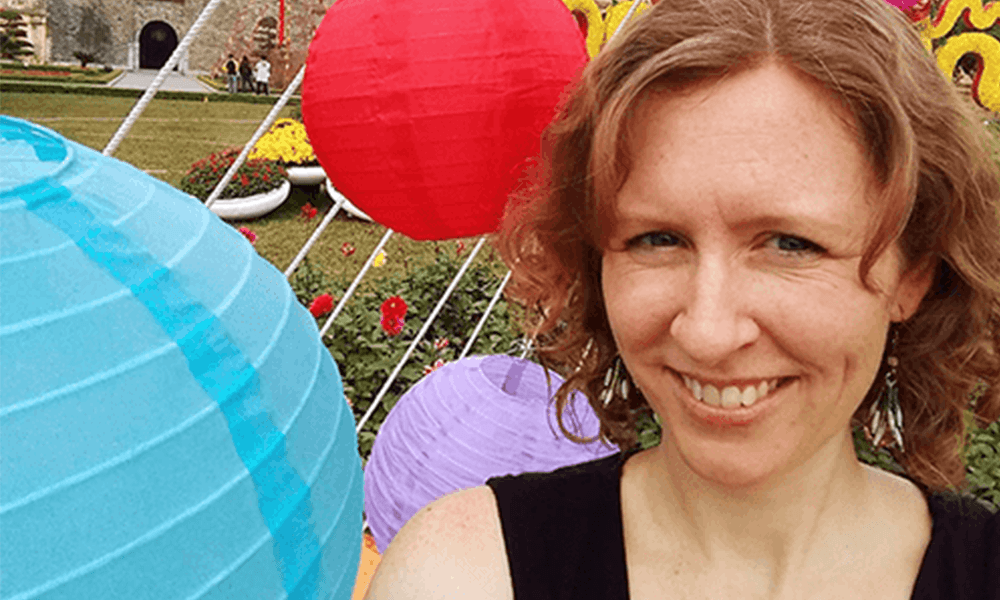 Article By Jessica Kronzer, staff writer
After spending four years working in Vietnam to educate visitors about effects of the Vietnam War on the south-Asian country, Elisabeth Kvernen has brought her global outlook to the School of Media Arts and Design.
Kvernen said she hopes to carry her experience to her classes to teach students to listen to "non-privileged perspectives."
"A lot of it is just taking different perspectives and making them even more visible and then exposing people to things that maybe I've seen or heard about," Kvernen said.
Kvernen teaches two classes that deal with visual communication design. In SMAD 201, Kvernen introduces students to design tools in InDesign, Illustrator and Photoshop. In SMAD 332, students will work on larger design projects, such as creating informational signage for COVID-19.
Kvernen moved to Harrisonburg in March 2020 after spending four years working as a connecting peoples coordinator at Mennonite Central Committee in Hanoi, Vietnam. There, she educated tour groups on the lasting effects of Agent Orange, a toxic chemical used on people during the Vietnam War.
Being a global citizen isn't new to Kvernen. She grew up in Ethiopia, Nepal, India and the United States. As an adult, she lived in Syria while studying Arabic before spending those four years in Vietnam. She speaks Arabic, French and pre-intermediate Vietnamese. Kvernen noticed that her peers in college had common misconceptions about other countries and their access to amenities, such as television.
"Part of my upbringing was realizing that I could be a bridge person — between different cultures and different places," Kvernen said. "I realized that I really like design, and part of that was just to make information accessible."
Before working abroad, Kvernen worked at the Smithsonian Folkway Recordings in D.C. She had creative freedom designing ads, CD covers and other marketing materials. At the Freer Gallery of Art & Arthur M. Sackler Gallery in the Smithsonian, Kvernen created guides to make the gallery more interactive and accessible for children.
In 2009, she earned an M.F.A. in integrated design from the University of Baltimore. Over the course of her career, Kvernen also has taught at the University of Maryland and the University of Baltimore.
Her arrival in Harrisonburg comes as JMU and other universities are having to adjust to teaching during the coronavirus pandemic. So Kvernen will be employing technology to meet the challenges of teaching online.
She is using a "big art board" where students can annotate, draw and collaborate. Students will upload their designs to the board for critiquing and sharing feedback.
Gwyneth Mellinger, SMAD's director, said Kvernen's global experiences and background in design, video and website creation made her an ideal fit for the department.
"I thought that was particularly good for our students to be around someone who had that broad a cultural awareness," Mellinger said. After all, it's one thing for professors to talk with students about their brief trips to other countries, but Kvernen's experience living and participating in other cultures adds an entirely new dimension, she said.
Adrienne Hooker, assistant professor in SMAD, said Kvernen has already contributed to the faculty with "resources and information" despite not even meeting many of her colleagues in person yet. 
"She brings more expertise within this field of visual communication, which I feel that I might have been somewhat of a lone wolf before that," said Hooker, who teaches similar courses to Kvernen, including SMAD 201 and 332. "Elisabeth comes in just at the right time."
Mellinger also called Kvernen "an incredibly approachable and accessible person" who could be a mentor to students, especially those interested in working with nonprofits.
Kvernen said while she was looking forward to connecting with SMAD students in the classroom, she still enjoys seeing students' faces on Zoom.
Even as students are sent home, Kvernen has tried to encourage students interested in design or cross-cultural studies to get in touch with her virtually. She said she hopes students in her classes learn to embrace the power and elegance of design.
"If we can fire that love of design, then they can go on from there and there's so much they can learn," Kvernen said. "I didn't even study design in undergrad, so for me, it's been something (that's) evolved over time."