Media Arts and Design
SMAD Class Creates Designs for Nonprofits in the Community
---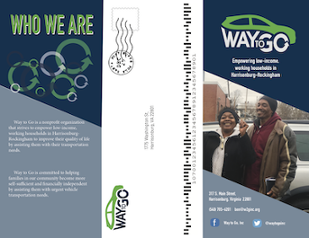 Professor Adrienne Hooker's visual communication design class, produced a fundraising campaign for Way to Go and recently began working on several new projects for nonprofits. 
Hooker calls the partnerships a "win win" for nonprofits and students. The class is made up of interactive design, creative advertising, and journalism students. 
"In SMAD we're very much storytellers," Hooker. "We need to know, who are we talking to? What are we telling them? That's where that nonprofit community partner comes in."
Way to Go, a Harrisonburg-based nonprofit, worked with SMAD students to create a direct mail campaign to encourage fundraising for their organization and to promote the upcoming Great Community Give event April 22, 2020. Though the nonprofit will no longer be able to implement the mail campaign because of budget pressures from COVID-19, the executive director, Benjamin Craig, remains thankful and impressed by the students' work. 
To suit the nonprofit's needs, students needed to create an "evergreen" piece that would remind people about the work Way to Go does, while acting as a "splash" piece to draw new donors. 
Craig collaborated with Hooker and a dozen teams of students to design the campaign. 
"I don't have a SMAD or SMADish degree at all, I'm an applied economics major, so I kind of know what I would like to see as far as visuals and content, but this class has been instrumental in capturing our vision," Craig said.  
Craig said they were looking for a design that could be "easily displayed on a refrigerator as a remainder" and that were "quick hitting." 
Alana Donaldson, Joe Gumpf and Meghan Muldoon worked on a team to create the winning design, a pamphlet. Donaldson, a junior creative advertising concentration, explained that the main goal of their project was to fit the information easily. Compared to a postcard sized design, the pamphlet allowed the group more space. 
The assignment gave Donaldson the opportunity to further her Photoshop and InDesign skills that she learned in SMAD 201 last fall.
"It's letting me develop my skills and give me real life work experience," Donaldson said. 
Craig explained that Hooker's class was a mutually beneficial community partner to Way to Go. 
"It's helpful for small organizations with limited capacity to have a strong partner like the SMAD unit at JMU, to have a firm grasp on kind of the project planning and implementation and strong communication so it keeps my plate clear for other activities," Craig said. 
Students are working on a new project named the "two version poster project" by Hooker, which requires students to explore the use of vector and raster graphics. Students have the choice to pick from three design options: a cover for Madison Magazine, a poster for Reel Change, or entering a competition to design For Vote's poster. 
"I like having choices because you have more 'buy in' from the student," Hooker said. 
Jennifer PeeksMease, the community engagement liaison for SMAD, WRTC, and SCOM, helps to connect Hooker with nonprofit partners. According to PeeksMease, community service learning "breaks that fantasy of how the real world works," for students by showing them that their future employment will be less structured than their classes. 
"This (community service learning) is one of the ways that we actually integrate 'being the change' into the curriculum," PeeksMease said. "Because most of these organizations can't afford to, or they don't have the time to do the things that we're doing in these classes. So it's a real value to organizations that make a real difference in our communities."
Hooker has seen the impact of working with nonprofits on some of her students who ask her about continuing to design for nonprofits as a career. 
"That made my heart swell," Hooker said. "[It's] not just another class project we check off but they actually understood the impact that they can provide for an audience and for a client."