Media Arts and Design
SMAD Alumna's Documentary Premieres at Sundance Film Festival
---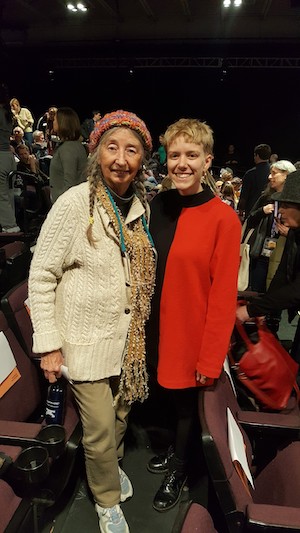 Marley McDonald, a 2015 SMAD alumna, worked as the Associate Editor for Spaceship Earth, a documentary that premiered at Sundance Film Festival on January 26. Spaceship Earth follows the story of eight people who created a biosphere in the Arizona desert, with several earth-like biomes, in 1991. 
McDonald began her work on the documentary in September 2018. After McDonald and a friend watched the "terrible 90's movie" Bio-dome, they decided to travel to see Buckminster Fuller's biosphere, in Montreal, Canada. While driving back, McDonald received an email about working on Spaceship Earth, a moment she called serendipitous. 
"It's also just totally my style," McDonald said. "It's where science meets art."
McDonald sorted through 600 hours of archival footage and 2,200 photographs taken by the eight theater troupe members who created Biosphere 2. Though the group had worked on smaller ecological projects, the three-mile long glass structure was their biggest creation yet. Their goal was to find a way to terraform other planets, in case disasters made the earth uninhabitable. 
"There's a lot of possibility," McDonald said. "It's also a 50 year timespan of these people's lives. So, what do you want to say about that? That just comes in time when you find the moments in the footage that you like and build from there." 
After finding striking moments in the footage, McDonald sent her choices to her editor, "mentor" and "hero," David Teague. 
"To look at someone else's life so in detail, because film allows you to do that, it's both sight and sound, it's so similar to the way we perceive our everyday world, and be able to create a story from someone else's story, and have a primary perspective, I think that's really fascinating," McDonald. 
Shaun Wright, a SMAD professor, taught McDonald in a number of his classes including video production, post production, and documentary production.
"You can tell she's unique and she definitely is the complete package," Wright said. "She's creative, she's smart, she's got her own vision and she is a really hard worker."
Wright recalled that McDonald once spent approximately six to seven hours filming one shot for her mockumentary, Harrisonburg's Finest Printer Museum. The shot was a transition where the filmmakers stacked four printers in a way so that a piece of paper slide in the top machine would roll down each printer. 
"If not for meeting and working with Shaun Wright I wouldn't have found the passion I have for Documentary," McDonald said. "Shaun is the reason I am where I am … " 
Getting screened at Sundance will open doors for Spaceship Earth to be further distributed and seen by more people. To McDonald, now is the "right time" for the documentary to  premiere. 
"A big message of it is to find community, and that's obviously a problem that's facing the larger world right now, is finding that community and feeling power in that," McDonald said. "I think this movie will help inspire people to see the community around them and take action."