Media Arts and Design
New Professor Highlight: Professor Morgan Smalls
---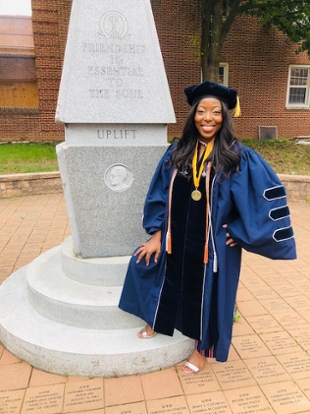 In a lecture on violence in the media, Dr. Morgan Smalls opened the lesson with a minute-long clip from comedian KevOnStage. In the skit, he is discussing the excess of violence in mortal kombat, a video game. The short video engaged her students on the topic and helped set the tone for the class, leading to a larger discussion on the long and short term effects of media violence. 
This moment is just a snapshot of how Smalls uses her knowledge of popular culture to use contemporary examples to better educate her mediated communication class on media literacy. 
As a digital and media studies scholar, Smalls' research uses popular culture as an entryway to explore topics of gender, race, and class. Specifically, she is interested in the portrayal of Black women in media and social media and the counter narratives that are created to combat sexism, racism, and the lack of representation or misrepresentation in traditional media, such as television and film. 
Her dissertation focused on the HBO series, Insecure. She most recently published a book chapter titled, Social TV and Stereotypes: The Social Construction of #BeingMaryJane on Twitter. She has also conducted research on topics ranging from an SNL skit about Beyoncé to the Charleston shooting. Smalls examines the ways in which digital spaces are used to build communities and forums of discussion for marginalized groups, potentially leading to social change.
Fall of 2019, Smalls was hired as a full-time professor at the School of Media Arts and Design. Smalls was previously hired by JMU as a "preparing future faculty fellow" and as an post doctoral fellow.
Before her career in higher education, she worked in a variety of careers including as a public relations consultant, associate producer, speech coordinator, and public affairs specialist for non-profit and government agencies. Smalls loved working in those capacities, but wasn't entirely fulfilled in those roles. 
"With academia, I could use my experience as a communication practitioner and researcher daily. In turn, I could share that knowledge with my students and expose them to new topics. In class, we would learn from one another and I could work in an environment where the acquisition of knowledge was highly valued and respected," Smalls said. "As a life-long learner, it was important that I could contribute to society with my teaching, research and service."
Smalls finished her Ph.D. in Communication, Culture, and Media Studies with a Certificate in Women's Studies from Howard University. 
At JMU, one of the courses Smalls teaches is mediated communication: issues and skills (SMAD 150). As a large general education class, it is taught by professors in a large lecture and divides into smaller discussion groups throughout the week. 
"This course is foundational in regards to exploring the field of communication. The beauty of this class is that it covers a variety of topics and the skills you learn are transferable. Whether you're a SMAD major or not, it's very important to be aware of media literacy, particularly when we are inundated with media messages incessantly" Smalls said. 
For Smalls, the class also provides an opportunity for her to get to know the teaching styles of other SMAD faculty. She thinks it's "a unique teaching and learning environment that allows each professor to bring their expertise to the course." 
This semester, Smalls is teaching a new class, grounded in her expertise, titled "Gender, Race and Culture in Digital Media." This course is designed to explore the relationship between the aforementioned topics in both digital and traditional media. She noted how, "In class, we'll wrestle with questions such as: are digital spaces 'safe' spaces? How can the media be used to interrupt or challenge existing narratives regarding marginalized communities?"
At the end of the term, Smalls hopes that students' research in the form of a term paper can be presented at relevant conferences.
In class, Smalls prioritizes getting to know her students and their interests in television and film so that she can use examples that are relevant to them. This encourages engagement in the course materials and optimal use of their critical thinking skills.
In the future, Smalls hopes to continue to work in SMAD and publish more research from her dissertation as well as other topics. In addition, she is open to consulting opportunities, in line with her research interests. 
"Teaching is a privilege and a responsibility. My long term goal is to do for my students what my professors did for me," Smalls said. 
"I want to show them how research can be exciting and can be used to impact our communities and create social change. Change can begin in the classroom or in the pages of a book, but it  doesn't have to stay there."