Media Arts and Design
James Acosta ('93) Scholarship for Media Excellence
---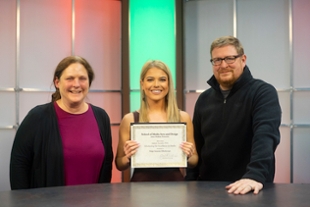 Paige Ellenberger, the lead anchor and managing editor for Breeze TV, is the first recipient of the $5,000 James Acosta ('93) Scholarship for Media Excellence.
Ellenberger, a senior from White Oak, Pennsylvania, was Breeze TV sports editor in 2018-2019. She has worked for Madizone, the JMU sports broadcasting endeavor, for three years, and for the past year and a half has been a color analyst and sideline reporter. She interned for Fox Sports and FS1 this past summer.
The award was announced during a surprise presentation at the conclusion of the Breeze TV taping on Dec. 6.
Gwyneth Mellinger, SMAD's director, said choosing an Acosta Scholar was difficult because of the high number of extraordinarily talented SMAD majors. The annual Acosta Scholarship was established this fall by JMU alum Jim Acosta, CNN's chief White House correspondent, to honor a SMAD major whose body of work in media is deemed excellent by the SMAD faculty.
"Faculty who have worked with Paige praise her passion for broadcast journalism," she said.
Assistant Professor Ryan Parkhurst, Breeze TV adviser, lauded Ellenberger's professionalism.
"Paige will be a success in whatever she does in media because she constantly pushes herself to be the best at what she does," Parkhurst said. "She anchored Breeze TV's election coverage this year with the poise of a veteran news anchor. She is one of the most impressive broadcast students I've ever had the pleasure to work with."
Assistant Professor Ryan Alessi, who worked with Breeze TV staff on Election Night coverage, said Ellenberger's contribution stood out.
"I was impressed by her research and preparation for a topic she doesn't regularly cover," Alessi said. "Her ability to think on her feet and her poise on camera make her a star."
The next Acosta Scholar will be announced at the SMAD Awards Banquet on April 9.