Media Arts and Design
WJLA News Director Cheryl Carson Gave Speech on SMAD Day
---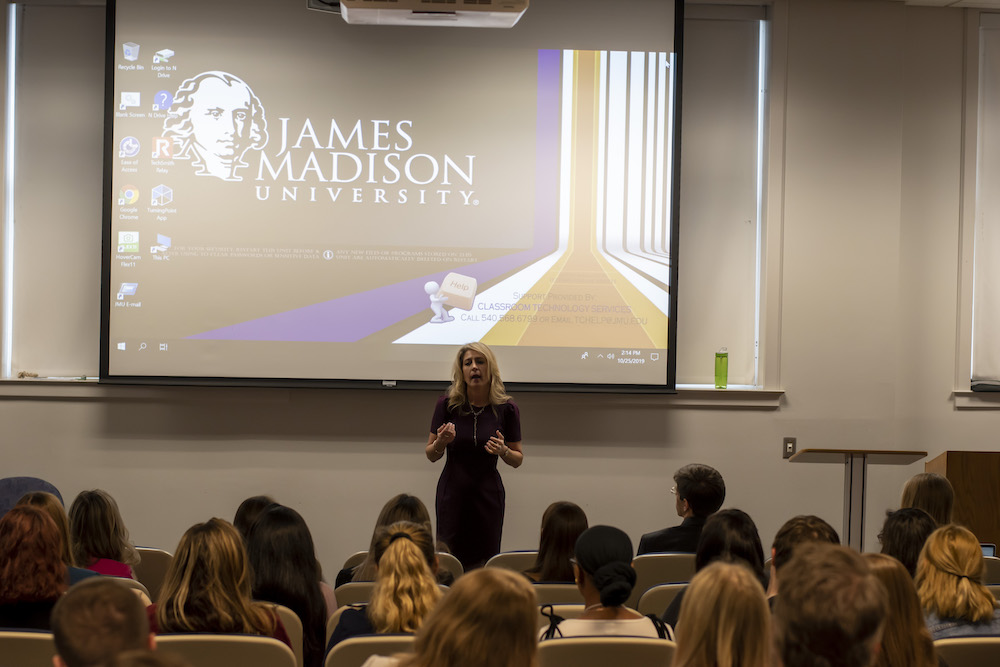 By Jessica Kronzer
Cheryl Carson, the News Director for WJLA, gave a keynote speech about the shifts in journalism, staying relevant to views, and covering the hard-to-hear stories everyday on October 25th. 
Carson emphasized how journalism is changing to use social media to engage the audience. A year ago, ABC7 ran a story about marines who ran into a burning apartment building for seniors. The story was edited for Facebook and included a compilation of text, interviews, and footage from the scene. 
This method of editing was meant to engage social media users by leaving the storytelling to the sources. To Carson, this technique and others like it are helping WJLA to "break the mold" of broadcast journalism. 
"I like being here and fighting the fight," Carson said. 
Carson, a JMU '88 alumna, has worked in news for thirty years. For 12 years, she was the senior executive producer in Los Angeles at the FOX duopoly KTTV/KCOP. Before starting her current job, Carson held the position of news director for KING-TV in Seattle. She was the first female news director at that station. In February, she became the News Director of Sinclair Broadcast Group's ABC7 WJLA & 24/7 News. 
When working in Seattle, Carson covered the Oso Mudslide, which killed 43 people. She spoke on the role of the journalists in asking the community how they can help. Based on feedback, Carson and her station worked with the local fire department to allow two brothers to pull their sister out of the mud where she was buried. 
In college, Carson originally wanted to pursue a career in oceanography to "swim with dolphins." While taking a mass communications general education class, a presentation by Katie Couric pushed Carson to change paths. Her interest in journalism was fueled by wanting to make an impact and led her to transfer to JMU. 
After arriving at JMU, SMAD professor John Woody gave Carson a tour. Woody taught her about "teamwork under deadline." 
"He took my hand and changed my world," Carson said. He taught me the art, the craft, of great storytelling and I haven't stopped doing it since. I am extremely grateful for this experience here. 
Carson brought light moments into the speech. She began her talk with a video of people on the news dancing to "baby shark," for the Washington Nationals win. The Youtube video was an example of how WJLA uses various platforms to reach their audience. Carson danced along and explained that the newsroom puts just as much grit into a story about a baseball win as they do with heavier subjects. 
"That woke people up yesterday morning in Washington D.C. and said 'Good morning, something great is happening in your community today,'" Carson said. "I love to lead with great news." 
To Carson, her newsroom is fighting to preserve, just like the Nats did. Carson exemplified reporters' struggle to record video in spaces. WJLA is currently petitioning a Maryland judge to get a camera into their courtroom. The news station is hoping to film the hearing of the gunman, Jarrod Ramos, but Maryland law prohibits cameras in courtrooms. 
Carson also advised students to have passions for things outside of journalism. Speaking another language is one trait Carson looks for in journalists. According to Carson, she thinks a newsroom should be diverse on all fronts to reflect the community its reporting on. 
"If you speak another language you understand another culture," Carson said. "You can't go in and be colorblind in a newsroom anymore."