Media Arts and Design
New Professor Highlight: Professor Ryan Alessi
---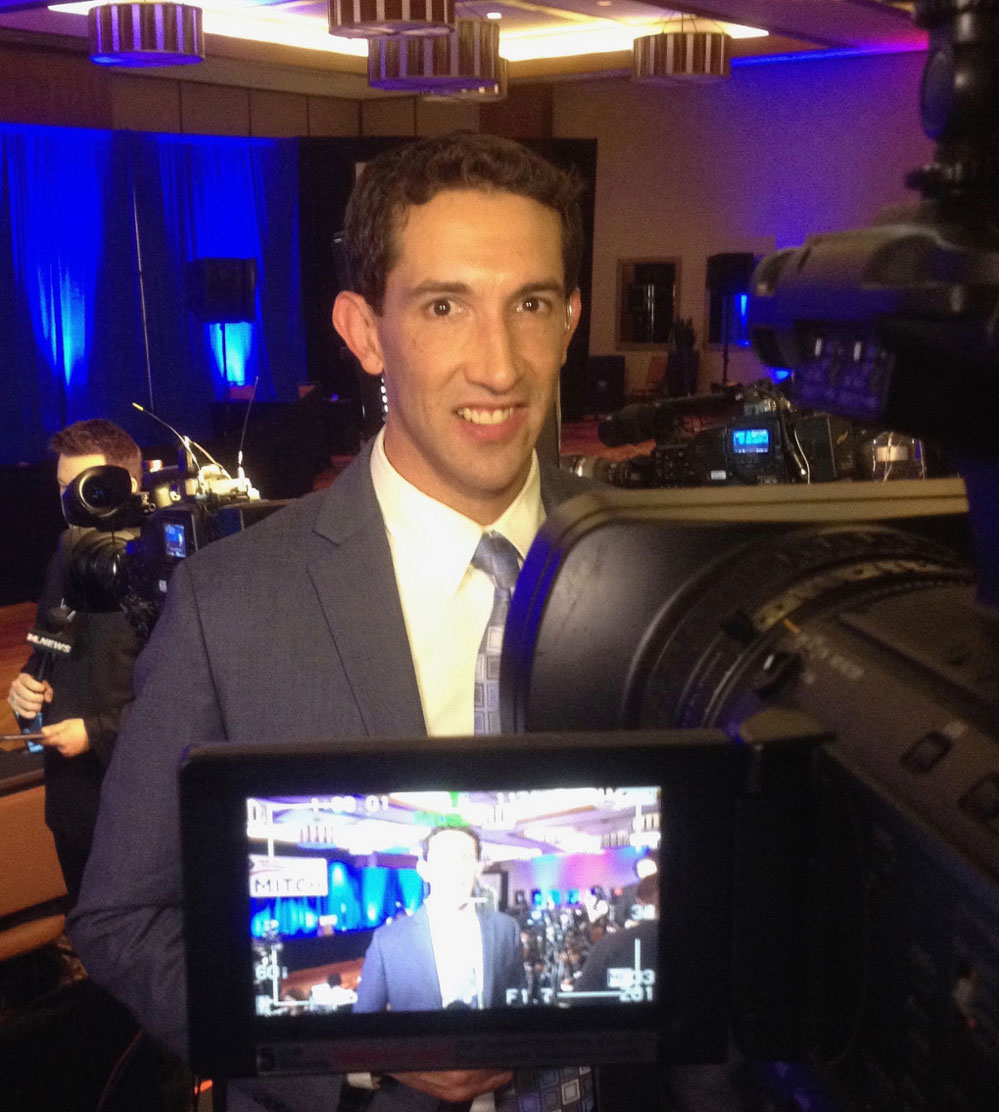 The morning of September 11, 2001, Alessi uses a Citgo's payphone to file the first dispatches from the scene to the Scripps Howard News Service Washington bureau. He faces the big blackened hole in the pentagon. Pillowy smoke and survivors flow out of the gap.
Over the Potomac, he stares at the Capitol building. He heard that it could be the next target. A line from Francis Scott Key's Star Spangled Banner echoes in his mind, "the ramparts were still there."
For the next 18 years, Alessi continued his career as a political journalist to "to observe, to learn, to analyze, and then tell stories about it".  This year, Alessi is a full time professor at the School of Media Arts and Design and will take eight JMU student journalists to the Democratic and Republican conventions on a new study away program in the summer of 2020.
After covering the September 11th attacks, Alessi covered the 2000 presidential race, Mitch McConnell's 2008 and 2014 reelection, Ram Paul's first election in 2010, and three governors' races. Alessi was hired by the cable company Kentucky, Insight Communications, to help launch a statewide network called cn/2. The network covered the "three things that every Kentuckian talks about," politics, sports, and weather. 
"Journalism is awesome because you get paid to go to these places and meet these people and basically report on their job interviews for public service," Alessi said. "I feel like covering politics, in the right way, is doing a good job to try and help people make the decision of who they want to hire."
Alessi covered Kentucky's politics from 2003 to 2014. During that decade, governor Ernie Fletcher was indicted and the state moved from being a heavily democratic state to being a republican state. Of the 120 counties in Kentucky, Alessi covered political stories in 111 of them. 
"It was a fascinating study in humanity," Alessi said.
In 2016, Alessi got his master's degree in creative nonfiction at Murray State University in Kentucky. While there, he advised the Murray State News and taught a few classes. 
"I had fun in the classroom seeing the light bulbs come on as students were able to distill something complex into a succinct lead," Alessi said. "When I had the opportunity to start teaching as a visiting professor here at JMU, in 2017, that continued and kind of lit a fire." 
When Alessi moved to Harrisonburg, one of the first things he did was subscribe to the local paper, the Daily News Record (DNR). In 2018, Ogden Newspaper Inc purchased the DNR. After the DNR staff was condensed, Alessi and Andrew Jenner decided to open the Harrisonburg Citizen to maintain in-depth coverage of local politics. To Alessi, local news is essential to civic engagement and to understanding community issues.
The Madison Center for Civic Engagement has partnered with Alessi on many projects. Last week, Alessi became one of the center's first Faculty Democracy Fellows. Alessi helped facilitating many programs including the Traveling Town Hall, where candidates for elected office ride around in a van to visit several JMU residence halls in one night. Alessi briefed students before the candidates arrived and reflected on the conversation with them after the candidates left. 
The day after the midterm elections, Alessi and several political science professors led an event for the Madison Center called Making Sense of the Midterm. They debriefed election results for the students. Abraham Goldberg, the executive director for the madison center, noted that the event was "standing-room only."
"We are a stronger office because of Ryan Alessi, without question," Goldberg said. 
In summer 2020, Alessi will lead a new study away program to cover the Democratic and Republican conventions. Students will have the opportunity to cover virginia delegates and their news will be distributed across the state of Virginia. 
"It really is a once in a lifetime experience, and I don't use that lightly because there is only one 2020 election," Alessi said. "Every election has its own personality, every election is different."
Sammy Criscitello, a 2018 SMAD journalism alumnus, was a student in Alessi's first Media and Politics class in fall 2017. This was Criscitello's favorite class at JMU because of Alessi's conversational teaching style. 
"It's like you're going to sit down and have a coffee or a beer with someone, and during that chat you learn more than you ever thought you would, just from a conversation," Criscitello said. "It doesn't feel like he's a teacher lecturing you, but rather that you're in one big seminar."
The day democratic senator Al Franken stepped down from office, following sexual misconduct allegations against him. Alessi had the class watched Franken resign and followed with a class discussion. 
"It almost felt like a simulation, being a news reporter out in the field and trying to make sense of such a complex, emotional story," Criscitello said. 
Alessi's position teaching JMU and the reporting for the Harrisonburg Citizen allow him to have "the best of both worlds". 
"Continuing to do journalism helps me to be a better teacher and being a teacher helps me be a better journalist," Alessi said. "So they fuel each other. I wish there were more hours in a day but doesn't everybody."