Media Arts and Design
SMAD Banquet Honors Award Winners and Scholarship Recipients
---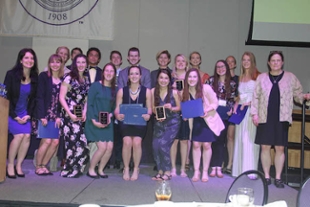 On April 11, 2019, SMAD Banquet honored concentration award winners and 14 scholarship recipients from 11 scholarship programs that provide more than $30,000 in support for students.
The banquet keynote speaker was Katrina Purcell, a SMAD alum (04') and the Head of Program Management for Media Technology at Bloomberg, LP. She is currently pursuing a MBA degree at Columbia University.
Purcell addressed the room full of students, parents, alumni and faculty about the importance of networking while in school and trusting your mentors, as she spoke about seeking help from Professor Rustin Greene for employment opportunities.
"Sometimes you need someone else's push," says Purcell. "Say yes, figure it out later."
After graduation, Purcell accepted opportunities to work as production assistant at WHSV before she got a job from Bloomberg in 2007. She started in master control, evolving through almost all live production positions before moving into project management and eventually program management. She has lead several significant organizational transformations and is currently working on control room automation.
She recalled the menial tasks such as red bull runs, paper running and script carrying during the early stage of her career. "You're never too old to roll up your sleeves and get to work," she said.
Purcell concluded with a reminder for students. "Hard work pays off- Go Dukes!"
During the banquet, 11 scholarships were awarded to 14 recipients.  
The Byrd-Mims Scholarship honors the late Virginia Senator Harry Byrd and his associate D. Latham Mims. This scholarship recognizes strong achievement by an advanced SMAD journalism student and a four-year award for an incoming freshman. This year's scholarship is awarded to upperclassmen Shanna Kelly, a journalism concentrator and incoming print managing editor for The Breeze.
Alison Bailey Parker Memorial Scholarship was established in honor of late former reporter and SMAD alum Alison Parker. The scholarship is given to a rising senior in the journalism concentration who most exemplifies Parker's passion, accomplishment and commitment to journalism. Chris Hurst, fiance of Parker, attended the banquet and presented the scholarship to junior journalism major Peyton Kennedy.
This year's banquet unveiled a scholarship in honor of retiring SMAD professor George Johnson. The George Johnson Honorary Scholarship acknowledges Johnson's role in the department for the past 31 years and celebrates his achievements and support of academic excellence. The recipient of this scholarship is Ana Hart, a junior interactive design concentrator.
The banquet concluded with the presentation of "Academic Achievement" award based on overall academic achievement in concentration classes and "Outstanding Contributor" award based on students' extra contribution outside of class or strong participation in student media competitions. Converged Media and Interactive Design concentration awards were presented to Lindsay Brockman (academic achievement) and Josephine Smith (outstanding contributor). Digital Video and Cinema concentration awards were presented to Halle Forbes (academic achievement) as well as Ryan Strand and Claire Downey (outstanding contributors). Creative Advertising concentration awards were presented to Isabell Kerr (academic achievement) and Paige Franklin (outstanding contributor). Finally, the journalism concentration awards were presented to Caleb Ayers (academic achievement) as well as Alexis Miller and Anna Saunders (outstanding contributors).
The final honor awarded was the 2019 Outstanding Senior Award in SMAD. This top academic award is given to a senior SMAD student who excels academically overall and in their SMAD classes. This year's recipient is senior Converged Media student Abigail Mumma.