Alison Parker's father to publish book honoring her life
Media Arts and Design
---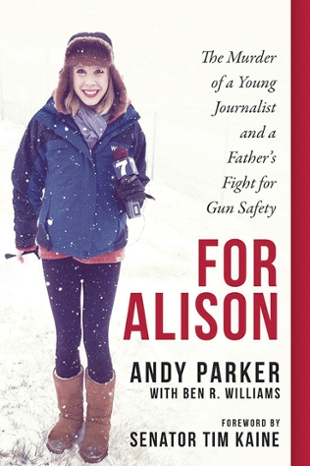 This story originally appeared in The Breeze and is written by Connor Murphy. Image courtsey of Andy Parker.
Since the death of JMU alumna and television journalist Alison Parker, her father, Andy Parker, has written a memoir in her honor that's scheduled to release March 5. The book, "For Alison," discusses her murder while exploring the idea of stricter gun control laws in the U.S. Parker dedicates the book to everyone who has lost someone due to gun violence and become a member of "the club no one wants to join."
Parker's longtime friend and best-selling author Beth Macy encouraged him to write the book shortly after Alison's passing. He originally dismissed the idea, feeling as though there was nothing more to say, but as time went by, he felt compelled to tell Alison's story. Parker began writing the book in May 2016, 10 months after Alison was killed, and finished approximately two years later. He hoped to tell Alison's story and describe his own journey as an advocate for gun control.
Parker acknowledges that speaking about his daughter's murder is something he never gets used to and says that it can be "mentally, physically and emotionally draining." Speaking about his daughter is difficult, but his passion for the cause and desire to tell his daughter's story outweighs these emotions.
"I wanted to include stories about Alison that people didn't know," Parker said. "Stories that were told to me after she was killed that really touched me. It's part memoir, part current affairs, but it's also a call to action. The message is there: we as a country can't stand idly by and watch this slaughter continue to happen."
Lori Haas, Virginia State Director of the Coalition to Stop Gun Violence, a nonprofit organization run out of Washington, D.C., works with Parker to push legislators to enact stricter gun laws.
"Andy and I became friends after Alison was shot," Haas said. "Chris, Alison's boyfriend at the time's father, reached out to me and connected Parker and I. We go to rallies together, talk strategy together and talk politics together."
In addition to writing "For Alison," Parker has been a prominent figure in the media, advocating for gun safety and telling Alison's story through major news networks such as CNN, NBC and ABC.
"It's something I feel like I have to do," Parker said. "It keeps me going. It gives me a purpose, and I have to do it for the people that don't have a voice. It's imperative that I do it whenever I have the chance. Whenever I'm offered a platform, I have to speak out."
Parker collaborated on his book with friend and journalist Ben Williams. He helped Parker with the outline of the book and eventually edited it. Parker gave Williams co-author credit, while Williams described himself as "halfway between being a co-writer and a copy editor." The two worked in conjunction on and off throughout the majority of the writing process.
"The analogy I would use is that it's sort of like a jeweler," Williams said. "Somebody digs up a raw ruby and you take it to a jeweler to have it cut and polished, but everything that's in that finished ruby was there originally."
Prior to the collaboration, Williams had known Parker's wife, Barbara, for roughly a decade. Williams and Parker later met while Williams was working as a reporter for the Martinsville Bulletin in Southern Virginia in 2015. The two developed a friendship while conducting an interview about weekend power generation at Philpott Dam in Bassett, Virginia.
Parker and Williams spoke at a grand announcement at the Philpott Dam on Aug. 25, 2015, less than 24 hours before Alison was killed. As Williams and Parker had a pre-existing relationship, Williams was often chosen to interview Parker regarding Alison's passing.
"I was the logical choice to interview him in the wake of Alison's death," Williams said. "I couldn't even tell you how many stories I did with Parker over the subsequent weeks, months and even years."
Both Parker and Williams hope the book will paint a clearer picture of the emotions attached to being affected by a violent attack while subsequently encouraging the public to take a stand against gun violence.
"I can't tell you how many times people come up to you and they know what happened and they say, 'I can't imagine,' you hear it over and over," Parker said. "In this book, I am going to take what you can't imagine and make it imaginable for you."