Media Arts and Design
Professor Tom McHardy Retiring After Two Decades in SMAD
---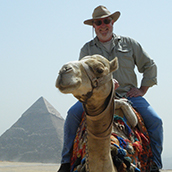 After 21 years of teaching, mentoring and leading study-abroad trips in the SMAD department, Tom McHardy will be retiring with a legacy of numerous awards from BEA and AEJMC for his and his student's interactive multimedia work.
McHardy's interest in multimedia started when he was working at Apple after pursuing a degree in computer science.
"This was back when CD-ROMs were the big thing," McHardy said, laughing.
This interest in multimedia took him back to school for his master's degree in film. With his work experience and education, he was exactly what the SMAD department was looking for in the early '90s, which is why George Johnson, the department head at the time, recruited him twice.
"We were interested in him because we liked to hire faculty who could teach across disciplines," Johnson said.
Teaching courses in web, video production and film studies, McHardy has done just that in his two decades here. His favorite classes to teach are the film studies courses.
"I love hearing what students have to say about new movies that come out and how they interpret them," McHardy said.
He has also enjoyed leading several study-abroad trips to Italy, England and Ireland.
"It's fun being in a different culture with students, watching them find their feet in the larger world rather than just in Harrisonburg," McHardy said.
McHardy has helped shape the careers of many SMAD students in the past two decades. One of those students is Josh Derby ('99), who is now the vice president of technology development and strategy of Discovery Communications.
"Tom has always been very supportive of me learning what I wanted to do," Derby said. "In all of my experiences with him, he treated the students like people."
With help from McHardy, Derby got an internship at a model test station doing test runs of high definition television during his senior year. McHardy was so excited for Derby. He piled about six other students in his car to take a trip to the station so that Derby could show his work to his peers.
"I have loved watching students growing and helping them find their creative voice in media," he said. "It's been particularly rewarding."
Besides Kline's ice cream, McHardy says he will miss his students and of course his colleagues.
"They're always teaching me new things," he said. "And I will miss our weekly professor poker match."
McHardy's retirement plans include moving to South Carolina to be closer to his grandkids, traveling with his wife, attending film festivals and using his media skills to volunteer with non-profits. And he may just pick up golf again.