Media Arts and Design
SMAD Day 2018: A Harrison Hall Homecoming
---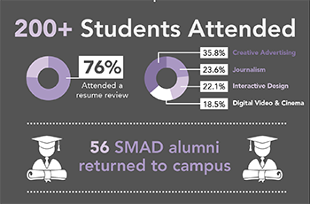 Harrison Hall was buzzing all day on Oct 26. With over 200 students registered and 56 alumni returning to their alma mater, SMAD Day 2018 was in full swing.
Kristen Cavallo, Martin Agency CEO and JMU alumna, delivered a powerful and inspiring keynote address.

Cavallo took the reins of the Martin Agency following sexual harassment allegations in the wake of the #MeToo movement, and this was something she did not shy away from in her talk.

"I was a way to turn a bad narrative into a good one," she said. "Now with that being said, I walked in there, grabbed the brass ring and took it."

She talked about branding strategies, showing examples of the agency's work, but the focus of her address the lack of female leadership in the workplace.

"There are more CEOs named John than all women CEOs combined," Cavallo said.

Another highlight for SMAD Day was a drone presentation from SMAD alum Kyle Head. Head runs his own production company called Nomad Media, and in the presentation, he showed the impressive drone footage he has shot over the years, offering advice to those who might want to produce similar material.

While some were learning about how drones work, other SMAD students attended a presentation given by award-winning, multimedia journalist Chris Tyree. Tyree's recent multimedia project focused on microplastics and its impact on global environment. With a variety of multimedia elements, images and audio, Tyree shared his journey of tracing the plastics in tap water and its impact on human health through a 10-month investigation across six continents.

SMAD day started with résumé reviews, where students could bring in their résumés, portfolios and reels for alumni to look over and offer advice.

"When I am looking over someone's résumé, I am being selfish. Slant it to why I should care about you," said Cutch Armstrong, director of marketing and client solutions at Cox Media.

During the career panels, alumni offered advice to SMAD students.

Digital Video and Cinema panelists were honest with students about the rejection they may face but advised them to stay positive and be willing to take a lower-level position to work toward the top.

"Each job you have will make you better at another job," Head said.

Samantha Baars, a 2015 SMAD alum and reporter for C-ville Weekly in Charlottesville, talked about receiving negative comments during her first year of reporting.

"You have to have thick skin to be a reporter," Baars said.

Lani Furbank, 2013 journalism alum and freelance writer, talked about the difficulty figuring out ethics and morality of print journalism concerning sponsorships, paid content and editorial content.

"When you get out into the world, the lines are blurry," Furbank said. "I'm still trying to figure out the right answer."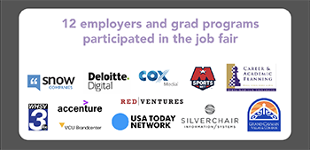 As the day began to wind down, students left with edited portfolios, business cards, a new t-shirt, and a desire to hopefully one day return to SMAD Day as alumni.