Media Arts and Design
SMAD Professor Presented Byrd-Mim Scholarship
---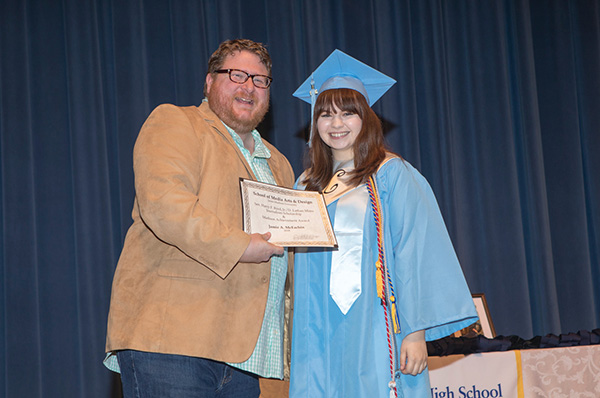 JMU freshman Jamie McEachin has exceptional writing skills, journalistic experience and a passion for storytelling. These qualities are exactly what members of the SMAD committee for the Byrd-Mims Scholarship were looking for when they named her the winner.
"Journalism will be my door to the rest of the world, but it will also be the instrument I use to tell all the stories that need to be told, all the truths that need to be reported," McEachin said. "Knowledge is power, and I want to be a reporter who passes on that power to as many people as I can."
Professor Ryan Parkhurst presented McEachin with the scholarship in the auditorium at Cosby High School in Richmond in May. This was the first time a SMAD professor presented the award in person.
The Byrd-Mims Scholarship, named after Virginia Senator Harry F. Byrd Jr. and D. Lathan Mims, is a competitive, four-year scholarship awarded to an incoming freshman who shows the most promise in the field of journalism.
"We're looking for someone who can embody the traits of the best journalists out there," Parkhurst said.
In addition to the financial benefit, the winner also receives full admittance into the SMAD program without the application process.
Before high school, McEachin knew she wanted to go into a field where she could incorporate her creative writing abilities and love for research. She joined her high school newspaper and found her perfect fit.
McEachin will continue to work in student media as she plans to write for the news section in The Breeze.
James Faris, Byrd-Mims scholar from last year, is also a writer for The Breeze in the sports section.
"It shows that we picked the right people because they want to be involved," Parkhurst said.
The Byrd-Mims Scholarship is one of two scholarships for incoming freshmen. The Alison Parker Scholarship, geared toward broadcast and video journalism, is another new one open to the incoming class. This year's scholarship winner will be picked in spring 2019.
"We want students to apply for scholarships because we want to be able to reward those who have shown themselves to be good journalists," Parkhurst said.
McEachin applied in hopes of making the financial stress of paying for college less of a burden, but it has meant so much more. Getting the acceptance letter is what made JMU and the SMAD program "it" for her.
"It's really made my experience at JMU really special."