Media Arts and Design
SMAD Banquet 2018
---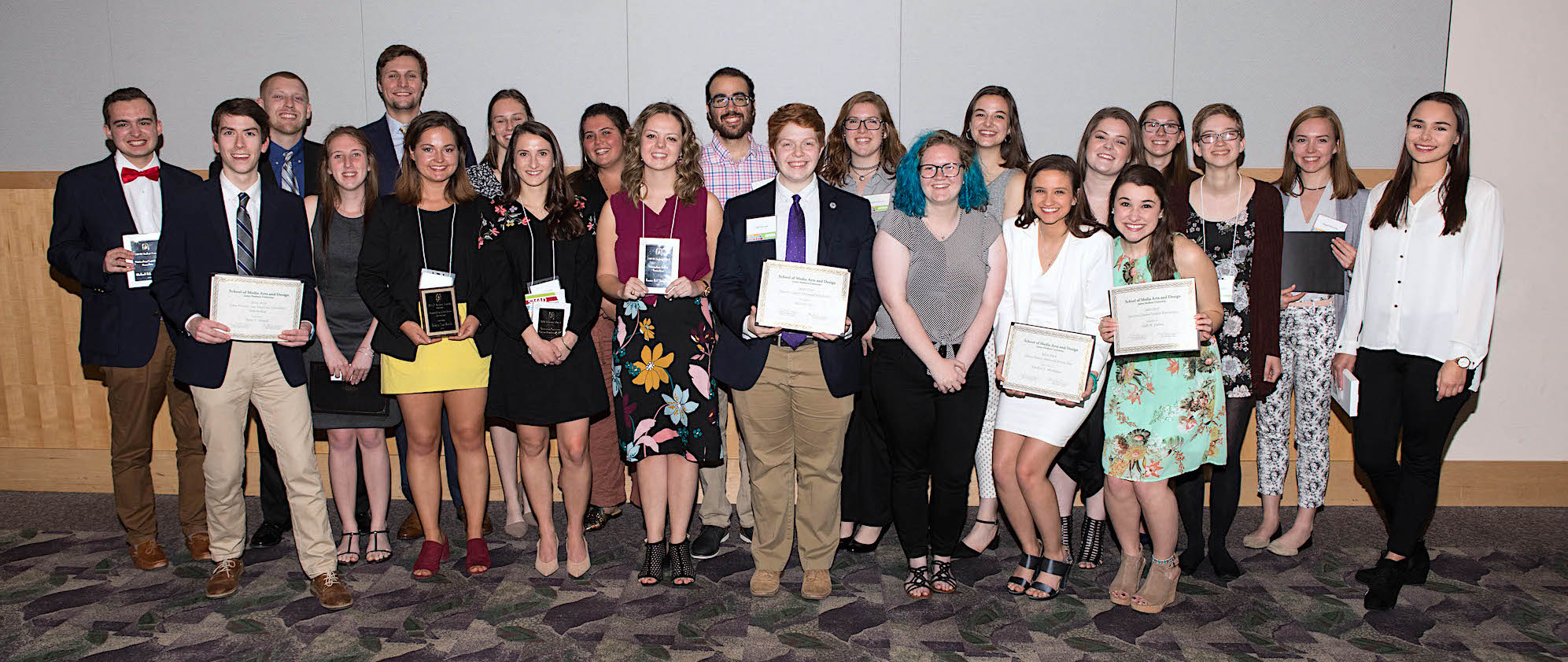 The School of Media Arts & Design honored scholarship winners and the top students in the four concentrations during the annual SMAD Banquet on April 12.
Fourteen students shared more than $35,000 in 11 scholarship programs. In addition, 13 seniors with high grade point averages and strong records of achievement received awards.
Before the award ceremony, faculty, students and their parents heard a keynote address by JMU Alum Erik Muendel ('96), a national leader in digital marketing, who has received more than 50 industry awards.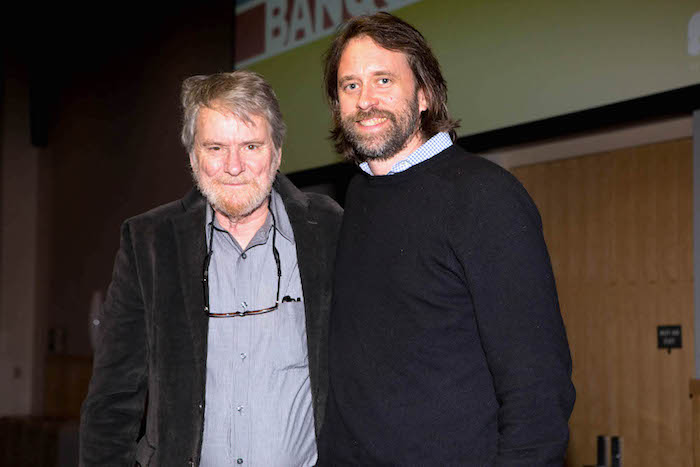 In 2004 Muendel founded Brightline Interactive, an Alexandria-based company that creates interactive and experiential marketing for consumer brands. Brightline is a full-service agency for virtual reality and augmented reality production.
Muendel, who was introduced by Professor Emeritus John Woody, one of his teachers at JMU, recounted his career path and emphasized the value of building relationships along the way. He encouraged students to identify mentors, beginning in college, and to continue expanding that group of trusted advisers throughout their careers.
Dr. Gwyneth Mellinger, SMAD director, also presented the first SMAD Faculty Mentor Award to Dr. Joe Hinshaw. Mellinger solicited nominations from SMAD seniors for the award, which will be conferred annually.
Scholarship winners were as follows:
Alison Bailey Parker Memorial Scholarship: Katelyn Merriman
Lawrence Cain Memorial Scholarship: Abigail Mumma
Blanche Garrett Memorial Scholarship: Spencer Law
DeLuca Journalism Scholarships: Matt Weyrich, Kevin Haswell, and Alexis Miller
Madison Screenwriting Scholarships: Alison Frye and Cameron Church
Byrd-Mims Daily News Record Journalism Scholarship: Matthew Weyrich
Madison Cinema Studies Scholarship: Halle Forbes
Digital Video Group/Donnie Mongold Memorial Scholarship: Francisco Ortiz-Hernandez
Alan Neckowitz Study-Abroad Scholarship: Cameron Church
John Woody One Day/One University Scholarship: Ryan Strand
SMAD Alumni/Professional Advisory Council Scholarships: Isabel Kerr
In addition, faculty in each concentration named a student for an Academic Achievement award, an academic honor, and one or two Outstanding Contributors. An Outstanding SMAD Senior was also named for academic performance and achievement in SMAD classes.
Recipients of those awards were as follows:
Outstanding SMAD Senior: Faith Duncan Whittemore
Converged Media — Academic Achievement, Katherine Ruth Ciszek; Outstanding Contributor, Nancy Kaylan Wood and Brenda Marie Tapp
Digital Video And Cinema — Academic Achievement, Julia Marisol Lewis; Outstanding Contributor, Kristen Leigh Zimney and Anne Marie Franks
Creative Advertising — Academic Achievement, Flora Catriona Lindsay; Outstanding Contributor, Julia Robbins Shawver and Kennedy Grogan Heidel
Journalism — Academic Achievement, Jamie Lee Simpkins; Outstanding Contributor, Michael John Dolzer and Robyn Lee Smith