Media Arts and Design
Visiting Scholar Shares His Experiences in Filmmaking
---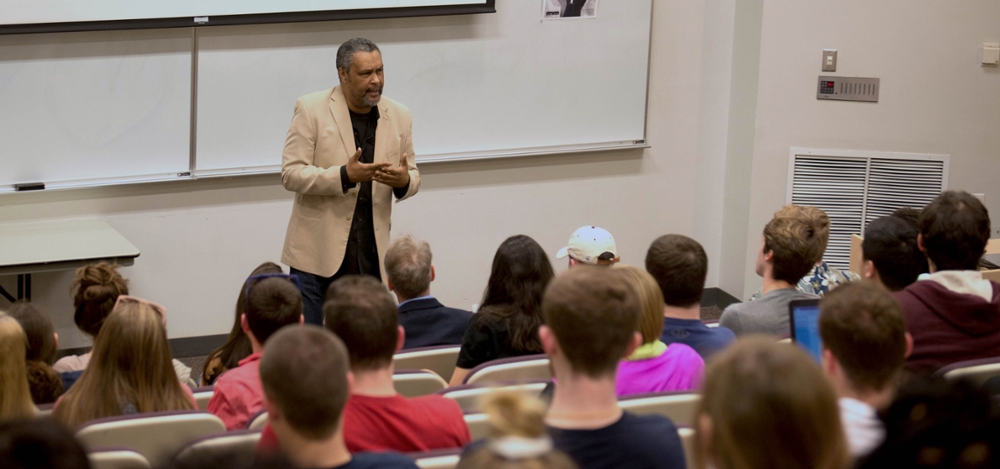 Filmmaker Kevin Willmott told SMAD students the best advice he could give them was to make their first movie, and then make another one. His own first film, "Ninth Street," which starred Martin Sheen and Isaac Hayes, began as a screenplay he wrote as an undergraduate.
Willmott, who spent two days on campus in March as a College of Arts & Letters visiting scholar, met with students in SMAD/ENG 380 Intro to Film, SMAD 405 Producing and Directing and SMAD 462 Film Adaptations.
In addition, about 125 students and faculty attended his lecture "Taking Ownership: Making Films of Race and History." Willmott discussed his films' examination of the history of racism in America, acknowledging that he makes movies that help people talk about uncomfortable issues.
"When we find ways to confront these things honestly, we can try to move forward," he said.
In light of the violent protest in Charlottesville in August 2017, Willmott focused on "CSA: Confederate States of America," which he wrote and directed. The film, which was a 2004 Sundance Film Festival selection, imagines what the United States would have been like if the South had won the Civil War.
"I wanted people to understand what the Confederacy meant, that it was about one thing, slavery, and they would have continued it if they could have," he said.
Although African Americans have made legal and political gains, the legacy of the Confederacy is still present in American culture, he said. Much of the time this dimension of American history is not obvious, however.
"Charlottesville and incidents like Charlottesville are when it comes to the surface," he said.
"What I'm trying to show in the film is the reality of racism, that we have to take ownership."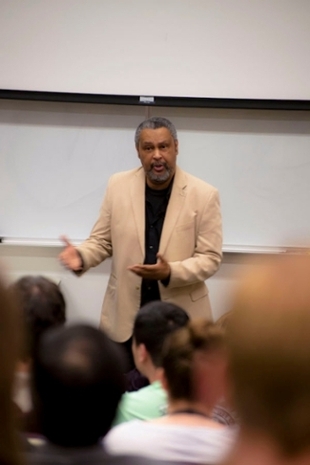 Willmott acknowledged that his films, even if they are fiction, rely on extensive research into racial history.
"I'm looking for the conflict," he said. "That's where the drama is, but that's also typically where the truth is."
Among other films Willmott discussed were "The Only Good Indian," a 2009 Sundance selection set in part in a Native American boarding school; "The Battle for Bunker Hill," which examines anti-Muslim racism; "Destination: Planet Negro!," a 2013 film in which time travelers choose to return to the 1930s because they believe it is less racist than the present; "Jayhawkers," a 2014 film that examines Wilt Chamberlin's impact on racial norms in Kansas; "Chi-Raq," a 2015 film co-written with Spike Lee; and "The Black Klansman," scheduled for release this year.
SMAD major Christian Lawrence said she appreciated Willmott's discussion of his career.
"While he has accomplished so much in his lifetime, he has managed to remain humble," she said. "His passion for what he does trickles into his speeches. He gives hope that one day all the hard work will pay off. "
Sean Paige, another SMAD major, said he was inspired by Willmott's lecture.
"It is hard to truly appreciate a film without knowing its origins, but the way Prof. Willmott spoke about his films, inspirations and personal life gave a unique perspective on the film industry," Paige said. "His great sense of humor and optimistic world view are defining characteristics of his life and work."
Assistant Professor Imelda O'Reilly, a fellow screenwriter, said she appreciated the time Willmott spent with her students.
"His gift for exploring issues of race in his work is a breath of fresh air," O'Reilly said. "He engaged the JMU students in a dynamic discussion and illuminated thought-provoking insights on humanity in relation to building community through film."
Willmott also teaches film at the University of Kansas.
His visit to JMU was hosted by the SMAD Diversity Committee and the College of Arts & Letters Visiting Scholars program and cosponsored by the Department of English, School of Communication, Office of Access and Inclusion, Film Studies Minor and Office of Cross Disciplinary Studies and Diversity Engagement.