News
SMAD Day 2017
---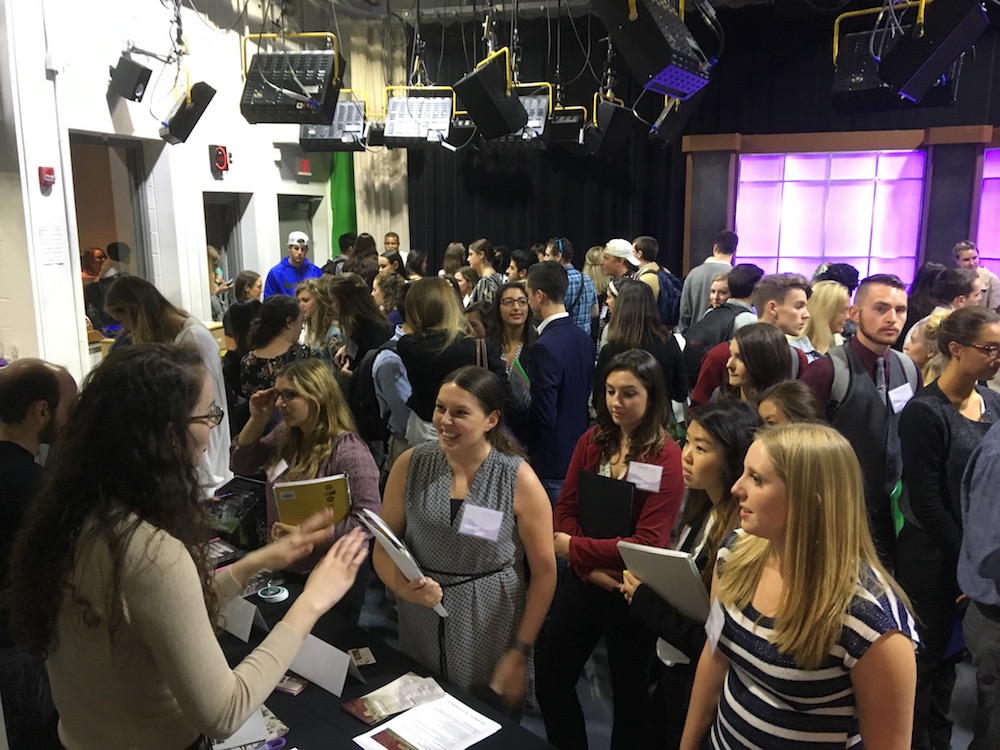 SUMMARY: A record 211 students registered for SMAD Day 2017, the student-alumni networking event that kicked off Homecoming Weekend in the School of Media Arts & Design.
---
Alumni shared their experience during sessions hosted by SMAD's four concentrations, met with students for resume and portfolio reviews, and mingled over a sumptuous hotdog lunch prepared by SMAD faculty. Students also could attend special sessions, including a technology demonstration, a presentation by the Martin Agency and a panel of media entrepreneurs.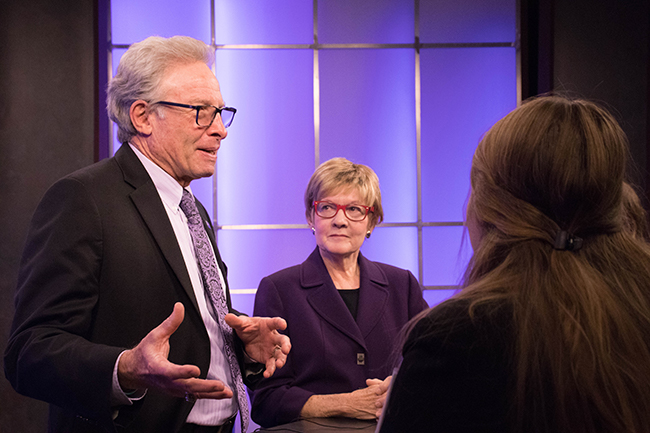 At noon, many alumni and students also participated in the dedication of the Alison Parker TV Studio, a tribute to the SMAD alumna who died in 2015. The ceremony was streamed as part of the weekly Madison Live TV show.
For most of the day, preparing students for the job market was the focus and alumni provided valuable mentorship in one-on-one and group settings. Many alumni also recruited at the afternoon job fair.
"I attended SMAD Day for the first time as a senior and I truly regret never attending in the years prior," student Natalie Pack said. "Meeting with the recruiters and JMU alums made me excited to begin my career post-grad and opened my eyes up to the endless possibilities available with my interactive design concentration."
This year SMAD Day organizers emphasized the benefits of students attending the event earlier in their SMAD careers. Sophomore John Kelly, a DVC concentrator, appreciated meeting alums who were successful in their fields.
"It was reassuring knowing how well connected the SMAD program is and I feel very confident I will be able to find something I'm interested in when I leave"
-John Kelly
Dominique Dean, another DVC sophomore, agreed. "It was encouraging to see people from my school, who share my major, doing work for big companies like National Geographic. I definitely will attend SMAD day again next year," she said.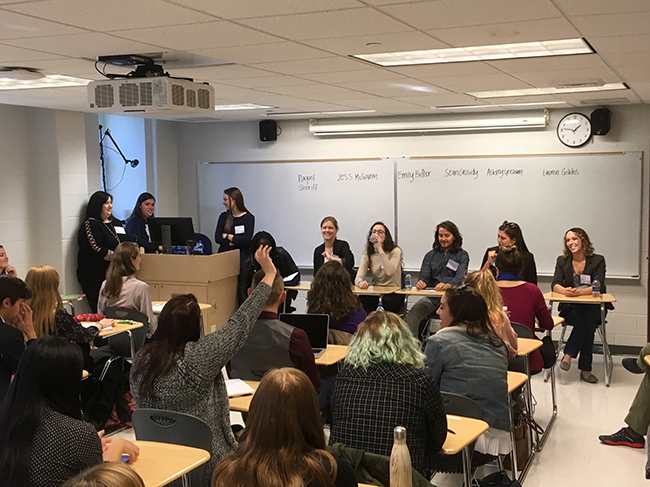 Each concentration hosted alumni panels, and senior Emma Friedman appreciated the focused discussion on professional opportunities and industry trends.
"The journalism panel was very constructive, since it had a wide variety of speaker ages and experience levels," she said.
The SMAD Day program also included a couple of special sessions for students from all concentrations, including a panel of SMAD alums who freelance or have started their own businesses. Maryssa Mancuso also recommended the 360 video demonstration by 2015 alum Griffin Harrington, lead content producer at Discovery Channel.
"It was cool having the opportunity to interact with Discovery's head of the 360 video department as he is a leading expert in this department," Mancuso said.
Harrington credits SMAD Day with launching his career and is a regular alum attendee.
"I took full advantage of SMAD Day all four years while I was in school," Harrington said. "… By the time our senior year came around, I was already on a first-name basis with half the alumni and that gave me a major advantage on getting leads on any jobs that the alumni had available."
Several students found the afternoon job fair and sessions for resume, reel and portfolio review to be helpful.
"The job fair at SMAD Day was really beneficial this year because, as a junior, I am looking for future internships and jobs, and they were right at my fingertips there," said Gabriella Baker, a journalism concentrator. "I was able to network with a few companies and it felt good to be 'adulting' for once."
Dean, the sophomore DVC concentrator, attended both a resume review session and the job fair.
"It helps to have your resume reviewed by people both in and who have graduated from the major. I would recommend the resume review sessions to anyone who attends SMAD Day. The person working with me was a huge help in pointing out things I hadn't thought of before."
-Dominique Dean
Assistant Professor Shelly Hokanson encourages her students to take advantage of the networking at SMAD Day.
"Portfolio critiques and one-on-one interactions with industry professionals provide insights that improve student confidence and preparation to enter the workforce and hit the ground running," she said.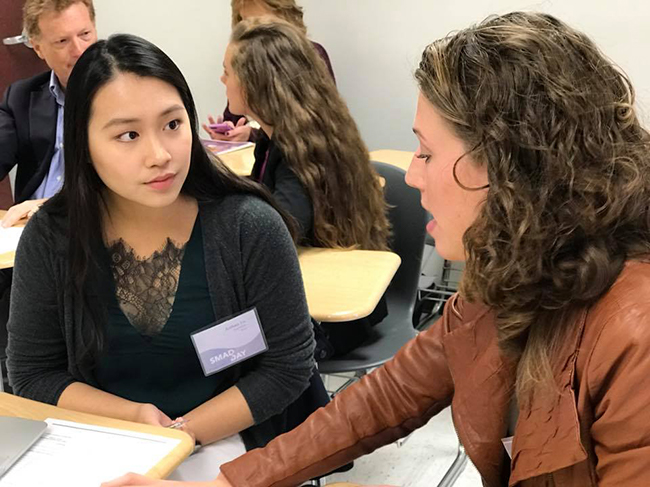 Alumni said they also enjoyed meeting current students and the chance to be back on campus.
"I had a lot of fun interacting with students," said Sean Cassidy, a 2015 graduate who is now UX Designer for the Federal Reserve Board.
Raquel Sheriff, a 2017 graduate who is a consulting analyst with Accenture Management, noted that SMAD Day has moved from the spring to Homecoming Friday and features an expanded program.
"The day has changed a lot from the last time I went and I loved seeing all of those changes," Sheriff said.
Professor Rusty Greene, one of the chief organizers, said moving SMAD Day to the fall increased alumni and student interest.
"This was our most successful SMAD Day ever, there was rich content and it was well attended by students, with lots of alumni participation."
-Rusty Greene
In addition, students working with Assistant Professors Adrienne Hooker and David Wang designed graphics, T-shirts and a website for the event.
Instructor Ryan Alessi, who helped run the grills during the Dog Days picnic and even wore a hotdog costume for the occasion, was impressed by the amount of alumni-student networking.
"Having the informal interaction at the hot dog lunch was important," Alessi said. "Several of us who were going to pack up the chairs after the lunch had to wait because faculty, alumni and students were still connecting and we didn't want to interrupt that."
SMAD Day 2018 will be on Friday, Oct. 25, 2018.