News
Alison Parker Studio Dedication
---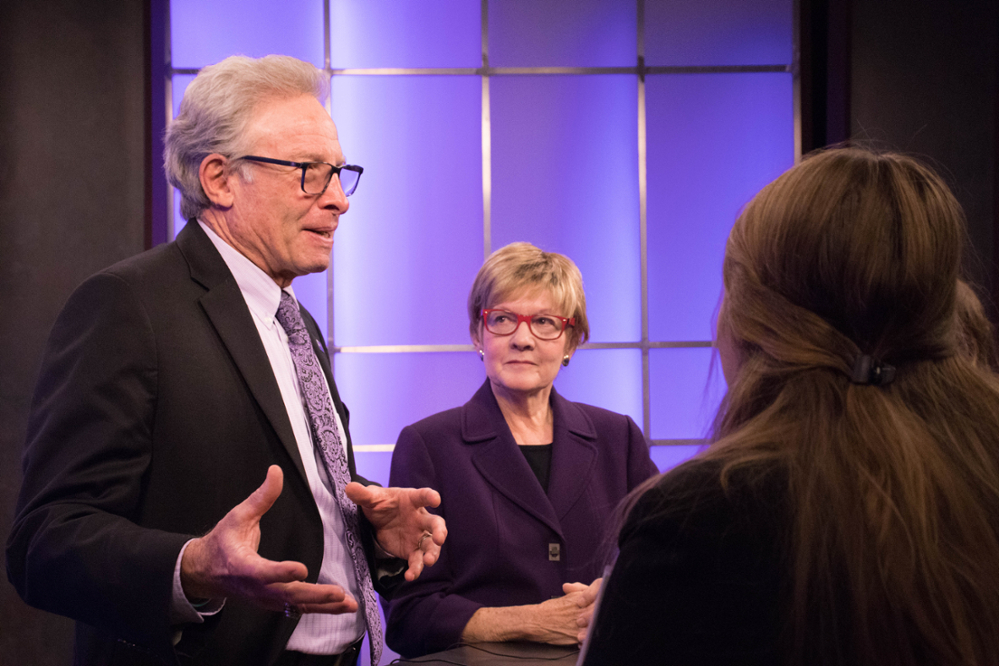 SUMMARY: The SMAD TV studio has a new name and a legacy to live up to.
---
During a program on SMAD Day, the sound stage and control room in Harrison Hall were christened the Alison Bailey Parker Studio, in honor of the 2012 SMAD alumna who was murdered during a live television news broadcast in 2015.
In remarks during the dedication, Dr. Marilou Johnson, who taught Parker, remembered a talented, motivated and passionate broadcast journalist and urged students to follow her example.
"Alison's legacy is lasting not merely because we have the honor of naming this television studio for her, but because the way she lived her life and pursued her dreams will inspire all those who have the privilege of working in this studio," she said.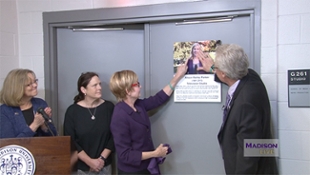 Johnson, who is now JMU's vice provost for academic development, described a student who unselfishly supported her classmates in the Electronic News Producing and Editing class and modeled team work even as she pursued her own goals.
"The media business is tough and we can learn a valuable lesson from Alison in the manner in which she conducted herself personally," Johnson said. "Her drive to achieve was never at the expense of others. She was probably the most unselfish student in class that year.  She was a cheerleader for anyone sitting in the anchor seat or doing a live shot because she recognized that our success as a team meant we had to rely on each other."
Johnson said Parker took on challenging assignments and asked for frank critique.
"Finding your passion, as Alison did, opens the door to your career," she said. "Honestly assessing your skills and knowledge is your first step through that door."
The studio dedication ceremony was part of a special edition of Madison Live, the weekly TV program produced by Dr. Joe Hinshaw's Studio Production class and directed by Professor John Hodges.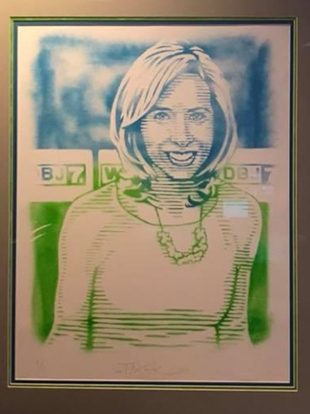 The program featured a live interview with Parker's parents, Barbara and Andy, who discussed their daughter's legacy and their activism against gun violence since her death. Also included in the program were videos about Parker's life and legacy produced by Hinshaw, Dr. George Johnson and Professor Ryan Parkhurst, all of whom knew Parker when she was a JMU student.
A studio audience of more than 50 SMAD students, faculty and alumni and JMU officials were on hand for the production, which was streamed live.
Senior Emma Friedman, a journalism concentrator, said the dedication was an important part of SMAD Day.
"I got to be a part of the live broadcast with Alison Parker's parents, which was a truly meaningful and inspiring experience," she said.
Signs outside the door of the Alison B. Parker Studio were unveiled during the ceremony. In addition, a print of Parker, by Los Angeles artist Teachr and loaned to SMAD by the Parker family, now hangs in the studio control room.
"Alison Bailey was right there with us," Barbara Parker said after the ceremony.