News
Diversity expert engages students during SMAD visit
---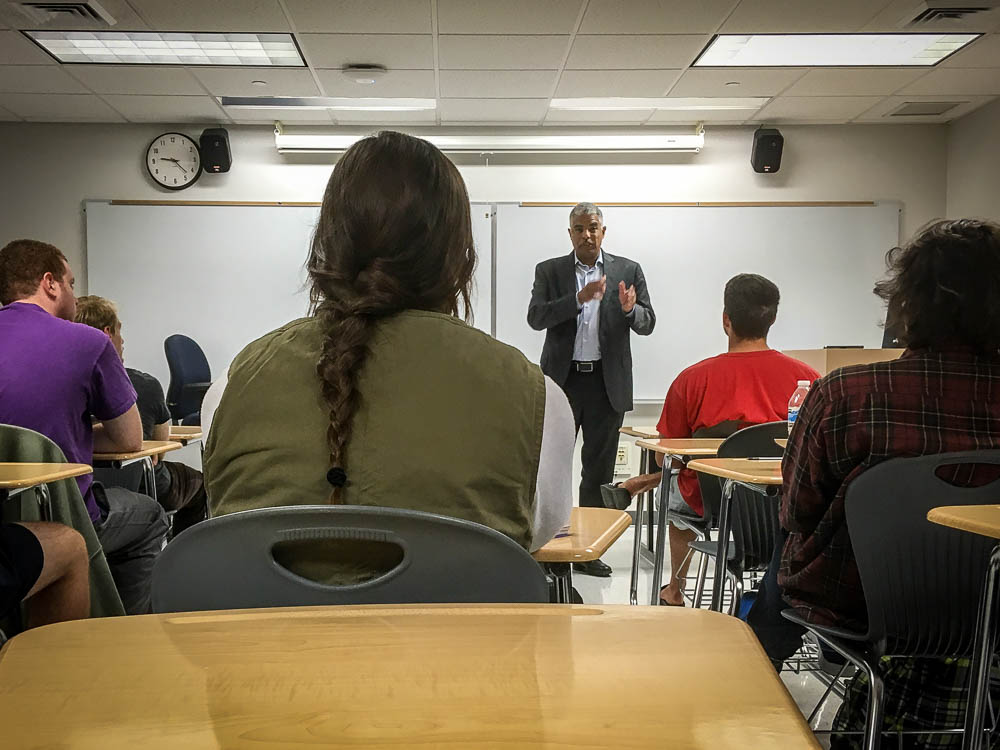 SUMMARY: Keith Woods, a noted media diversity expert, spent two days on campus as a College of Arts & Letters Visiting Scholar
---
Student journalists at JMU heard a call to action on Oct. 17, when Keith Woods, a noted media diversity expert, exhorted them to tell the story of America's racial divide.
"We cannot afford to look away," Woods said during "Covering Race, Ethnicity & Culture in a Divided America," a public lecture in Grafton-Stovall Theatre.
Woods, National Public Radio's vice president for newsroom training and diversity, spent two days on campus as a College of Arts & Letters Visiting Scholar. In addition to his talk, Woods met with SMAD classes and the staff of The Breeze.
Student journalists should not shy away from reporting on race, Woods said.
"We cannot grow as a country if we don't do the hard work of combatting bigotry – individual and systemic – and bridging the yawning estrangement and ignorance that so stubbornly separate the races," he said.
"Journalism has a huge role in doing both. Our job, enshrined in the First Amendment – in fact, imbued with the deep responsibility that comes with Constitutional protection – is to give people the information they need to make good decisions in this democracy. And there is nothing we cover today that cuts across all that we cover the way race does. We simply cannot inform the public adequately if we're not informing them about this issue."
With the white supremacist violence in Charlottesville fresh on students' minds, Woods urged them to provide historical context in their coverage of today's racial conflicts.
"To fully explore the significance of a neo Nazi march through the streets of Charlottesville," Woods said, "journalism has to cut through the obfuscation and euphemisms of modern intolerance -- like alt-right, for example -- and get to the underlying truth so we can tell our audience how hate has morphed from Edmund Pettus to Bull Connor to Joe Arpaio to Richard Spencer. Our debates today about flags and monuments stand on things that happened long before Bree Newsom climbed the flag pole in Charleston and long before Colin Kaepernick took a knee in San Francisco."
In his mentoring and training, Woods has framed diversity as an ethical mandate for journalists. Among classes Woods visited was Professor Mike Grundmann's media ethics class.
"In addressing my class, Keith emphasized that one's own biases can be a major barrier to fair reporting if self-awareness and countermeasures aren't practiced," Grundmann said. "Because journalists overall lean more left than right, he once deliberately put an editor who was a political conservative in charge of a series of newspaper stories whose facts reflected poorly on conservatives. This was to root out any unconscious bias in the stories. He concluded that political leanings should be considered another type of diversity to be maintained."
Senior Robyn Smith met Woods in Professor Ryan Alessi's Media and Politics course.
"I was immediately impressed by Woods' kindness, his generosity and his openness to tough questions," Smith said. "His message that newsrooms, elected officials, and press corps should look like America, resonated with me. After he spoke with my Media and Politics class, I knew I had to go to his speech as well."
Woods also spent time with students in Professor Joe Loyacano's scriptwriting class.
"Keith engaged students from the beginning of his discussion with our class," Loyacano said. "His examination of diversity in media, from his decades of experience, encouraged critical thought and brought contemporary, local issues to the forefront.  It was one of the most consequential conversations my students and I had this semester."
Since 2010, Woods has led NPR's diversity training effort. He has been an editor of NPR's Code Switch project and for 15 years at the Poynter Institute, a Florida-based center for journalism training, mentored hundreds of media workers and educators on diversity.
Woods has chaired two Pulitzer Prize juries and for 16 years worked in a variety of newsroom roles at the New Orleans Times-Picayune. In August Woods received the prestigious Gerald Sass Award for Distinguished Service to Journalism.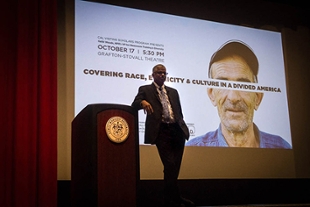 Woods' campus visit was organized by SMAD's Diversity Committee and the CAL Visiting Scholars Program. Cosponsors were the School of Communication, the Office of Cross Disciplinary Studies and Diversity Engagement and the Office of Access and Inclusion.