News
Stephen Jaffe Visits SMAD
---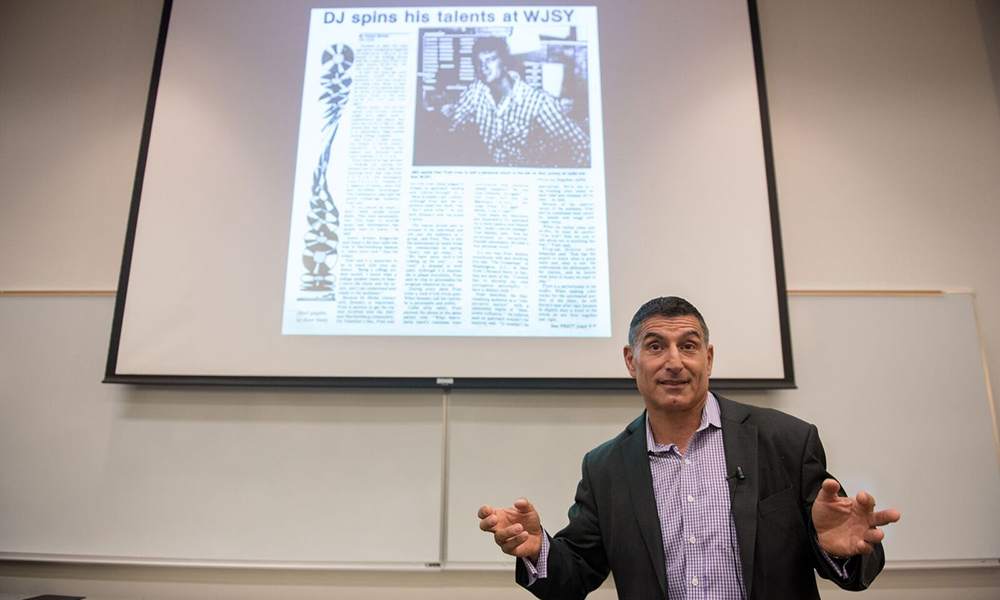 SUMMARY: Stephen Jaffe, an award-winning photojournalist, talks about his work in SMAD 301 (The Media Arts: Culture by Design)
---
Stephen Jaffe's work in photojournalism has covered everything from the Berlin Wall to the Clinton presidency, but it all started from a job he took at The Breeze.
While speaking with a SMAD 301 class on Sept. 26th, Jaffe explained how his involvement on campus when he was a student led him to discover his passion. Jaffe was a Political Science major at James Madison University, but this didn't stop him from pursuing a photography job with The Breeze, JMU's student-run newspaper. This experience is what gave him the desire to pursue photojournalism as a career.
Despite what a good fit Jaffe found at The Breeze, things didn't go smoothly at first. On Jaffe's first assignment, he forgot to put film in his camera before shooting. However, he didn't let this stop him, and returned to finish the job. "I make mistakes everyday," Jaffe admits, "and I learn from them."
After graduation, Jaffe worked with several newspapers, and his work was used on the cover of Time magazine, Newsweek, and The Washington Post. His work has won prestigious awards such as winning first place from World Press Photo.
Jaffe recalls his most interesting day on the job as the transition between the Bill Clinton and George W. Bush administrations. He began his White House photography in 1989, and was able to take photos of President Clinton's first and last moments in the White House.
Currently Jaffe works for the International Monetary Fund as its official photographer.
Image Courtesy of Loren Probish-University Marketing and Branding