Pakistani female students pursue competitive summer research opportunity at JMU
News
---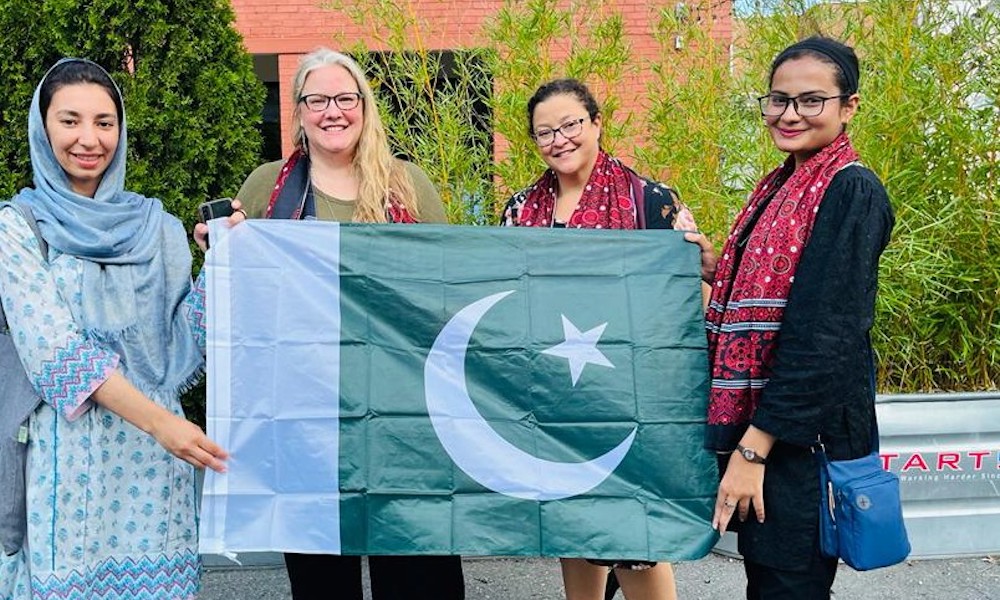 SUMMARY: The Sister2Sister program brought two Pakistani students to JMU in summer 2022 to gain critical research skills and learn about educational opportunities in the US.
---
James Madison University hosted two students from Pakistan last summer as a part of the Sister2Sister Exchange Program. This program provides Pakistani women the opportunity to explore educational options and make connections in the United States. A primary focus of Sister2Sister is helping Pakistani women overcome cultural limitations that make pursuing fulfilling careers more challenging.
Sister2Sister partners with several universities in the United States, including JMU, Georgetown University, Virginia Tech, the University of Chicago, the University of Richmond, Boston University, and many others. American University serves as one of the major sponsors and coordinators of the program.
Sister2Sister provides critical opportunities for women Pakistan. In 2019, Pakistan ranked 152nd on the Gender Development Index. Women only make up 1/10th of the workforce in the country, with only 1 in 4 women participating in the labor force and fewer than 1 in 10 women finishing postsecondary education. The Sister2Sister program helps bridge these career and education gaps in Pakistan.
Following a rigorous selection process, Sadia Khursheed and Iqra Batool were chosen to spend several weeks at JMU. They received funding for full tuition, travel costs, health insurance, living expenses, and visas. Both women are pursuing STEM degrees at universities in Pakistan, with Sadia studying mathematics and Iqra pursuing medicine.
Iqra is in her final year of undergraduate studies and spent her time at JMU working with professors in the College of Health and Behavioral Studies.
"My area of research is audiology and hearing acoustics," Iqra said. "My research here was divided into two parts. In the initial weeks, I was working with Dr. Catherine Zeman and Dr. Raihan Khan in the Health and Behavioral Sciences Building."
For the remainder of her time at JMU, Iqra worked with Dr. Ayasakanta Rout in the audiology clinic and had the opportunity to read recent scholarship and examine new hearing aid technology.
Sadia also conducted research on-campus, working with faculty and students as part of an interdisciplinary team.
"I am doing research with vehicle technologies and materials," Sadia said. "It's a part of mechanical engineering. I am working with Dr. Rob Prins and Katie Potocko, and there are also other international students working in the same lab."
When they were not in the lab or reviewing journal articles, Sadia and Iqra spent time exploring campus and Harrisonburg. One weekend, they traveled to Richmond, Virginia, and Washington, D.C.
Sadia and Iqra returned to Pakistan at the end of July, but they left with new insights about their academic fields and American culture.
"We have met with people from so many nations . . . Iraq, Turkey, Jamaica, Palestine, China, Afghanistan, India, Canada, Jordan and America," Iqra said. "If you meet a person from a different nation, they have their different views and you share with each other and when you get into a discussion, you have multiple minds… if you are alone, you just have one brain and only the opinions and views that come into your mind. But if you engage yourself in a discussion, mixed with new people, you have plenty of views and thoughts."
Sadia also said she learned from engaging with people from different backgrounds and cultures and is prepared to share her experience with people at home.
"After my return to Pakistan, I shall be an ambassador for the American people and culture and do my best to bridge the gap between the two nations," Sadia said. "I will represent the American education system in Pakistan and will talk about the lifestyles of American people."
Like many fellowships, the Sister2Sister program is highly competitive, but Iqra offered some important advice for anyone considering applying for scholarships to study abroad.
"Never lose hope. Just have a belief in yourself. You must have three things: self-confidence, self-belief and self-kindness. Self-kindness is very much required . . . you cannot pour from an empty bowl, so be kind to yourself so you can serve others."