Research and Scholarship
Q&A with the Office of Fellowships and Awards (OFA)
(Spoiler: There will be chocolate)
---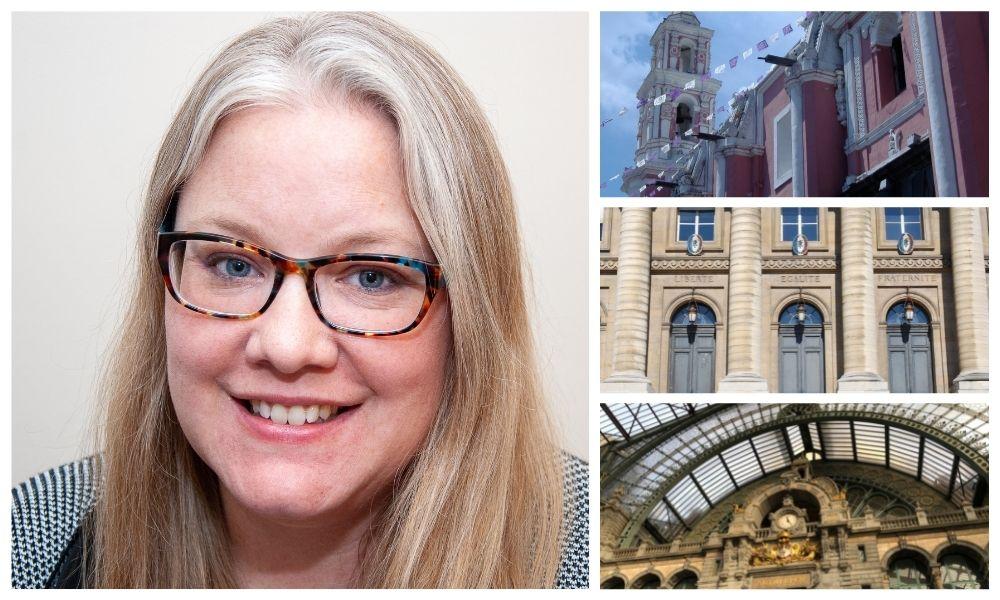 By Ben Delp ('05), JMU Research & Scholarship
Research Development & Promotion caught up with Meredith Malburne-Wade, JMU's Director of the Office of Fellowships and Awards (OFA), who was recently selected for a Fulbright International Education Administrators Award. Hosted in Germany, this opportunity provides two weeks of seminar activities and briefings to learn about the German higher education system and connect with colleagues from around the world to strengthen international education networks.




RDP: Before we learn about your Fulbright award, can you describe the services your office provides? How can students interested in external fellowships and scholarships find out what opportunities are available to them?

Malburne-Wade: My office works with current JMU students and alumni interested in a selection of more than 80 highly competitive, external awards such as the Rhodes, Truman, Udall, Fulbright, and Gilman. I help potential applicants identify awards that fit their accomplishments and goals, and then I help them through the application process itself, offering guidance on statement writing and interview skills where appropriate. I also help current students plot paths for future applications (focusing on their leadership development or community service, for example).

The absolute best way to learn more is for students to set up a time to chat with me. I'm happy to learn about their pasts, their goals, and their future plans, and I'm always excited to point them in the direction of possible scholarships, fellowships, and awards. I'm also putting together our new website where soon students and alumni will be able to locate available opportunities. I'm always excited to have students or alumni referred to me by faculty or staff. It's important to note not all awards require a high GPA; while that's true for a select group of awards, many are more focused on experience, drive, and goals. If a student inspires or impresses you, I want to meet that student, regardless of what their transcript shows.




RDP: You were selected for an International Education Administrators Fulbright Award, which will be hosted in Germany later this year. What can you share about the expected program activities? What cities/universities/institutions will be a part of the visit? What are you most looking forward to?

Malburne-Wade: Travel is, of course, COVID-dependent right now, but as someone who loves to visit new places, I'm most looking forward to breaking out my passport again! The trip details are still being finalized, but currently the plan is for the full cohort to spend the first few days in Berlin where we will receive an introduction to the German higher education system before dividing into small groups to visit different institutions of higher education across Germany. Germany offers a wide range of scholarship opportunities through Fulbright, CBYX, and DAAD, among others, so visiting and understanding the higher education system will make me a better advisor for our students. I'm also delighted to continue to build a strong cohort of external advisors interested in international education.




RDP: The last 17 months have been surreal, heartbreaking, and exhausting. The pandemic forced colleges and universities to institute public health safety measures and adapt very quickly to online and hybrid course delivery, significantly impacting the international education space. How have you adjusted/reprioritized your operations in response to the pandemic? What accomplishment(s) are you most proud of from the last year?

Malburne-Wade: I've moved my advising almost entirely online. Given how closely I work with students, it has definitely been an adjustment as there are some students I've been working with for over a year and have never met in person. Online access to meetings and information sessions has, however, broadened accessibility and I think slowing the pace of our day-to-day lives has opened doors for some students. During a "normal" semester, for example, it can be hard for students to find the time or energy to think about adding something new, such as a fellowships application. Many of my students have had more time to think through their plans and develop strategies for moving forward. Despite the ongoing uncertainty, we've seen record numbers of JMU applicants across a number of fellowships and awards: our students are still doing great things and they're excited to take on the world.

I've also been really proud of fellowship organizations and foundations during this pandemic. I've seen them adjust to transcripts and resumes that look a bit different after a year of social distancing and hybrid learning. I've also seen them move away from mandatory in-person interviews and allow for more online participation. Pre-COVID, that was not an option for many. The flexibility has been key, and it has been inspiring in the face of so much that can feel overwhelming.




RDP: Thank you for taking the time to share some details about your office and Fulbright award. As we wrap-up, what is one thing students should know about the Office of Fellowships and Awards? What is one thing for faculty to know?

Malburne-Wade: Students should know that I'm always delighted to talk to them (and I have chocolate in my desk ready to be shared). I would love faculty to know that I'm also happy to talk to them, to receive their referrals (phone or email works well!), and to visit their department meetings or classes to talk about options that might be available for their majors and minors (they can also have chocolate).