Research and Scholarship
Research innovations earn JMU faculty 3 patent awards
---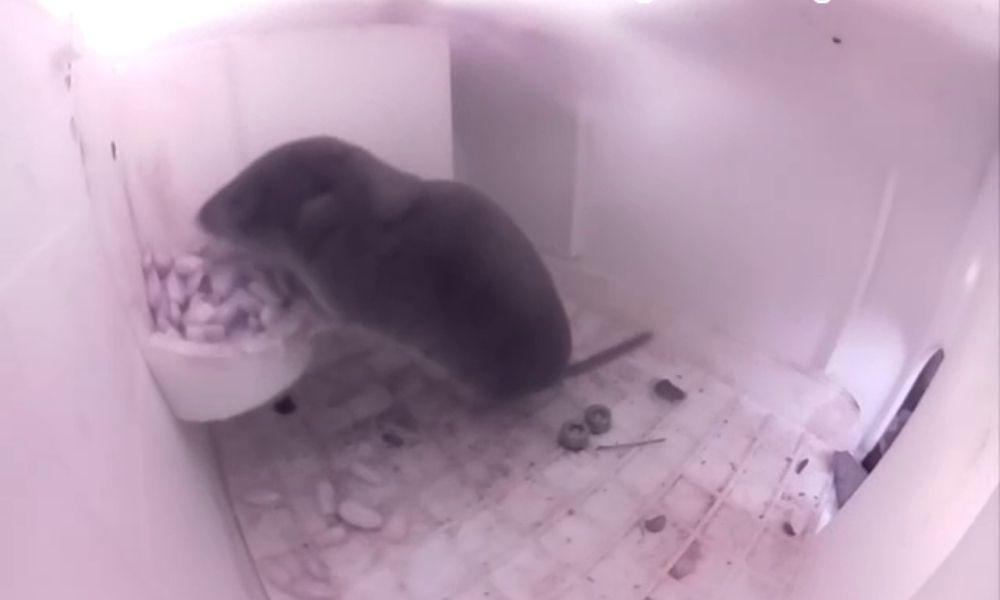 By Ben Delp ('05), JMU Research & Scholarship
The Office of Research & Scholarship (R&S) is pleased to recognize the scholarship and ingenuity of six faculty members whose novel research efforts received patent approval from the U.S. Patent and Trademark Office.  JMU's Director of Technology Innovation & Economic Development, Mary Lou Bourne, guided the faculty through the patent application, a process that can take two years or longer to complete.  R&S caught up with Director Bourne and three of the researchers to learn more about the role of patents and different elements of the process (e.g., the underlying research, societal impact, and benefits to students).  Before moving into the Q&A, please take a minute to learn about the patents.
Animal Monitoring Data Station
Katrina Gobetz and Bryan Cage (College of Science and Mathematics)
The Animal Monitoring Data Station is an innovation to reduce overhead and risk during the collection of data on small mammals.  This data is hand collected in the field, which is stressful on the animal, time consuming, and people intensive, and can result in unreliable data (e.g. weighing wiggling animals), and requires strict adherence to research integrity guidelines.  Developed by faculty from the Department of Biology, the product allows free movement of animals within the unit while collecting weight, video/photos, environmental parameters (heat and humidity), and studying animal behavior.
Novel Methods and Reagents for Diagnosing Sjogren's Syndrome
Bob McKown and Ron Raab (College of Integrated Science and Engineering)
Kyle Seifert (College of Science and Mathematics)
Faculty from the School of Integrated Sciences and Department of Biology have developed a noninvasive, quick, and effective method for the diagnosing of Sjögren's syndrome or dry eye.  As envisioned, three clinical assays can be realized for the quantitative and qualitative analysis of lacritin, a protein biomarker, in human tear samples collected on Schirmer strips during routine clinical eye examinations.  Reduced levels of lacritin are a better clinical standard for the diagnosis of Sjögren's dry eye syndrome based on previously conducted clinical studies.
Triscatonic Amphiphile Compounds, Compositions, and Methods of Making
Kevin Caran and Kyle Seifert (College of Science and Mathematics)
Professors from the Department of Chemistry and Biochemistry and the Department of Biology collaborated to develop a new series of nanoparticles with amphiphilic properties.  The new amphiphiles have a unique structure that allow the organic compounds to work in unusual ways.  Initial tests indicate that the amphiphiles could be a more effective, but less caustic, antimicrobial than many chemical products on the market today.
R&S:  What is a patent and why is it important?
Bourne:  A patent is an exclusive right granted to an inventor, or inventor's employer as assignee.  Patent protection lasts 20 years from the application filing date, and is available for products, processes, or designs that meet certain requirements of novelty, non-obviousness, and utility.  A granted patent is important because it can help safeguard an invention by giving the inventor the right to prevent others from copying, manufacturing, selling, or importing the invention without permission through a license.
A patent application teaches how to make and use an invention by explaining the inventive steps in a written form (i.e., patent specification).  That written explanation is submitted to the U.S. Patent and Trademark Office and published for the public to read and learn regardless of whether the patent application matures into a granted patent.  As such, even if the technology were never introduced into the marketplace, the public can learn about the technology by searching the patent application database and benefit from this knowledge.
R&S:  How does research and scholarship inform the foundation of your patent?
Caran/Seifert:  The patents have been a direct result of our research with JMU undergraduate and graduate students over many years. This work has also resulted in the publication of five articles, which have been the backbone of each patent application.
Gobetz:  I needed a means of studying very small mammals in the wild without trapping and handling them, because they have a high mortality rate in traps.  The "muse" of the whole project is the endangered Irish pygmy shrew, which students and I encountered during a field survey with live traps in western Ireland on a study abroad.  Half of them died inside live-traps, so I started sketching designs for a device that could show me which species were in an area, weigh them, and provide some approximate body measurements.  It would eliminate the need to live-trap, get permits, put the animals and students at risk, and check traps every two hours day and night!
R&S:  How might this research inform future studies?
Caran/Seifert:  We use the results from previous classes of compounds to inform the next iteration of compounds for evaluation.  This allows us to use the "best" candidates from each class as a starting point for future work, in an attempt to make even more effective compounds.
Gobetz:  I am currently using the device to monitor least shrews (one of the world's smallest mammal species) in the JMU Arboretum.  My graduate student and I can track and monitor this species through winter and into the warmer months because we don't need to restrain the animals.  In the future, the concept of the device can be applied to larger species, and also to small and very endangered species - the Irish pygmy shrew, the Australian honey possum, and other mammals that are very difficult to study due to their size.
R&S:  How does the patent process fit into the university research ecosystem?  Why do faculty engage in this process?
Bourne:  Research and discovery are key elements of a university research ecosystem. Dissemination of new knowledge follows in the form of publications.  For something novel and useful that meets a need or solves a problem, a patent application may be filed in order to protect intellectual property and increase its value to the business commercializing the product or service.
Faculty engage in the patent process when their research leads to a novel approach that addresses an innovation or discovery with a market need. A granted patent acknowledges scientific achievement at a high standard, as well as demonstrates professional and academic research and scholarship.
R&S:  How will this innovation have an impact outside the walls of JMU?  
Caran/Seifert:  Antibiotics have been a staple of modern medicine and have saved millions of lives, but years of overuse and misuse has led to the emergence of a global health crisis.  Antibiotic resistance is a major contributor to Healthcare Associated Infections.  In the United States alone, antibiotic resistant infections affect more than 2 million people each year, with an annual mortality rate of 23,000.  The compounds that have been developed, synthesized, evaluated, and eventually patented can be useful for the development of antiseptics and disinfectants that can effectively prevent the spread of antibacterial resistant bacteria, especially in a hospital setting.
Gobetz:  The patented device, which is currently called an "Animal Monitoring Data Station," is a useful educational tool on three levels.  It can be used in a class project for K-12 students, who can deploy it in the field, run it with an iPad or phone, and learn first-hand what species are inhabiting school grounds, backyards, etc.  The device would also be of interest to citizen scientists, hobbyists, and backyard naturalists.  Finally, the device is a field research aid - for example, it allows a researcher to determine presence/absence of species with no need for trap-setting, and also provides a record of weight change in a species or individual over time.  It could be of particular use in species surveys by government-funded institutions such as national parks, or by university researchers and their students.  It can be used in any location worldwide.
R&S:  The faculty mention the integral role of students in the research process.  How do patents and the underlying knowledge creation and dissemination process benefit students?
Bourne:  Some of the most impactful ways that students learn is experientially through research, discovery, and application of new knowledge.  Students benefit in several ways by being aware of and/or involved in the patent process.  They may be supporting faculty-led research by working in a faculty member's lab and perhaps with an industry sponsor, or by working on their own innovation or startup company based on a new service or product.  Through research and discovery, students learn more about innovation and creating something novel by using prior art such as the patent literature as a research tool, to understand innovations that already exist.  Combining this knowledge of prior art and creativity, students learn to solve problems differently in novel, useful, and innovative ways.