Creative activities and experiences offer inspiration, perspective, and hope
Research and Scholarship
---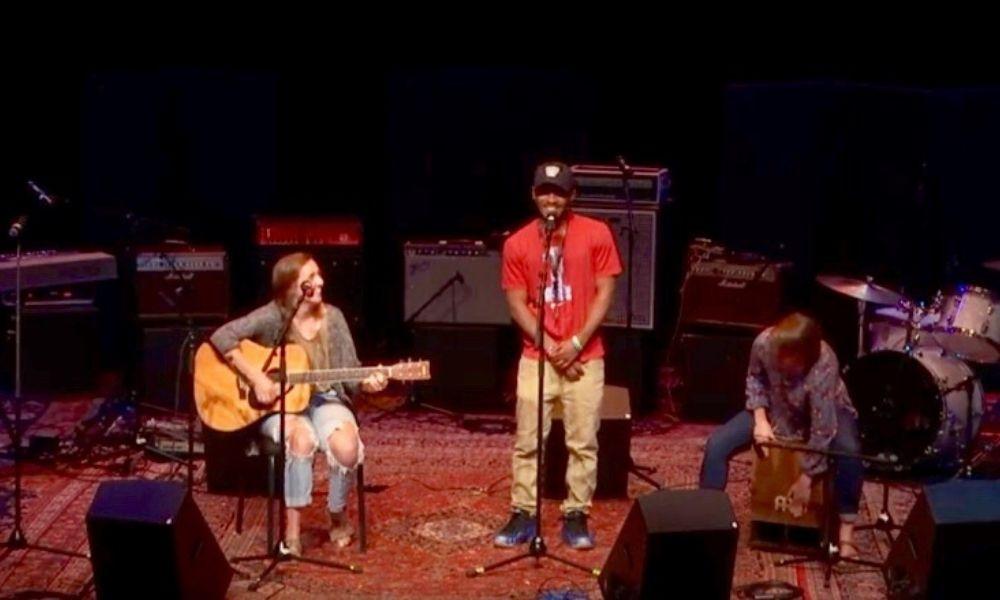 By Ben Delp ('05), JMU Research & Scholarship
Research & Scholarship recently caught up with associate professor of music David Stringham for a Q&A about hope and inspiration during the COVID-19 pandemic, and to learn about music engagement activities facilitated by JMU faculty and their many partners.
Stringham began his career in the College of Visual and Performing Arts at JMU in 2010, and earned BM (with Highest Distinction), MM, and PhD degrees from the Eastman School of Music of the University of Rochester. His research and teaching interests include composition, improvisation, music technology, and lifelong musicianship. Stringham, CVPA colleague Jesse Rathgeber, Engagement Fellow Lou Veramessa, and eight undergraduate and graduate students from media arts and design, music, occupational therapy, and social work lead the Center for Inclusive Music Engagement, "a collaborative space for practitioners, researchers, and community members to facilitate innovative opportunities for all persons—particularly those often marginalized in institutional music education contexts—to create, perform, respond, and connect with, in, through, and around music in ways they find meaningful."
R&S: As much of the United States and world received stay-at-home orders from public officials to contain the COVID-19 pandemic, social media and other sites provided grateful audiences with online performances by musical acts ranging from the Philadelphia Orchestra, to Keith Urban, to the National Orchestra of France, to local performers like William Howard of the Judy Chops. Can you speak to the importance of the arts, and music in particular, for hope and inspiration during this and other challenging times?
Stringham: I feel I should preface this by celebrating that there are many ways in which people find solace and meaning during difficult times—for example, I'm also inspired and encouraged by the work that healthcare professionals, journalists, and public health researchers are doing right now. I'm not going to pretend that music—or any of the arts—has the corner on hope and inspiration.
That said, there's a vast range of presentational arts experiences available right now. Just on the local level, in addition to "Reverend Bill" Howard, who you mentioned, Juniper Tree, The Steel Wheels, and Walking Roots Band are among groups that have shared content online, and are contributing to Harrisonburg Downtown Renaissance's Sofapalooza series. One can tour virtual museums, watch Broadway shows, or co-watch a movie with family and friends who are physically distanced. We can even listen to a musical representation of the amino acid sequence and structure of the spike protein of the pathogen of COVID-19.
In addition to these presentational experiences, it's been interesting to observe a surge in—and in some cases, greater awareness of—opportunities for people to engage in performing and creating art themselves. These include:
Regardless of the format, music (and other arts, of course) offers us a vehicle to create expressions across the spectrum of ideas and emotions, and engage with others' expressions by listening to them, analyzing them, or re-creating them through performance. Creating is a part of what it means to be human, and we can connect with this piece of our humanity—within and beyond the arts—through composing, improvising, or arranging music, choreographing a dance, authoring a play, writing a novel, making furniture, developing a new piece of software, or designing a garden.
Specific to JMU, beyond our College of Visual and Performing Arts, I think we'd be remiss not to also look to the work of other artists on our campus (including, but not limited to filmmakers, historians, poets, and writers in our College of Arts and Letters) and the ways in which their works can help us better understand our current moment and provide inspiration, perspective, and levity during an uncertain time.
R&S: With JMU colleagues and partners in the community, you have developed programs ("JMUke" and "Stories and Songs") that engage individuals—some of whom may be going through a tough period in their lives—in music making and song writing. Would you please tell us a little about these programs and the role, if any, for students?
Stringham: We launched JMUke in fall 2016 with funding from a JMU Faculty Senate Engagement Mini-Grant, with subsequent support from a Provost's Research Award to Jesse Rathgeber (who serves as associate director of CIME). This project has engaged more than 2,000 people within and beyond Harrisonburg in making and learning music using ukuleles, and in building their own instruments using a laser-cut and 3D-printed kit developed at JMU. Students are the primary organizers for most of these events, and have the opportunity to design, facilitate, and evaluate music experiences in venues ranging from Explore More Discovery Museum to Carrier Arboretum to Harrisonburg restaurants to an international interactive performing arts conference in New York City. Last fall, we had the opportunity to collaborate with WMRA and facilitate experiences as part of their "Books and Brews" events with Gayla Mills and her book on lifelong music making.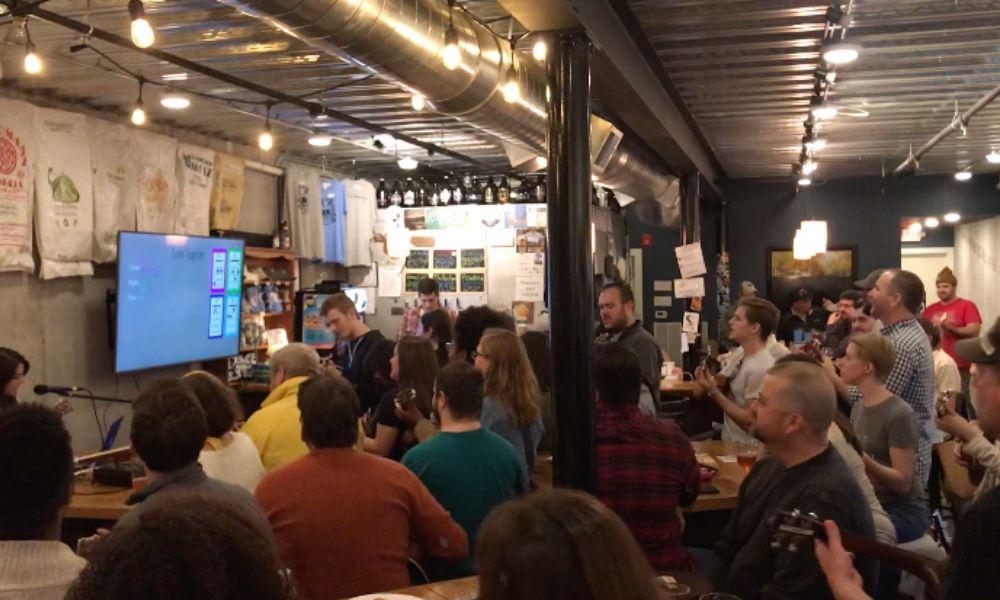 Our Stories and Songs project originated at Gemeinschaft Home, a residential transitional facility in Harrisonburg, as part of a collaboration with professors Cindy Hunter in JMU's Department of Social Work, Rob Alexander and Lori Britt from JMU's Institute for Constructive Advocacy and Dialogue, and Jesse Rathgeber from JMU's School of Music. We received a Research: ArtWorks grant from National Endowment for the Arts to launch this project; our first year included a performance at JMU's Forbes Center for the Performing Arts, where Gemeinschaft Home residents, JMU students and faculty, and local artists performed songs from this project. And as a project grounded in research, we interviewed participants from JMU and Gemeinschaft Home, surveyed audience members at that culminating performance, and held a couple of focus groups with audience members. Those findings have been published in a white paper submitted to National Endowment for the Arts, and shared at a number of conferences.
Students remain centrally involved in both of these projects as field experience placements in music and social work courses, and through their work as student leaders in JMU's Center for Inclusive Music Engagement. For example, you can see students at work, and hear them talk about their experiences working with Stories and Songs, in this Madison Magazine video story. Beyond working in the field on these projects, students are also collaborators in sharing what we're learning through these initiatives. For example, Gracie Cuevas, Erin Dixon, Rebecca Kenaga, Sydney Seed, and Lou Veramessa have been part of presenting findings from our Stories and Songs project at state and international conferences; similarly, Jenny Hoye and Joseph McNure, two students who were involved with JMUke at its early stages, collaborated on a research study presented at a national music teacher education symposium and published in Qualitative Research in Music Education .
R&S: Shifting gears to education policy and funding priorities, we often hear of cuts to arts programs when budgets are tight, despite the numerous benefits of such programs to both children and adults. How do we make the case for appreciating and investing in the arts during both good and lean times?
Stringham: It's not uncommon to hear advocacy narratives suggesting that participation in music helps one develop teamwork, perform better in other academic subjects, become more self-disciplined, or just become all-around better people. Some individuals may experience those benefits as a result of participation in music courses, but I'm cautious about suggesting that is why arts education is important for two reasons. First, those outcomes aren't exclusive to music classrooms. For example, my wife teaches math at a local middle school. Her students often work together in teams, use knowledge from their math classes to improve their performance in other classes, and have opportunities to develop self-discipline by developing a regular pattern of doing homework and studying. Second, researchers are showing us that students who enroll in elective music courses (typically beyond elementary general music) do not represent larger school populations. For example, in the United States, several populations are significantly underrepresented in secondary music education: students with disabilities, students in the lowest quartile for socioeconomic status, students who identify as Hispanic, students who identify as male, students whose parents hold a high school diploma or less, and students who are English Language Learners. While students may receive one-off arts experiences through school assemblies and field trips, a comprehensive, sequential music education is important for every single child—so we need to work toward developing music classrooms that (and, recruiting and preparing music teachers who want to and are able to) serve every single child throughout their K-12 education.
So, while we can justify arts education based on non-arts outcomes, it's also important to consider what experiences we can offer to all persons in, around, and through the arts that are not taught anywhere else in a curriculum. For example, there's no place in a public school other than a music classroom where it's the teacher's job to help students learn to create their own music, recreate others' music, and engage with music through listening, responding, analyzing, and making connections between music and other disciplines. As we discussed earlier, people find meaning in, and express themselves through, music at all sorts of times in life, and music education experiences should offer individuals opportunities to develop skills and knowledge that empower them—individually or collectively—to engage with music in ways they find meaningful throughout their lifetimes. Part of how we can make the case for appreciating and investing in arts education, then, is reminding people that these are the educational experiences that empower people to create artworks—as songwriters, painters, playwrights, or dancers, for example—that are sources of meaning, hope, and inspiration.
R&S: While our collective sheltering has undoubtedly had an impact on current projects, are you able to speak to what is on the horizon for your scholarship and the Center for Inclusive Music Engagement?
Stringham: I think you're right—sheltering is affecting all of us in big and small ways. I feel very fortunate to be able to leverage tools for interaction and collaboration to continue working on collaborative projects with colleagues within and beyond JMU (e.g., using Qualtrics and Skype to distribute surveys and conduct interviews, using Google Docs to edit manuscripts). Unfortunately, this time of physical distancing has also led to a number of conferences being cancelled, postponed, or reimagined. The cancellation that was most disappointing for me was the 34th World Conference of the International Society for Music Education, where seven JMU students and recent alumni (and several faculty members) had been invited to present research posters and conference sessions in Helsinki, Finland.
I'm also honored to be part of a team of students, staff, and faculty in CIME who have worked quickly to continue enacting our mission in a time of physical distancing. To provide just a few examples: we've collaborated with a growing list of guest facilitators to reimagine JMUke jams as synchronous online music making and learning environments (shameless plug: we host jams for adults and kids every Friday afternoon—there's more information on our Facebook page). Smith Waylett, one of our Innovation Leaders, is working with professor Amy Lewis (one of JMU's Preparing Future Faculty Fellows) and her students to develop videos and playlists for people to host "watch party" ukulele jams with family and friends. Robby McCoubrey, a JMU alumnus and board-certified music therapist who facilitates our Stories and Songs collaboration with Gemeinschaft Home, has been working to move that experience to an online format that will allow for his continued collaboration with participants. Innovation Leaders Thomas Hassett and Mary Binder are continuing a national study of postsecondary music students' experiences with sexual misconduct. Associate director Jesse Rathgeber is leading a multi-institutional team of researchers studying music teachers' experiences of learning, teaching, and working in a pandemic. As you can imagine, our current situation is offering both challenges and opportunities that are helping to shape each of these projects.