Full Inteview: Ph.D. student applies strategic leadership skills to international challenges
Research and Scholarship
---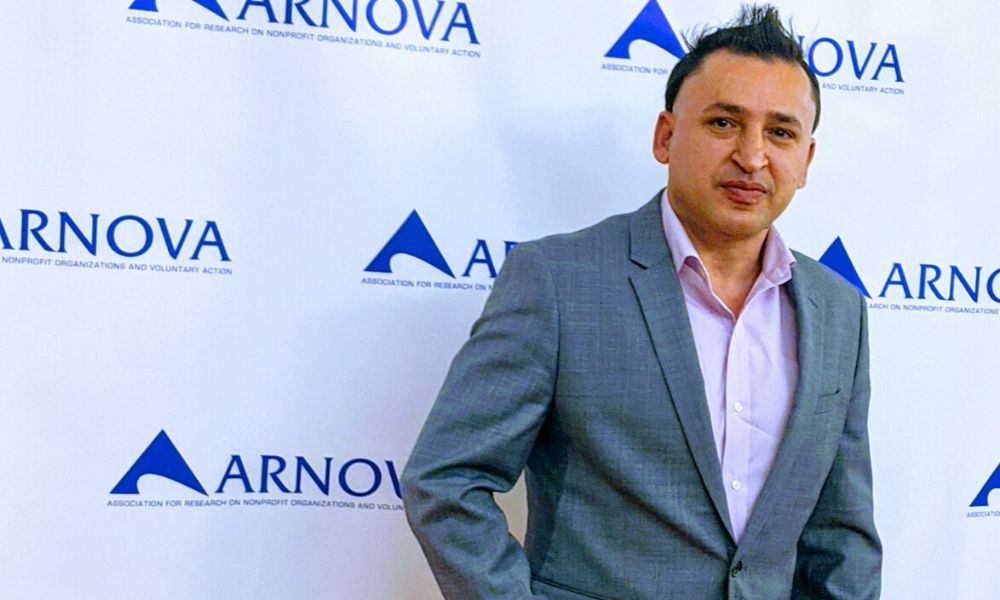 By Kyler Zampiello ('19) and Benjamin Delp ('05)
Research & Scholarship recently interviewed Sami Nuristani, a doctoral candidate in JMU's School of Strategic Leadership Studies (SSLS) program concentrating in Nonprofit and Community Leadership.
R&S: Why did you choose JMU's Strategic Leadership program for your doctoral studies?
While there are many aspects of JMU's SSLS program that can appeal to different potential applicants, it was two important aspects that drew my attention the most. First, the heavy focus that SSLS places on blending the real world and the academic world, and thus emphasis on narrowing the gap between theory and practice. All three concentrations within SSLS stress this very aspect, and the classes offered in each track are therefore geared toward building both technical and leadership competencies with the view that when combined they can be leveraged to address leadership challenges. Second, SSLS places a premium on quantitative methodology so as to equip its graduates with the most up-to-date tools that aid in enhancing our understanding of leadership and improving and rendering them appropriate to a given context, be it at micro (team) meso (organizational) and macro (national) levels. In combination, these two components of SSLS empower its graduates to take on real-world leadership problems that undermine organizational performance. I believe that education is both an end in itself and a means to an end, and SSLS imparts this philosophy by customizing its curriculum so as to maximize its utility to solving leadership challenges.
R&S: This isn't your first JMU degree program, can you share some details about your previous educational and professional experiences?
You're right. This is not my first degree program at JMU, nor is it the second. In fact, this is my third degree program at JMU. I first earned my undergraduate degree from JMU in Public Policy and Administration. Upon graduating, I returned to Afghanistan, my country of birth, to put into practice the skill sets I had learned at JMU. While there, I found a job that required me to conduct a historical analysis of the civil service in Afghanistan. That job, however, underscored my need to pursue a graduate education in public administration, mostly because government corruption was beginning to slowly infect major government bureaucracies. Dealing with corruption, I reasoned, required sophisticated knowledge of governance, policy formulation, and efficient and effective policy execution. With that goal in mind, I returned to JMU to pursue a master's degree in public administration. Upon earning an MPA degree, I found a job that required me to move to Europe. This was an exciting experience as it enabled me to explore and interact with a new culture and language that challenged me intellectually and emotionally.
Throughout my journey both in the U.S. and Europe, Afghanistan remained a constant presence in the background and occupied my thoughts and emotions. By this time, corruption had infected virtually every major state institution and had thus become institutionalized in Afghanistan. I saw the problem of corruption from a leadership lens and considered it a leadership failure. My quest for better understanding of leadership eventually introduced me to JMU's SSLS program and brought me back to JMU once again. At SSLS, I learned to overcome major impediments and spirit-crushing challenges by being persistent and resilient and also by reconciling contradictions. Now that I am in the final phase of my SSLS journey, I can state unequivocally that applying for SSLS was one of the best decisions of my life.
R&S: What have been some of the more interesting real-world projects that you've had the opportunity to work on while studying Strategic Leadership?
Targeting the Ultimate Poor (TUP) project
I worked on the World Bank's Targeting the Ultimate Poor (TUP) project which combines transfer of productive assets with skills training, mentoring, basic cash stipend, access to savings accounts, and other services concerning health and education in poor rural areas in Afghanistan. The goal is to lift program recipients out of extreme poverty. An initial evaluation of a TUP program in Afghanistan portrayed it as a promising endeavor that could improve the lives of TUP households even in the fragile and conflict-affected context of Afghanistan. To establish its long-term impacts and sustainability, a follow up survey was deemed appropriate. My role was to help with researching and identifying indicators that capture as accurately as possible (a) Women Empowerment and (b) Attitudes toward Violence against Women in Afghanistan. This task required striking a fine balance between the need to capture indicators of these phenomena with precision and the need to respect cultural norms and sensitivities. This project was completed and the resulting survey is planned for implementation in Afghanistan.
GLOBE 2020 project
The GLOBE 2020 project is really exciting and I really look forward to it. The GLOBE (Global and Organizational Behavior Effectiveness) project is a study of cross-cultural leadership that spans over 100 countries and cultures. The project was founded to analyze organizational norms, values, and beliefs of leaders in different societies. The GLOBE research program sets out to explore the complex effects of culture on leadership and organizational effectiveness. The latest iteration of the project is a survey of cultural practices, ideal leadership attributes, and trust antecedents from 300-500 middle managers in each of more than 110 countries with the help of over 240 Country Co-Investigators (CCIs). To collect data from over 300-500 managers in each target country, the project relies on CCIs in each country, and they play a significant role by conducting on-site research activities including survey translations, data collection, analysis and interpretation of the results, and publication of important findings.
This project aligns well with JMU's SSLS program. Understanding both individual and cultural preferences for particular types of leaders and leadership styles is at the heart of the School of Strategic Leadership Studies program. Similarly, SSLS rightly emphasizes the importance of narrowing the gap between theory and practice. This research opportunity is an ideal fit and venue for me to address both target areas upon which SSLS focuses. My participation in such a global research program will be a testament to the academic rigor and real-world applicability of JMU's SSLS program. My participation as a CCI will also help put Afghanistan on the map for the first time in the global research agenda, thereby paving the way for future research that can help Afghanistan with the urgent problem of leadership failure that has haunted it for over four decades.
A Model of the Institutionalization of Corruption during the Rebuilding Process
The article that I co-authored with Dr. Adam Vanhove is reflective of my view that corruption is ultimately a leadership failure with debilitating consequences for a majority of the people in Afghanistan, and perhaps other countries transitioning out of conflicts. Corruption is largely seen as a bureaucratic misstep or a mere symptom that can be mitigated by enacting anti-corruption measures and erecting new entities. Consequently, the anticorruption initiatives that have emerged from these perspectives have been largely ineffective in the context of post-Taliban Afghanistan. Unless we treat corruption as a leadership failure its real consequences will continue to be downplayed and, most importantly, the resulting anti-corruption measures will be ineffective. Dealing with corruption therefore needs to be incorporated as an essential component of strategic leadership and should also focus on the upper echelon. In explaining the factors that contribute to the institutionalization of corruption our secondary aim was to clearly articulate the urgency of the problem so that it attracts the attention of the top leadership in Afghanistan as well as in the international community.
R&S: You presented at the Association for Research on Nonprofit Organizations and Voluntary Action (ARNOVA) conference last November in San Diego. What was the focus of your presentation? How did SSLS faculty support your participation?
ARNOVA 2019 was a rewarding experience in that it allowed me to showcase my work in a formal setting and helped me improve the quality of my work so that it can withstand the scrutiny of professionals in the field. The ultimate goal of the conference, in my view, is to provide participants a platform to demonstrate effective communication skills and leadership competencies and to network with other professionals in the field, including potential employers. I presented a quantitative analysis of how corruption undermines the many dimensions of social capital in the context of post-Taliban Afghanistan. The SSLS faculty are very proactive in cultivating a culture of academic excellence and engagement in scholarship. The faculty instill in students the confidence and competence to conduct research that meets academic rigors. The faculty are supportive throughout all stages of students' research endeavors, including finding publication and conference presentation opportunities, providing feedback on paper submissions, and even searching for and securing funding. This multi-dimensional approach by the SSLS faculty enables students to pursue research topics that interest them and also have real-world relevance. Funding from both the Graduate School and SSLS facilitated my participation at ARNOVA.
R&S: What are your career goals after completion of your Ph.D. studies?
My career goals include exploring leadership failure problems that have plagued many post-conflict countries. While a multitude of culprits can be blamed for the on-going leadership failure in Afghanistan, the biggest contributor in my opinion is the misalignment between the prototypical leaders/leadership that the people of Afghanistan desire and the leaders/leadership that are currently in place there. Under such a condition of incongruence, there is bound to be dissatisfaction that is fueled by leadership of an inferior quality and the resulting sub-optimal performance. I intend to explore causes of leadership failure in post-conflict contexts and the effects of incongruence between the prototypical leaders that followers desire and the attributes of their existing leaders.
I recently passed the comprehensive exam and successfully defended my dissertation proposal. If everything goes according to plan, I expect to defend my dissertation in mid-summer 2020.
This interview has been edited and condensed.
Click here to access the condensed interview.