Geoscience research opportunities abound in the caves of western Virginia
Research and Scholarship
---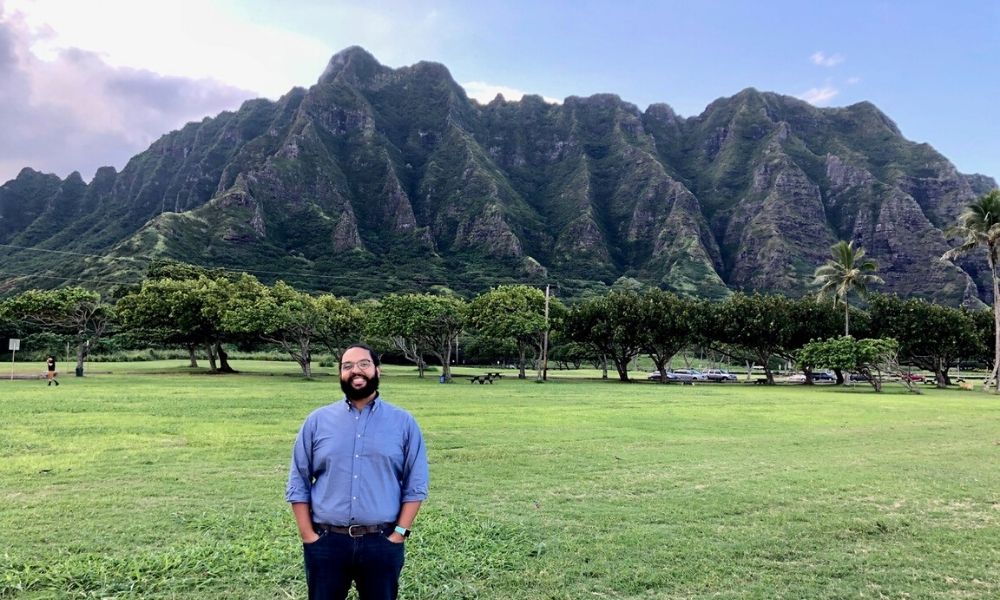 By Kyler Zampiello ('19) and Ben Delp ('05), JMU Research & Scholarship
As part of a year-long effort to highlight research, scholarship, and creative activities at JMU, the Office of Research & Scholarship recently toured research and lab facilities housed in the College of Science and Mathematics (CSM). This tour featured the efforts of faculty and students representing all five of the departments that comprise CSM – Biology, Chemistry and Biochemistry, Geology and Environmental Science, Mathematics and Statistics, and Physics and Astronomy.
One of the presentations organized by the Department of Geology and Environmental Science was led by visiting assistant professor Ángel Garcia, who maintains active research projects in the following areas: 
Ethnogeology – geological knowledge that is culturally informed;
Karst Geology – paleoclimate reconstruction of the Shenandoah Valley using stalagmites as proxy; and
Geoscience Education – using place attachment and place feeling (sense of place) to teach geoscience that is place-based.
Garcia, who has taught in the Department of Geology and Environmental Science at JMU since Fall 2018, has a scholarly interest in the landscapes that develop from the dissolution of natural waters in rocks such as limestone, and conducts field work in Puerto Rico and the Dominican Republic, as well as in the Shenandoah Valley.
A naturally occurring feature of the Shenandoah Valley that is crucial to Garcia's work are caves, many of which are only accessible with the permission of private landowners. It was a chance encounter with a student that enabled Garcia to connect with the former president of the Virginia Speleological Survey. "I reached out to him and after a couple of visits I developed this relationship and now have access to several caves that are crucial for our research. My cave community is growing and these people are becoming kind of like my mentors outside of JMU," said Garcia.
Garcia's research is in pursuit of a better understanding of past weather and climate patterns through an examination of time intervals of thousands of years. "My research itself gives a good story of past climate conditions. We can compare the data to the present and determine what is similar, what is different, and what potential impacts might inform decision-making. Students are very interested in this work because they don't know that caves are kind of like traveling in a time machine. They put you in different time periods and contain a lot of information about the past."
He is currently working on a new project focused on how various types of terrain react to an abundance of precipitation, and how that data can identify patterns of flooding in communities. Garcia explained, "I am developing a new proposal for communities in Puerto Rico that explores how hurricanes are influencing the daily life of island inhabitants."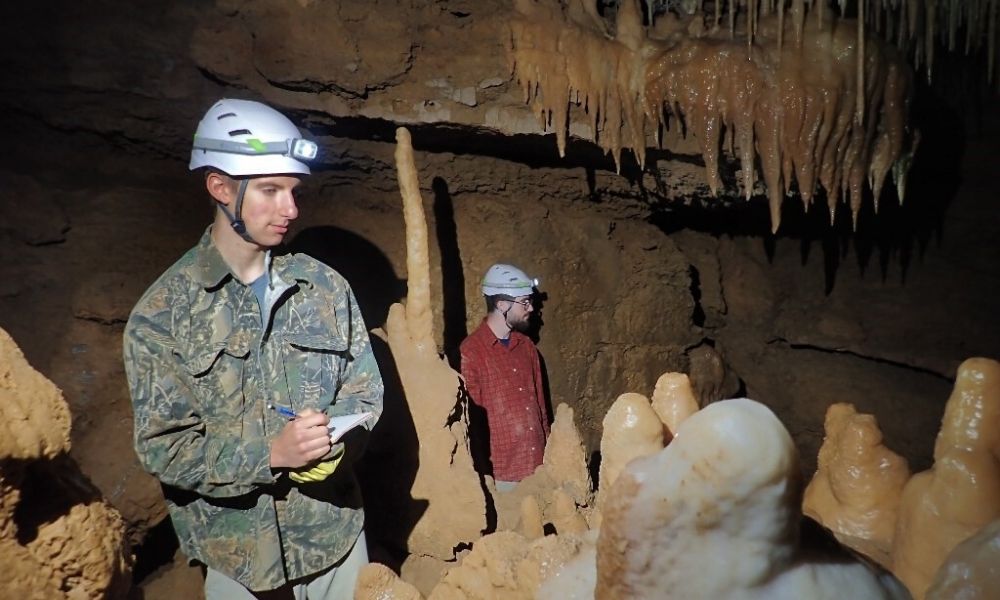 Many of Garcia's research projects include research opportunities for undergraduate students. Describing the benefits of student involvement in the lab and field, Garcia noted that students develop research skills that can be applied in both work and academic settings like graduate school. "Program alumni have skills that go beyond just pressing buttons and reading samples. We advise on how to write and develop scientific ideas, in addition to educating students about what is actually happening inside the equipment we use."
Junior Zach Strasberg connected with professor Garcia while enrolled in a writing and communication in the geosciences course. After learning about Garcia's research, Zach accepted a research position in Garcia's lab over the summer and has continued to advance the project during the fall semester.
"Dr. Garcia and I are examining stalagmites, a cave feature, in Highland County. The cool thing is stalagmites have layers which you can drill into and look to see aspects of the geochemistry. Specifically, carbon isotopes, which can tell you about vegetation above the cave, and oxygen isotopes, which tell you about past precipitation, storm source, and temperature."
When asked about the experience of working alongside a faculty member, Zach commented, "Dr. Garcia has taught me so much about lab research and about patience, which has been huge for me personally. What is really impressive is that he has such a broad scope of knowledge and interest. He understands cultural geology and ethnogeology -- how geology relates to culture -- and is also interested in improving diversity in geology. He has expertise in the formation of caves, how karst forms, how sinkholes form, and paleoclimatology, and those are four completely different things!"
Zach is interested in studying paleoclimatology in graduate school, and may pursue a work experience after completing his undergraduate studies. "I am more geared towards quantitative stuff like computer modeling and also toward chemistry, and I think it would be really cool to work somewhere like the U.S. Geological Survey, which is headquartered in Reston, Virginia."
Zach's experience speaks to the intentional effort at JMU and in the College of Science and Mathematics to equip students with state-of-the-art facilities and faculty mentors. Garcia observed, "Our laboratory spaces are advanced enough for Ph.D. students, which at JMU are available to undergrads, and for me that is mind blowing! As a professor, I love it because I have a lot of instruments to use and our students have such a great opportunity to develop in the geosciences."