Strategic Leadership Student Presents at International Conference
Research and Scholarship
---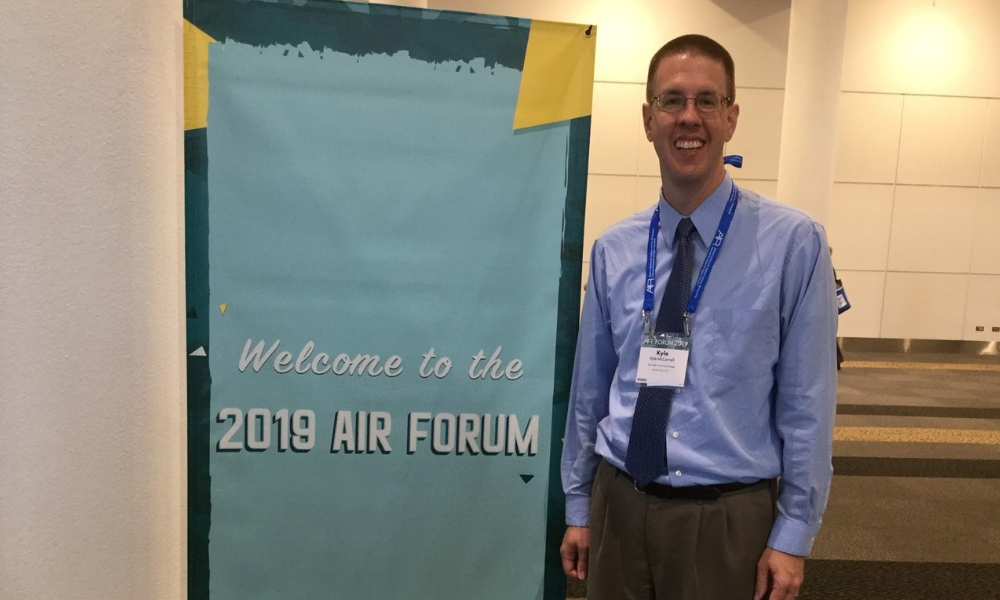 By Kyler Zampiello ('19) and Ben Delp ('05), JMU Research & Scholarship
Kyle McCarrell, a doctoral student studying strategic leadership, received travel grants from The Graduate School at JMU and the School of Strategic Leadership Studies (SSLS) to attend the AIR Forum, the Association for Institutional Research's annual conference. McCarrell presented his research project Credentialing: A Study on Non-Credit to Credit Conversation Activities, which was conducted in partnership with his externship employer – the Southern Association of Colleges and Schools Commission on Colleges (SACSCOC). A requirement of JMU's Ph.D. in Strategic Leadership is an externship, which involves a project with an outside organization. McCarrell chose to work with SACSCOC, the accrediting agency for most higher education institutions in the state of Virginia and throughout the southeast U.S.
McCarrell commented, "The externship allowed me to have the opportunity to go to Atlanta to work with institutional researchers from SACSCOC to talk about what was going on in the data set. From there, I received the data and analyzed it in SPSS. I also had to do a lot of data clean up throughout the process. The experience allowed me to see a different side of higher education and I personally learned a lot."
This was McCarrell's first experience conducting research, presenting, and attending an event of the size and scope of the AIR Forum. In addition to presenting, the event also provided McCarrell with the opportunity to learn from other researchers through conversations about current topics in institutional research, assessment, and planning.
McCarrell commented, "This was my first time with institutional research in a large group setting with 800-1000 people gathered. It was interesting to hear talks about the future of data and its role in higher ed. We talked a lot about trying to advocate for ways to show value, including the role of predictive analytics – How do you predict the future? Can you say that a student coming in with x, y, or z demographically or GPA-wise, their likelihood of success will be what? What resources will a student need to be successful at a particular institution?" 
McCarrell's career interests evolved over time. He was heavily involved in music and performing in high school, and aspired to one day be a band director. He received his undergraduate and master's degrees in music and knew he had a passion for working in higher education. While McCarrell recently became the Executive Director of the Library at McHenry County College in Illinois, he didn't always see himself falling into this path and ending up at JMU.
"I had been thinking about starting my doctoral degree for a little while, and when I moved to the area [to work in the library at Blue Ridge Community College] and had the desire to get into more upper level administration in higher education, I started thinking about various programs. I wasn't necessarily looking for this specific program, but I ended up loving it, especially the data analysis component which at first I was hesitant about. So the program was local, convenient, and within the field of study I was interested in."
McCarrell's professors recognized early on the passion he has for his studies, "Kyle is a very insightful and hard-working student. I have been continually impressed by his ability to not only identify complex and timely challenges confronting postsecondary leaders, but also use rigorous quantitative analysis to offer solutions," said Ben Selznick, faculty in SSLS.
McCarrell plans to refocus his attention on his dissertation this semester. He is exploring the community college system and the student experience from application to enrollment. Specifically, McCarrell wants to look at what barriers exist and how students react to them.
"Can we predict if someone applies what is the likelihood they will enroll and what support they need to make that work, a.k.a., they enroll and show up to class," explained McCarrell. There can be a lot of barriers like financial aid, personal things that come up, GPA pressures, distance from the college, demographic background, and these are things I want to shed light on."
McCarrell hopes to finish the program by winter of 2020, and continue to grow professionally in higher education. McCarrell noted how grateful he is for the constant support from the JMU faculty, "I've been so happy with the support I've received from JMU. Dr. Erwin brought me on board and he was instrumental in encouraging me that I could handle the statistics. All four professors in the program have been very supportive and helpful in their own way. I'm partnering with a professor right now on a paper, and the experience is helping me advance my own research. The program is amazing."