Industrial Design Students Display Work at National Competition
Research and Scholarship
---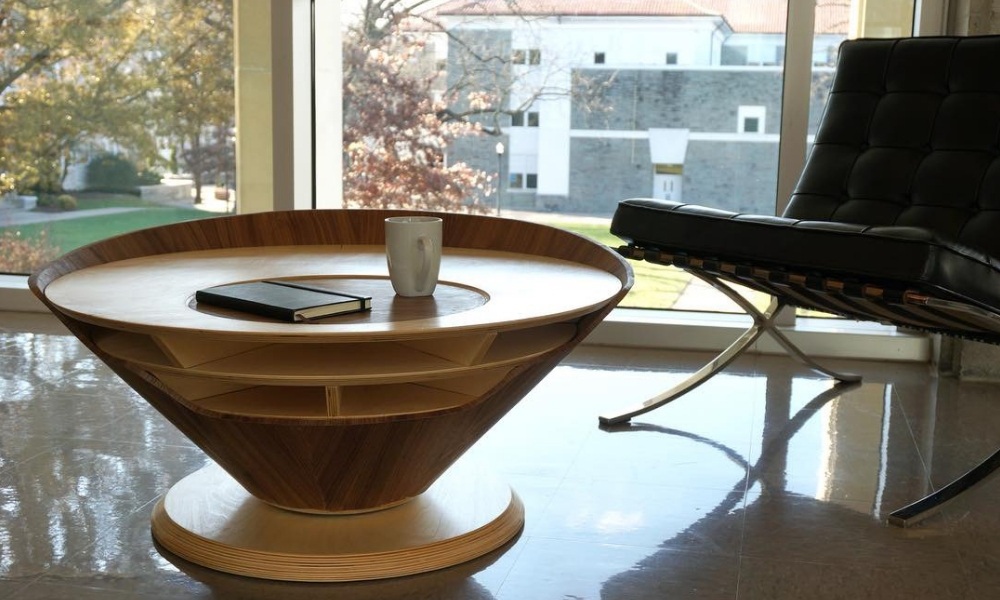 By Kyler Zampiello ('19) and Ben Delp ('05), JMU Research & Scholarship
This past July, JMU School of Art, Design and Art History (SADAH) students Savio Duong ('19) and Bryce Simpson ('20) and their faculty instructor, Sean Yoo, were finalists at the National Freshwood Competition, an event hosted by the Association of Woodworking and Furnishing Suppliers that celebrates construction and design achievements. The competition provided the students with opportunities to compete against top-tier artists from universities across the U.S., while also hosting networking opportunities to meet and collaborate with working professionals based in the U.S. and around the world. As finalists, the students and Yoo received an all-expenses paid trip to Las Vegas to present their unique furniture designs.
For the competition, Duong and Simpson both created their own pieces. Duong, a table that doubled as a coffee and dining room table in one. The dual function piece rotates and flips over, raises high to become a dining table, and lowers to assume the role of a coffee table. Simpson utilized a playful design to produce a coffee table with a creative touch inspired by the book The Little Prince. The table rotates in a way that may be perceived as wobbly; this due to the optical illusion he intended to create.
While the students did not place at the competition, Duong did place at the International Houseware Association the previous fall, taking home honorable mention and a cash prize
As described by Duong, "Being invited to attend the competition in Las Vegas was an honor in itself. I had the chance to meet some very talented designers and hear from professionals in the industry. The quality of work that was chosen for the competition was nothing less than top notch. It was great to go out there to represent JMU and I'm sure there will be more Dukes to come who will receive the same experience that I have."
SADAH instructor and well-known industrial designer, Sean Yoo, described the experience as "inspiring," as it gave students a feel for what it's like at the next level and invaluable exposure to a diverse range of artists.
After beginning his professional career as one of the youngest city planners in LA, Yoo went back to school to study industrial design, then relocated to Italy for eight years where he worked with some of the biggest manufacturers in the world, including Steelcase, Herman Miller, and Design Within Reach. Yoo made his way to JMU and the College of Visual and Performing Arts in 2015, and has been educating and mentoring students ever since.
"I always tell my students that when I design something part of my DNA goes into it, and I almost always see the familiar connection between what my students design and previous work that I've done. I see a little bit of myself in their work and I like that I am able to pass down some of my knowledge. Hopefully what they learn will become a part of their design philosophy that will, in turn, inspire the next generation." 

– Instructor Yoo