Biology hosts NSF-funded workshop on developing scalable DNA Barcoding CUREs
Research and Scholarship
---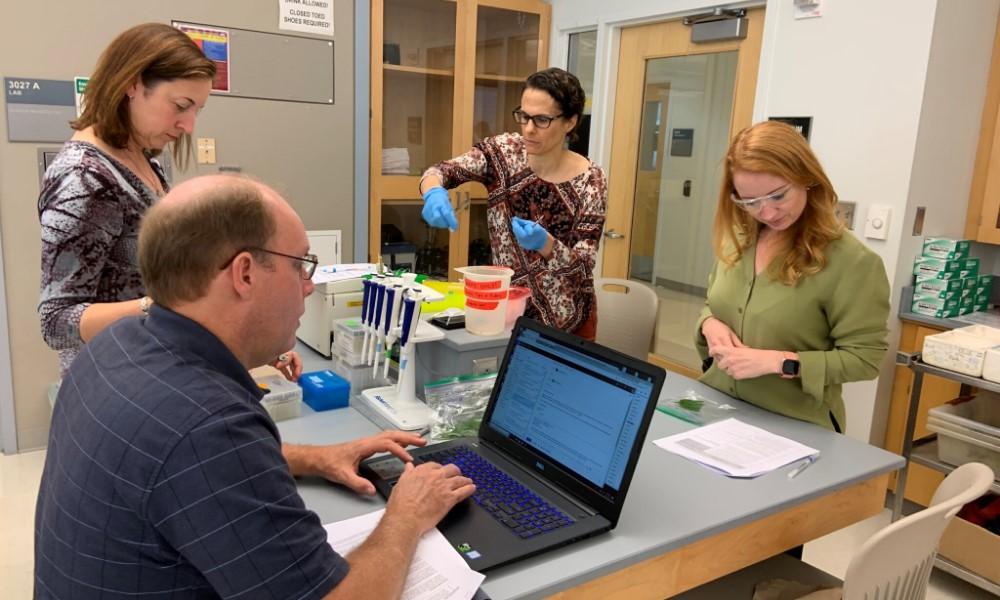 By Zack Noftsinger ('21) and Ben Delp ('05), JMU Research & Scholarship
Course-based undergraduate research experiences, known as CUREs, are trending in popularity at universities across the country. These courses utilize engaging hands-on experiences to enable students to address authentic research problems. CUREs can be of significant benefit to underrepresented groups, first-generation students, and students with minimal background in research by providing lab experiences that students may not have previously encountered during their educational career and reducing many of the barriers to conducting independent research.
Last June, JMU biology professors Ray Enke and Oliver Hyman, alongside researchers from Cold Spring Harbor Laboratory's DNA Learning Center (New York), hosted a DNA barcoding workshop to teach a diverse group of educators from across the nation on how to create their own barcoding courses (universities represented included the University of California (Los Angeles), Georgetown University, and Quinnipiac University to name a few). Professors Enke and Hyman's primary goal was to teach workshop participants the methods and logistics needed to successfully facilitate a scalable undergraduate research experience, so the visiting faculty can implement similar CUREs at their home institutions. Three years of implementation and assessment at JMU has the benefit to reduce obstacles for implementation at other schools from years to potentially months.
As part of the workshop, JMU biology faculty and participants conducted field work at the Edith J. Carrier Arboretum, in addition to providing ample laboratory time in the Bioscience Building, analyzing specimens and conducting the "barcoding process."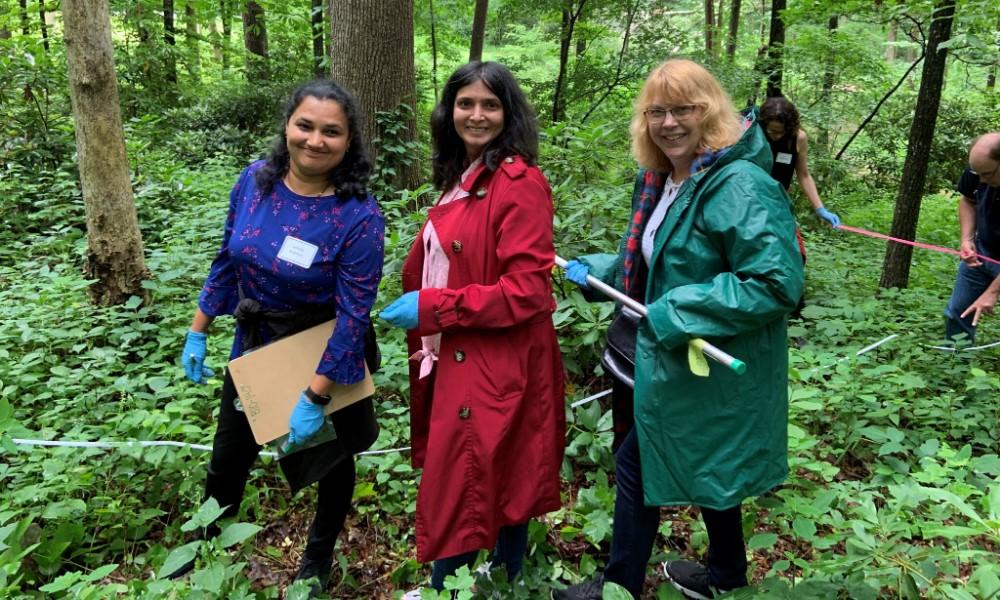 In layman's terms, DNA barcoding is a way of classifying living things through a DNA sequence. Taking a sample of an animal, plant, or fungus and sequencing a small portion of its genome reveals a unique sequence just different enough that it can identify which species it is, just like UPC barcodes identify products in a grocery store. Students then use methods from computational bioinformatics to analyze their findings.
At JMU, the large-enrollment Foundations of Biology DNA barcoding introductory course is a two-semester sequence that serves over 800 students each semester, and not just those in the biology department, as approximately half of the enrollment are non-biology majors. As of a 2017 survey, 90 percent of students who have taken the class agree that labs are a good way to learn science and increase their interest. Furthermore, DNA barcoding increased students' interest in taking future electives in bioinformatics (50 percent), ecology (50 percent), and molecular biology (58 percent).
Read a Chronicle of Education story about the JMU DNA barcoding CURE.
In addition to identifying their organism, students have the opportunity to populate online species databases with their findings, allowing for the excitement of discovery and dissemination to be experienced firsthand, while also contributing to the broader scientific community. From a financial standpoint, the operational costs of the research experience are relatively inexpensive at $10-12 per student per semester.
When asked to share thoughts about utilizing the CURE model, Debra Overath from Texas Southmost College commented, "I was involved with two different CUREs while at Delmar College and published work and I understand the importance, especially at community colleges where most faculty do not conduct research. So if we do not reach community colleges we are missing a large demographic."
Isi Ero-Tolliver from Hampton University said that she "wanted to learn how to operationalize a CURE, especially one that has been validated in a network like James Madison's."
A National Science Foundation (NSF) grant provided funding to support the workshop, including travel expenses and lodging at Hotel Madison for the 22 participants. Professors Hyman, Enke, and several of their JMU biology colleagues recently published an article detailing their lesson plans and efforts implementing CUREs in large enrollment, introductory courses.