Research and Scholarship
JMU School of Nursing director testifies before Congress
---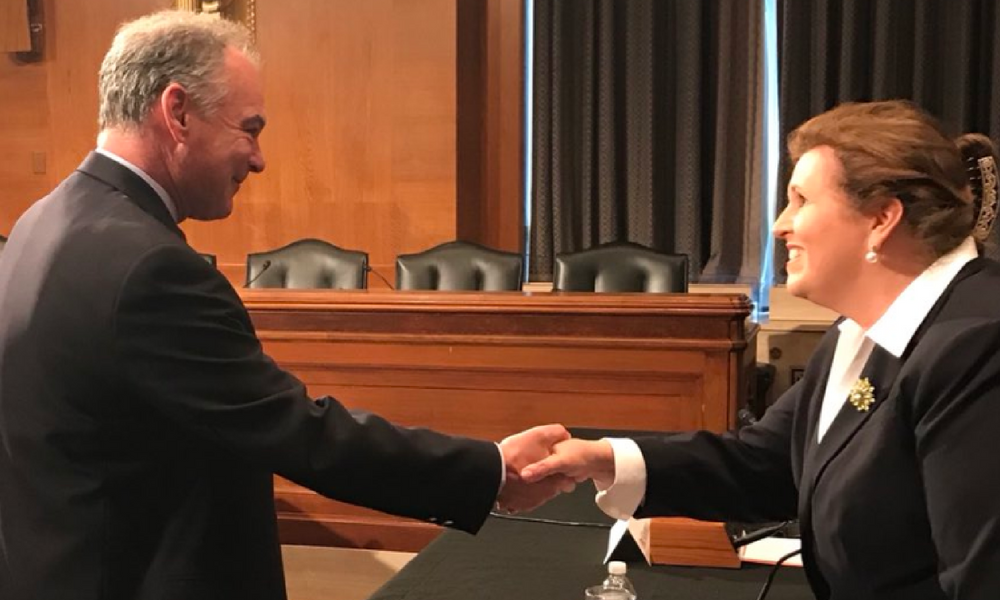 SUMMARY: JMU School of Nursing director Julie Sanford testified before the U.S. Senate on the growing shortage of healthcare professionals in rural areas and potential solutions to fill this critical, national need.
---

By Lindsay Grohowski ('19), JMU Research & Scholarship


Dr. Julie Sanford, professor and director of the JMU School of Nursing, recently testified in front of the Senate Health, Education, Labor, and Pensions Committee during the hearing, The Health Care Workforce: Addressing Shortages and Improving Care. This opportunity came about through Sanford's seven years of service as a State Grassroots Liaison (SGL) for the American Association of Colleges of Nursing (AACN). Over time, Sanford got to know numerous legislators, which led to a nomination to testify by Senator Tim Kaine, after a vetting process conducted by the staffs of Senators Lamar Alexander and Patty Murray. According to Committee Chairman Alexander, the intention of the hearing was "… to learn about the growing shortage of healthcare professionals especially in rural areas, examine what the federal government is doing to support our nation's healthcare workforce, look at how well we are training healthcare professionals to meet the needs of patients, and to better understand where healthcare professionals are choosing to work."
Dr. Sanford addressed the impact that the Title VIII Nursing Workforce Development programs have in disadvantaged and underserved communities, where there is a critical need for quality health care. As a first-generation college student from a rural farming community in Mobile, Alabama, Sanford shared her own experience as a Title VIII grant recipient, which allowed her to "… pursue what would become a life in higher education, helping to educate the next generation of nurses." Sanford made the case to safeguard strong investments in the nursing workforce now and in the future, stating that healthcare professionals and communities at large are currently being challenged by the Silver Tsunami, a metaphor used to describe population aging. Many nurses from the baby boomer generation were able to retire when the economy improved and simultaneously, as this generation ages, their health care needs are increasing. The visibility JMU gained through this testimony was "publicity you cannot buy" said Sanford, who spent the immediate days after the hearing answering Questions for the Record (QFR).


Sanford stated that, nationwide, there are approximately 1600 unfilled nursing faculty positions, while the Center on Education and the Workforce at Georgetown University projects a nursing shortfall of 200,000 professionals by 2020. At JMU, there are only one or two unfilled positions, the result of recent retirements. The School of Nursing has worked hard to attract quality faculty candidates, and despite a tendency toward optimism, Sanford suspects that the shortage will only get worse.
In some ways, the shortage has benefited JMU students, as they are heavily recruited and sometimes offered employment as early as a year before graduation. However, this means students risk choosing their path before fully knowing all of the options available to them. Plus, once they arrive in the field, many face the long hours and added stress of an increased workload.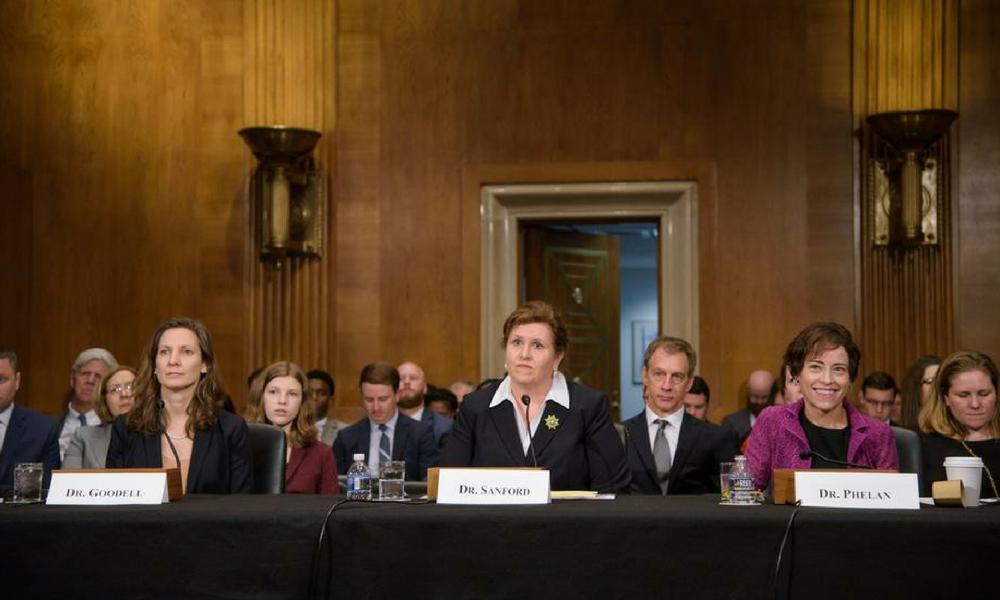 JMU School of Nursing Director, Julie Sanford (pictured center), testifies before Congress.

One recent positive development was announced by Senators Mark Warner and Tim Kaine in June -- $2.7 million in funding from the Health Resources and Services Administration (HRSA) to support nursing education at JMU. This federal funding will be used for student scholarships and to hire personnel to run the project. As part of the effort, JMU will work with Page County to place students in rural clinical settings to help students understand and appreciate the value of population health and primary care.
JMU President Jonathan Alger stated that "… this collaboration is a great example of our university's mission in action, as we seek to apply the knowledge and skills learned in the classroom to the real-world challenges of our community partners outside the classroom." Sanford said that nursing, as a discipline, is hopeful additional support will be made available to reauthorize the Title VIII Nursing Workforce Reauthorization Act (S. 1109/H.R. 959), which "… is critical to making sure these programs continue to meet the care demands of rural and underserved communities by the largest healthcare workforce – nurses." For more information on this grant funding, see the article 'School of Nursing gets $2.7 mil'.