Research and Scholarship
Graduate student uses autoethnography method to examine food industry laborers
---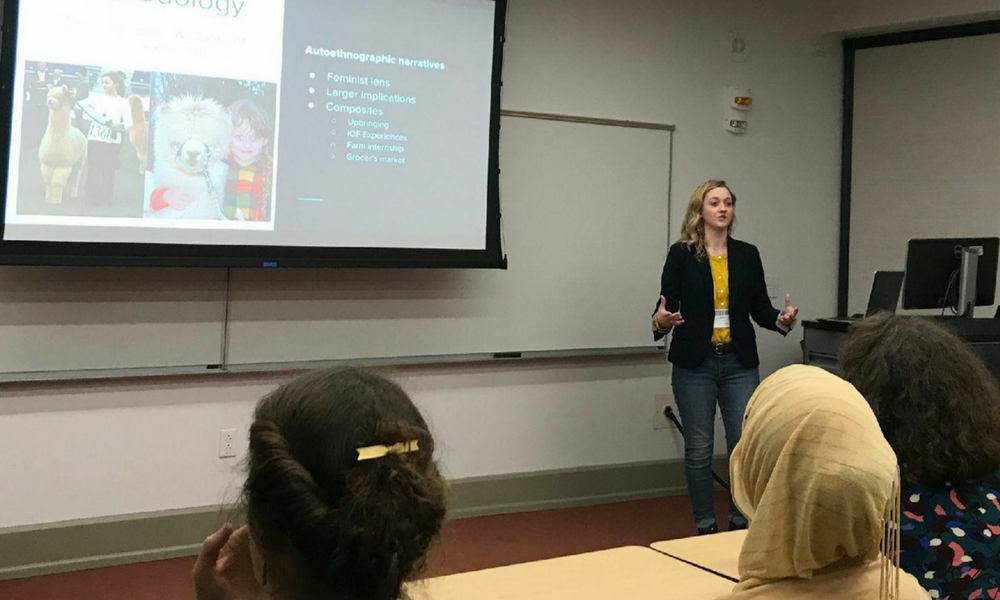 SUMMARY: School of Communications Studies graduate student, Katie Shedden, presents research at the Dimensions of Political Ecology Conference in Kentucky.
---
By Lindsay Grohowski ('19), JMU Research & Scholarship
Katie Shedden, a JMU graduate student in the Master's in Communication and Advocacy program, recently gave a presentation titled (In)visibility and Meaning in Food Labor: A Feminist Autoethnography at the Eighth Annual Dimensions of Political Ecology (DOPE) Conference in Lexington, Kentucky. This student-organized conference has become one of the largest, most highly-regarded international forums for critical discussions at the intersection of ecology, political economy and science studies. Shedden was among approximately 300 scholars, environmental professionals and activists representing more than 100 institutions.
Shedden's presentation, which is a large part of her thesis project, "aims to illuminate the gendered experiences of female food laborers and how women make meaning through their labor in this context". Through the research process, Shedden pointed her investigative tools inward, utilizing "autoethnographic methods supplemented with ethnographic interviewing to analyze [her] own experiences as a female food laborer." Autoethnography is defined by Shedden as, "the study of 'self', wherein a researcher situates themselves as a site of inquiry for study." Furthermore, "autoethnography provides an avenue for under-represented groups to speak about their own experiences in their own voice, as opposed to being 'spoken about'." In addition to gender, the research also accounted for class and race identities.
Shedden credited several faculty members who have been integral to her experience in graduate school and in guiding her to this research topic. "Since this topic has evolved over a vast number of my own personal experiences, and has been a bit of an all-encompassing soul-searching process, I would say that the faculty members who helped me present at the conference and have been central to my success at JMU overlap quite significantly," said Shedden. She went on to list Dr. Melissa Alemán (Communication Studies), Dr. Jennifer Coffman (Integrated Science & Technology and Geographic Science), and Dr. Michael Broderick (Communication Studies) as the professors who stood out as having the most impact on her.
Dr. Alemán was quick to share what a delight it has been to work alongside Shedden, noting that, "her commitment to critically interrogating her own experiences, dedication to ethical representations that tell a complex and nuanced story of women's work in the food system, and open conversations about her work throughout this journey have made our partnership on the project particularly rewarding."
The DOPE conference gave Shedden the opportunity to connect with several panelists and attendees working in a variety of disciplines, including a member of the University of Kentucky staff who worked in the agricultural extension office. Shedden learned that, for many people in the crowd, this was the first time they had heard of autoethnography. Shedden felt encouraged when the UK staff member told her that she felt moved by the narratives shared during the presentation, and thought that this methodology offered great potential to connect the issue of gender inequity to an 'apolitical' audience.
During her time in the graduate program, Shedden has been an instructor of record for SCOM 123 – Fundamental Human Communication, which has been an eye-opening experience in terms of how real change is made. She said, "I can think of many instances in my life wherein educators and/or educational environments have made a lasting impact upon my deeply rooted values and beliefs." In preparation for graduation, Shedden is in the process of applying to jobs in the Communication/Advocacy field with a focus on food system reform/environmental education. She hopes to be able to share her own powerful narratives and stories, which speak to broader political and societal issues, to an organization involved in this type of work.