Research and Scholarship
Art history student presents at Harvard
---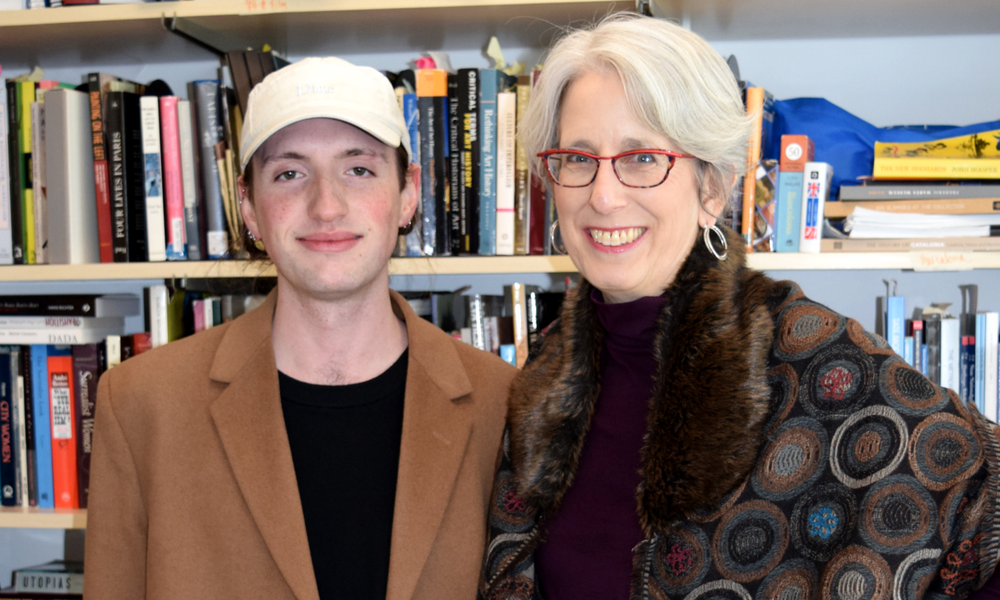 SUMMARY: JMU art history student, Luke Tokman, credits faculty mentor, Maureen Shanahan, for preparing him to conduct research, which led to a poster presentation at the 2018 National Collegiate Research Conference hosted at Harvard University.
---
By Lindsay Grohowski ('19), JMU Research & Scholarship


Luke Tokman, a senior art history major, was among approximately 250 undergraduate researchers invited to participate in the 2018 National Collegiate Research Conference (NCRC) at Harvard University this past January. The conference promotes the growth of a national undergraduate research community by facilitating communication, collaboration, and identity for undergraduate students in the global research sphere.
Most of Tokman's focus in the art history program has been on modern art, museum studies and art theory. Tokman presented research exploring the changing legal and social boundaries of sexuality and gender in Victorian Britain during which Aubrey Beardsley published his illustrations for Oscar Wilde's Salome (1894).  Tokman argues that Beardsley's illustrations demonstrate transgression not only in narrative and iconography, but in form heavily borrowed from erotic Japanese shunga prints widely circulated amongst Beardsley's contemporary peers. His research incorporates primary sources such as the complete letters of Aubrey Beardsley and the most current research, including Linda Gertner Zatlin's recently published Beardsley catalogue raisonnée.
Dr. Shanahan, professor of art history and mentor to Tokman, has had quite a successful year as well. Shanahan was selected as the 2018 Madison Scholar Award winner for the College of Visual and Performing Arts. Prior to being nominated for this award, Shanahan received a research grant from the Fulbright Foundation, which supported her four-month stay in Paris from March-June 2017. While in Paris, Shanahan worked on two inter-related projects that built upon her knowledge of France's experience of World War I and the problem of representing psychological trauma in art and visual culture.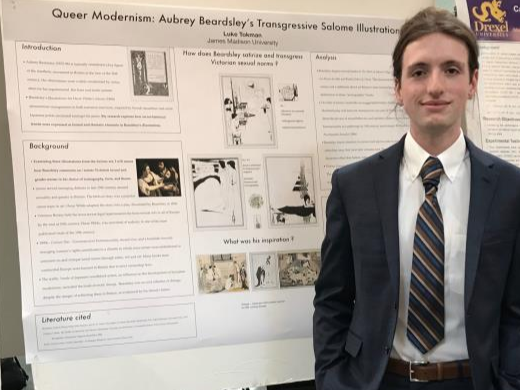 Luke Tokman presenting his research at Harvard University
Before entering academia, Shanahan worked as a grants writer for the Southwest Museum in Los Angeles and as a lawyer at the Securities and Exchange Commission. Shanahan said she got her law degree at the age of 23 for pragmatic reasons but an interest in global citizenship and the visual environment motivated a gear shift and her transition to grants writing at the museum.
Dr. Shanahan recently researched a French hospital opened in 1935 that was dedicated to Islamic subjects living in France, many of whom were veterans. Tokman helped Shanahan determine, based on a hospital admissions list, who may have been veterans. Shanahan noted that there is no historically specific data which indicates the percentage of colonial veterans who returned to France after the war. Furthermore, Shanahan is studying the hospital archives to determine how the topics of the films proposed for the hospital's cinema room might have impacted veterans' psyche. Tokman is also helping with this project.
Tokman expressed gratitude to Dr. Shanahan for pointing him to some opportunities such as the conference, as well as for allowing him to collaborate with her on research projects. Tokman said that although the current project they are working on is still in an early stage, he is incredibly thankful for the experience he is gaining dealing with raw data. 
Both Dr. Shanahan and Tokman spoke highly of JMU's support of the creative arts and associated careers in the arts. Tokman was quick to acknowledge the professors and their involvement at JMU and in the community. He says that over the course of his four years at JMU, he has learned he can be both an art historian and an activist. Shanahan and Tokman also noted that the recent physical infrastructure improvements have been a phenomenal asset to their program.