Research and Scholarship
JMU Takes Creative Steps to Support Student Innovation and Entrepreneurship
---
According to their mission statement, James Madison University's Office of Technology Innovation and Economic Development (TI-ED) has three primary goals:
to promote innovation by protecting and commercializing intellectual property developed at JMU

to create research opportunities by connecting faculty and students with business and industry

to foster economic development through business partnerships and by launching startup companies
But what do these goals look like on the ground level? And how exactly can students get involved? 
Internships at University-affiliated Startups 
The Office of TI-ED enables students to gain hands-on business and innovation experience in three main ways. The first is through university-organized internships. Faculty working on ground-breaking research often need lab assistants—and when research turns into a new product or device, both students and faculty can begin working with the newly formed company. 
For example, in 2015 the Harrisonburg-based startup company Blue Vigil, funded by local investors, was formed to develop and commercialize hovering observation platform technology designed to keep drones in the air without batteries. In less than two years, Blue Vigil has gone from initial launch to landing international sales. Recognizing the company's rapid impact on the market, the National Council of Entrepreneurial Tech Transfer (NCET2) named Blue Vigil as one of the top 40 "Best University Startups of 2017," and invited the company and JMU to DC to present to members of Congress and their staff on April 18th. 
JMU's first biotechnology startup company is forming around the skin probiotics patent that resulted from the research of Biology Professor Dr. Reid Harris. Andrew Loudon, a JMU alumnus who is currently pursuing his Ph.D. at the University of British Columbia, worked in Dr. Harris's lab as a graduate student where he gained experience researching probiotics. 
"Reid included me in collaboration with labs using cutting-edge sequencing and organic chemistry techniques," said Loudon. "These collaborations led me to make great connections within the scientific community. I'm very lucky to have been mentored by Reid and to have worked with him. He led by example and showed me how to collaboratively approach science and affect real change." 
University Engagement with Businesses for Innovation 
It's not just individual students who are benefitting from JMU's commitment to fostering innovation and local entrepreneurs. Whole classrooms of students are also getting the chance to gain relevant experience through business-sponsored class projects. 
The close of the Fall 2016 semester saw the culmination of one such student-business partnership in the form of the CIS/SMAD Super Bowl Competition. The competition pitted teams from Professor Carey Cole's Computer Information Systems and Business Analytics (CIS484) course and Shelly Hokanson's School of Media Arts & Design (SMAD408) course against one another in a head-to-head presentation of the top two teams' capstone projects. 
Through the collaborative efforts of the Office of TI-ED and Professor Cole, the most recent Super Bowl Competition was sponsored by Rick Kohr of Evergreen Advisors who challenged the students to develop a functional interface for a database known as the 4M Ecosystem, a platform designed to connect entrepreneurs, startup resources, and capital providers.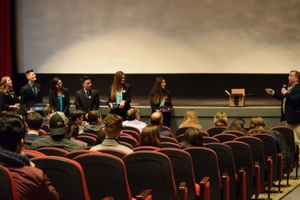 Teams of students met with Kohr to realize his vision for the database by developing working prototypes of the 4M site. Each team, comprised of both CIS and SMAD majors, designed and built interactive sites that were both functional and pleasing to the eye. The top two teams were chosen to present their finished projects on stage at the Grafton-Stovall Theatre to a large gathering of students, faculty, and industry professionals. The winning team, chosen by a panel of both faculty and professionals, were awarded a small cash prize, an alumni-sponsored scholarship, and individual trophies. 
Additionally, JMU's engagement with the business community includes projects with local jewelry designer and manufacturer Hugo Kohl. Kohl's business provides students with unparalleled resources, as it also houses the Museum of American Jewelry Design and Manufacturing, which contains the nation's largest collection of vintage American jewelry hubs, dies, and machines. The collaboration with Kohl's business crosses disciplinary lines, as partnerships have been formed with Industrial Design Professor Audrey Barnes, History Professor Dr. Kevin Borg, and Marketing Professor Dr. Janna Parker.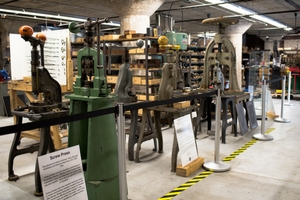 All three faculty members have brought classes to Hugo Kohl's downtown workshop to tour the facility and learn about the history of jewelry making in America. Barnes's design students worked with Hugo Kohl as part of a class studying the development of Industrial Design as a consequence of the Industrial Age. Students worked as a team to design a business venture based on Kohl's resources, developing product designs, business plans, and manufacturing strategies. Dr. Borg's history students approached Kohl's business slightly differently, touring Hugo Kohl's jewelry museum as part of a class titled "Technology in America." The students were given an opportunity to analyze the museum's historic and unique machines and write papers on their findings. Dr. Parker's business students also worked with Kohl as a part of their coursework, though as a marketing class, the project focused less on the past and more on the future. Over the course of the semester, students worked with Kohl to develop a social media plan that addressed Kohl's objectives for an online presence.
JMU's commitment to cultivating relationships with local businesses like Hugo Kohl enables a diverse set of students to engage in hands-on learning, satisfy course requirements, and gain valuable knowledge of how to create and sustain a venture.
Resources for Student Entrepreneurs
What about students who aren't looking to work with existing business but would rather start their own? The Office of TI-ED has resources for them, too. Executive Director Mary Lou Bourne, who also serves as the Executive Director of James Madison Innovations, offers guidance to students on patents, copyright, and trademark filings, and makes introductions for them with patent attorneys and local angel investor networks, once their concepts are well-developed. "I'm a safe sounding board for them before they take that next step in putting themselves out there to present their ideas to potential customers, investors, or patent attorneys," said Bourne. 
"Students talk with me when they have an invention and they want to know what to do next," Bourne explained. "Usually they've already searched the internet to look at the competition, but don't know how to search for patents. Just because a product isn't in the marketplace yet doesn't always mean someone else hasn't already tried to patent it. I usually spend about an hour with [the students] showing them how to search prior art to help them learn more about their innovation space."
"I'm a safe sounding board for them [student entrepreneurs ] before they take that next step in putting themselves out there to present their ideas to potential customers, investors, or patent attorneys."
- Mary Lou Bourne
Zach Weiss, a JMU entrepreneur currently working on a "smart box" product designed to safely ship temperature-sensitive pharmaceutical freight, recently met with Bourne to discuss the business plan he and his team are currently developing.
"Mary Lou has a diversified background of experiences and a keen sense of business. Her ability to poke holes in our plan, assist us with provisional patent research, and to connect us with valuable resources has been a tremendous asset," said Weiss. "The Office of TI-ED also helped us connect with a retired executive in the pharmaceutical industry as well as opening up networking opportunities in downtown Harrisonburg.
In short, whether through internships, business-sponsored class projects, or one-on-one mentorship, JMU students are on the front line of intellectual property development. The Office of TI-ED is committed to serving JMU's researchers, inventors, and entrepreneurs—whether they're tenured faculty or first-year undergraduates.