News
JMU professor trains local first responders and students in disaster preparedness
---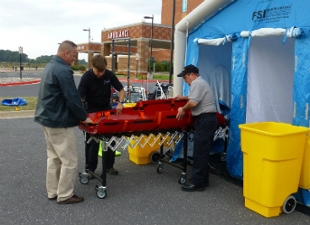 By Kathryn Stephens ('17)
Many hospitals aren't equipped to handle a huge flood of victims, especially when those victims have been exposed to a mass contamination event. Without a system for decontaminating patients, in times of disaster whole hospitals could be in danger of having to shut down. That's where a Federal Emergency Management Agency (FEMA)-instructed Hospital Emergency Response Team (HERT) steps in.
"The idea of a Hospital Emergency Response Team is that when there is a mass disaster, hospitals will have a trained HERT team who can activate and set up outside the ER," explained Dr. Ronald Raab, a JMU professor and certified FEMA instructor. "They set up decontamination corridors with triage capabilities so that, as ambulances come in, they can prioritize who needs to get into the hospital first and can work to clean them up before sending them into the ER."
Dr. Raab, in addition to holding a Ph. D in Molecular Biology and Genetics and working as an Intelligence Analysis Professor with the Department of Integrated Science and Technology, is both a regional hazmat responder and a volunteer firefighter. As part of the JMU-SRMH Collaborative, a program established in 2007 to foster cooperation between JMU and the Sentara RMH (SRMH), he has also helped to organize and train a Harrisonburg HERT team of first responders. 
"We established the team and tried to get it up to speed by recruiting hospital employees—everyone from maintenance faculty and technicians to nurses and doctors. Everybody could have a role," said Raab. "It's a [JMU-SRMH collaboration]. There are a few JMU students on the team too."
Student involvement has always been an important component of Hospital Emergency Response Teams. Last year, JMU alumnus Jonathan Simmons worked to integrate the local fire department into the HERT team for his senior capstone project. Under Dr. Raab's guidance, Simmons coordinated training for firefighters from Harrisonburg's Hose Company #4 so that, in the case of a large-scale emergency, they could assist in the decontamination and intake process.
"There's some basic classroom training: you've got to understand what hazardous materials are, how incident command system works, and how the operation will work. You also have to understand some basic chemistry—after you do all that, you're considered HERT ready," explained Raab. "You've got to practice, of course. As a team, we like to have a training event planned about every month. To be effective, we really need to know our stuff."
On Thursday, October fourth, a regional drill was held at the Shenandoah Valley Regional Airport that involved the HERT team and SRHM emergency responders. The drill simulated a plane crash, with over 70 volunteers acting as victims while a live fire was set by training supervisors in the fuselage of a decommissioned jet. The HERT team was activated and set up outside of SRHM in the early morning hours as victims covered in make-up and assigned different injury symptoms began to arrive at the hospital by ambulance.  The drill was both a test of the team's ability, and a training exercise to ensure that in the case of a real emergency, the hospital's personnel will be prepared to handle the situation.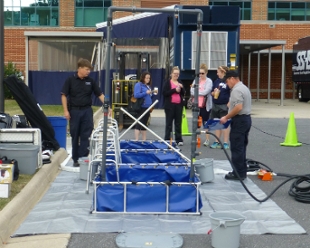 Though Dr. Raab helped to form the HERT team, his primary role in the regional drill was as a hazmat officer, not a team member. "My first priority wouldn't necessarily be with the HERT team, but since I know how the HERT team operates, I can communicate directly with their team leader," explained Raab.
Dr. Raab went through numerous federal classes to become a hazmat officer and has to consistently log training hours to remain an active firefighter—in addition to passing a physical training exam twice a year. "I've always been a strong believer in giving back to the community and I've always been interested in emergency services," said Raab. "All the things I'm learning and doing I've been able to transition into classes. I've integrated FEMA instruction into new courses here at JMU, giving students the opportunity to earn FEMA certificates."
Dr. Raab was recently recognized by FEMA's Center for Domestic Preparedness (CDP) as one of three Gold-level trainers, an award given to instructors who held 20 or more classes in 2014. Since attending his first course at the CPD in 2007, Dr. Raab has conducted over 70 FEMA courses as an authorized instructor, certifying over 1,400 students—many of whom earned FEMA certificates through the JMU classes designed by Dr. Raab.
"Would I rather be in a suit going down range? Oh yeah. I like being where the action is—but I can do different roles as needed," said Raab. "I'm very passionate about preparedness; its hours and hours of training that ensures you aren't caught off guard. I'm a certified instructor, and I know that the more we train, the better we respond."