News
JMU, SVP, and Virginia Bio host regional biotech showcase
---
By Kathryn Stephens ('17) 
"Take note of this idea of regionalism," said George Anas, Director of Economic Development for Rockingham Country, to the audience of biotechnology professionals and educators. "We get along here and we're excited to support one another. We recognize that a rising tide lifts all boats."
Anas was one of several speakers to present on October 12 at James Madison University's Biotechnology Showcase, a day-long event hosted by JMU in partnership with the Shenandoah Valley Partnership and Virginia Bio. The event aimed to highlight the exciting, innovative achievements currently being made both by regional educators and businesses in the realm of biotechnology. The morning session, focused on economic development and industry interests, featured an impressive line-up of bioscience professionals, including Jeff Pompeo, President & CEO of CareTaker Medical Devices, Inc., Sonny Meyerhoeffer, President of Eastern BioPlastics, and Jeff Gallagher, CEO of Virginia Bio, among others.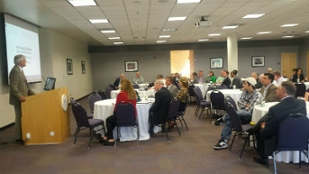 With a population boom on the horizon, there is a clear need for growth in the broad field of bioscience—both in the medical and agricultural spaces. As several of the speakers emphasized, internships and apprenticeships are vital for sustaining that growth by educating the future workforce about the everyday realities of the industry.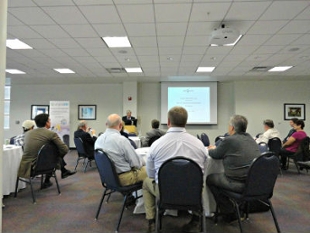 Tom Voss, Senior Director for Infectious Diseases at SRI International, expressed his appreciation for the hands-on training offered to students by JMU's biotechnology program. "Do you know the equipment? Undergraduates at JMU do. They're ready to hit the ground running because they've been in the lab since freshman year," he said.
Dr. Voss was accompanied by Christopher Lien, one of his team members who first came to SRI as a JMU intern: "I got to work directly with the best minds in the field, and they built me up," said Lien. "After my internship, I knew with confidence that I was in the right place. What I'm doing has a direct impact and I can see that I'm making a difference."
At the conclusion of the morning session, Virginia Delegate Steve Landes addressed the group, sharing his own passion for agricultural science and his continued efforts to support the Valley's growing biotech industry.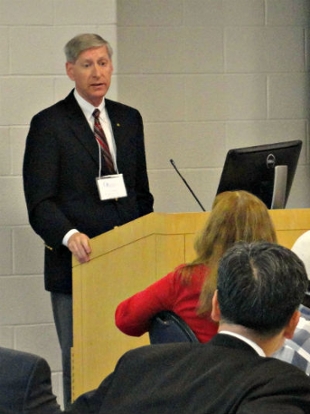 The showcase continued with an afternoon session focused on higher education and workforce development, which provided attendees an in-depth look at two higher education biotechnology programs right here in the Valley, one at James Madison University and the other at Blue Ridge Community College. The respective programs serve different student populations, creating a broad pipeline of talent for area employers. 
Dr. John Downey, President of Blue Ridge Community College, and Dr. Kathlynn Brown, Director of Macromolecular Bioscience and the Center for Cancer Research at SRI International (Harrisonburg, VA), led an open discussion on internship and partnering opportunities to enhance industry engagement with higher education. Comments from bioscience company representatives in the audience emphasized how well prepared the JMU undergraduates were when entering either an internship program, or joining as an entry-level employee, particularly the students from the Biotechnology Program.
As the showcase came to a close, JMU faculty and students led the attendees on tours of JMU lab space in Biology, Chemistry, and Physics.  The tours included short presentations on current faculty and student research projects.
The day concluded with a networking session and a behind-the-scenes tour of downtown Harrisonburg's newest brewery – Pale Fire Brewing.