News
Ethics in Motion
---
By: Brett Seekford
Dr. Erica Lewis, a professor in the Department of Nursing, has spent much of her professional career studying the nature of ethics and how to best teach it to others. She first developed a strong interest in the field while working to attain her Ph.D. at the University of Virginia.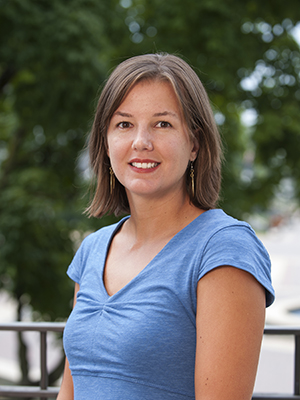 Since coming to JMU in 2013, she has applied her expertise in this field through her work with the Madison Collaborative, an organization seeking to teach students ethical reasoning. In her role as a Madison Collaborative Associate, she offers workshops and one-on-one consultations with faculty while also promoting the study of ethics via social media.
The Madison Collaborative seeks to provide both students and faculty with the resources to develop ethical reasoning skills. To achieve this goal, it has created Eight Key Questions that will aid people in determining the best course of action when facing an ethical dilemma. The questions span many different facets of the decision-making process, such as: Fairness – How can I act equitably and balance legitimate interests? Outcomes – What achieves the best short- and long-term outcomes for me and all others? Empathy – What would I do if I cared deeply about those involved? To apply these questions, case studies are created as one of the many methods the Madison Collaborative uses to test one's ethical reasoning.
Lewis described her experiences with the organization: "Through my work at the Madison Collaborative, I have seen that ethical reasoning can be learned. I have observed students make great strides in their ability to make ethical decisions and follow through on their decisions."
She has adopted the method of case studies to convey the Madison Collaborative's Eight Key Questions. "Ethics case studies should involve a level of tension between ethical principles. The Eight Key Questions can be used to develop and evaluate this tension," Lewis explained. "This is what creates a rich discussion and learning environment."
One-on-one consultations have allowed the case study method of learning to be disseminated to faculty. "I listen to the faculty discuss their needs and course objectives," she said. "Together we make a plan for them to move forward to meet their course objectives. I work with the faculty giving them the tools to build case studies that map to their own curriculum," she added. Faculty have been receptive to using this learning technique.
Bill Hawk, the chairman of the Madison Collaborative, explained the importance of Lewis' role: "With her experience in both using and designing case studies, she helps to provide valuable guidance to faculty who are interested in more effectively using case studies in their instruction, especially when it comes to developing ethical reasoning skills." 
Lewis has redesigned the Nursing Department's curriculum so it better addresses ethics and moral distress. 

The fields of nursing and ethics are intertwined, Lewis states. She clarified, "Nurses face many ethical decisions in their practice. They are also particularly well suited to help others understand the empathetic element of ethical reasoning. I relied on the Eight Key Questions to revise the Nursing Department curriculum ethics content so that all nursing students receive systematic, progressed exposure to ethical reasoning."
One case study she has used involves students admitting that they have hit another person's car to begin a discussion about medical error disclosure. Her method of teaching proves that ethical reasoning is related to most fields of study and everyday choices.

Lewis, moreover, has taken this ethical reasoning approach to other facets of her life. She explained that she has utilized the Eight Key Questions of the Madison Collaborative in her role as an ethics committee member at the local hospital.
Lewis clearly embodies the teachings of her field of study, performing ethical reasoning in all venues. The Eight Key Questions make that easier.